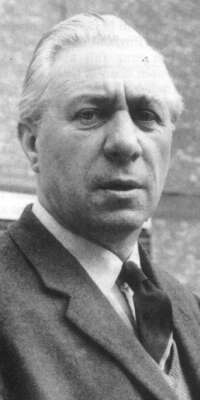 Britton had played for Bristol Rovers before signing for Everton and between 1935 and 1937 he was capped a total of nine times by his country as well as playing in a further number of war time internationals. His playing career came to an end during those war time years and Burnley offered him a route into management that would see him take charge of four clubs over the next twenty years.
It was five months after his appointment before he left the armed forces and was able to take over and during his first season, as the club continued to play in a Football League North competition, there was no sign of any revival for Burnley's fortunes.
In February of 1946, at the club's AGM, he astonished shareholders by announcing a three year plan to get Burnley back into the First Division and he certainly didn't fail. The return of league football for the 1946/47 season, with the same fixture list that had been scheduled some seven years earlier, saw some of the players who had been with the club in the 1930s, joined by some astute signings, such as Alan Brown and Reg Attwell.
Britton's plan succeeded in the first year with a side noted for clean sheets and our iron curtain defence. In one of the worst winters in memory, Burnley went from strength to strength. They reached the FA Cup Final and in a season that went on until June won promotion two years ahead of Britton's promise.
He was very much a progressive manager with new style training and he revealed that Burnley would not make big signings but would produce their own footballers, taking on youngsters and grooming them for the first team. Two of his signings in this respect were Jimmy Adamson and Tommy Cummings.
Burnley's return to the First Division under Britton was an excellent one and in the first season back ended in a third place finish. Arsenal were Champions and we were only robbed of second place on goal average from Manchester United.
The club was going from strength to strength but there was to be a blow early in the following 1948/49 season. In September, with just a few games played, Britton left after being offered the manager's job at his old club Everton.
He was with the Goodison Park club for six and a half years and that was followed by a five year stint at Preston and eight years with Hull before his management career came to an end in November 1969. He remained with the Yorkshire club for another two years as General Manager before retiring and he passed away in 1975 in Hull at the age of 66.
Cliff Britton should be well remembered, taking hold of the club after the trials of war and in two years winning a promotion and establishing the side as a top division club again.