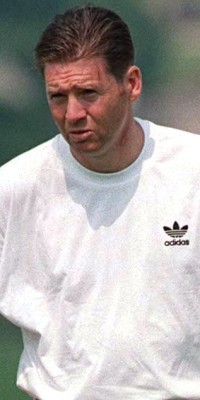 Hearts dropped amongst the fans within 24 hours of the confirmation of Heath's move to Everton when we were linked with former Stoke boss Lou Macari. Things soon picked up and by early the following week such names as Ronnie Whelan and Sam Allardyce were in the frame.
The fans wanted Joe Royle who had left Everton four months earlier. Burnley did make an approach but he was unavailable because of his compensation claim against the Premiership club.
We didn't have long to wait for news. Just one week without a manager and news broke that the club were keen on former England player Chris Waddle who had ended the previous season as a player at Sunderland.
Over the next few days we had the 'Come and get me' pleas from Waddle and after just ten days without a manager he was appointed on a three year deal, bringing with him former Gillingham and Watford boss Glenn Roeder as his assistant.
He spoke positively at his opening press conference about his plans for Burnley, this after being introduced by chairman Frank Teasdale as Chris Hoddle. He said: "It didn't take long to say yes. This is one of those clubs that has potential bigger than the division they are in at the moment.
Roeder, a member of the England coaching team under Glenn Hoddle added: "I think Burnley are a big club and the division they are in is a false one. We want to get out of this division at the first attempt."
Roeder could never have known just how close they would be to taking Burnley out of the division, although I'm sure that's not what he meant at the time. He did have an uncanny ability when it came to comments, and most people in Burnley still recall his references to the manager's boots, even if the comment was wildly taken out of context.
Burnley fans couldn't believe their luck, we'd got a top international coming to us for his first job, but he was still playing and surely would be the best player in the division. He also lifted the quality of the squad, or so we thought, with the signings of such as Michael Williams, Mark Ford and Lee Howey.
We didn't start particularly well. We didn't score a single goal in the first six league games, and we didn't win until game eleven. From that start we were always going to be struggling near the bottom of the league.
There was an occasional good performance, and the style of play was without doubt pleasing on the eye, but the fans were getting restless and in particular over the continued reluctance to play Glen Little, a player who had signed in the previous season and had never established himself in the first team. It proved to be a big mistake by Waddle and his number two, one that would be put right just about in time.
Supporters turned on Lee Howey more than anyone and in one match the abuse was so bad that Waddle responded by slamming the fans on local radio. We won that day, against Northampton, but results continued to be poor including an embarrassing FA Cup replay defeat against Rotherham in front of the Sky cameras.
It was becoming desperate but in January the manager pulled two rabbits out of the hat. He decided that Glen Little should have a regular place in the side and then he somehow persuaded Huddersfield manager Peter Jackson to do a swap. They got Paul Barnes, who to be fair had done OK for us, and we got the prodigal son Andy Payton.
We lost on Payton's debut at Bristol Rovers but from then on the results did start to improve. There were set backs but we did start to give ourselves a chance of avoiding the drop. As we moved into the last few weeks of the season we faced teams due to finish in the top six on four successive Saturdays. We won the lot and Payton got the winning goal in all four.
We had given ourselves a chance, and we took that chance on the final day of the season by beating Plymouth 2-1 to stay up. We had started to look a good team. Players such as Paul Weller and Damian Matthew had been in superb form in the midfield. Andy Cooke was getting goals, and then there were Little and Payton.
Such had been the finish that fans were now beginning to look forward to the next season but just over a week after the Plymouth game Waddle decided enough was enough. He said it was not football related, not financial, but a problem within the club that was not going to be resolved.
There were suggestions that he and Teasdale didn't see eye to eye. There were suggestions that new owner elect Peter Shackleton had got rid to bring in Terry Venables, but the reason was never confirmed.
Waddle had gone, maybe at a time when he had just started to get things right, but no tears were shed, no one craved his return. Waddle's first season (and to date last) in football management had been anything but a success.