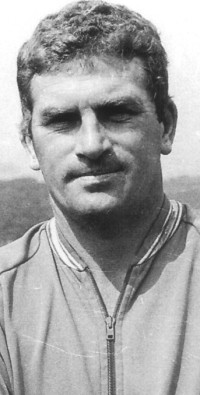 Brian had been more than a one club man, he'd played over 450 games for Burnley, captained the side, played for England and after his player career was brought to a premature end he continued as trainer and coach until getting the call to replace Potts.
We were still looking for our first win of the season on his appointment and it was to take another six games before it finally came against Cambridge United in a 5-3 win at Turf Moor. Despite a good run either side of Christmas there was to be no revival and when we didn't win any of the last 16 games of that season it brought the inevitable in May 1980 as Burnley dropped out of the top two divisions for the first time in the club's history.
Miller had signed Billy Hamilton in December 1979 and in the summer he set about rebuilding the squad. There were a handful of new signings, including Oldham full backs Ian Wood and David Holt, Tommy Cassidy from Newcastle, striker Steve Taylor who arrived from Mansfield and not long into the season Eric Potts was signed from Preston. Even so, the 1980/81 season was something of a disappointment.
Things looked even worse when we lost six of the first eight games of the 1981/82 season but we went on an amazing run that saw us lose just twice more and clinch the league title.
Such were the finanances at the club that the only new signing was Paul McGee from Preston but that season saw us introduce Trevor Steven to add to such as Brian Laws, Kevin Young, Micky Phelan, Vince Overson and Andy Wharton who were all establishing themselves in the first team.
Back in Division Two, Miller so wanted and needed to strengthen the squad. There were rumours that he had lined up deals for some very good players including Danny Wilson, Glenn Cockerill, Bolton midfielder Peter Reid and Newport striker John Aldridge. Nothing materialised and the squad remained the same although he was without Overson with a long term injury.
It proved to be disastrous as defeat followed defeat and only a good League (Milk) Cup run lifted a season that was surely heading for another relegation. Who knows what Brian could have achieved had he been allowed to strengthen the squad in the summer, but he had to wait some months before he could sign any players and eventually brought in Willie Donachie and Brian Flynn.
Inevitably it cost him his job, and in the cruellest of ways. As the team prepared to take on Spurs in the Milk Cup, and on the manager's 46th birthday, he was relieved of his duties and the player who had made his debut in a long running FA Cup tie against Chelsea in 1956 left the club.