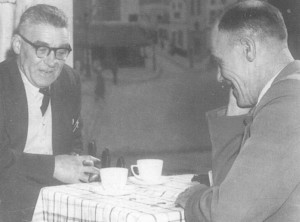 With Alan Brown leaving to go to Sunderland a month before the start of the 1957/58 season the club gave the job to the long serving coach as the players reported back for pre-season still reeling from the loss of Brown.
Dougall had first joined Burnley as a player in 1926 and had previously played for both Hibs and Falkirk prior to his move to Turf Moor. He became a first team regular immediately but his playing career sadly came to an abrupt end just over two years later after suffering a serious cartilage injury.
He returned to Scotland to train as a physiotherapist but was back in football by 1930, taking a coaching role with Thames before moving to Charlton. In 1932 he came back to Burnley as reserve team trainer and two years later stepped up into the same role with the first team.
That was the position he held until he was offered the manager's job at the age of 61 but by then he was already suffering from some ill health and in November of that year another great Burnley stalwart Ray Bennion (pictured to the right with Dougall) had to take over as acting manager as he underwent hospital treatment.
He was forced to resign his position as manager on medical grounds but was appointed as the club's physiotherapist as Burnley became one of the top sides in the country. His partner Bennion was first team trainer during this period.
He retired in 1965 but the ill health had continued and in 1966, at the age of just 71 he passed away at his home in Burnley. The Dougall legacy though lives on. For many years his wife Jeannie continued to support the club and today members of his family are still Burnley supporters, his grandson being a contributor to this site's message board.
Many supporters of today will not even know the name of Billy Dougall, but they should, and the final words are those of former chairman Bob Lord and ex-player Jimmy McIlroy.
Lord described dBilly's contribution to Burnley's progress as impossible to overstate and referred to him and Bennion as two jewels, the finest servants a football club could ever have.
Jimmy Mac just quite simply told me a couple of years ago that he'd learned far more about football from Billy Dougall than from anyone else.