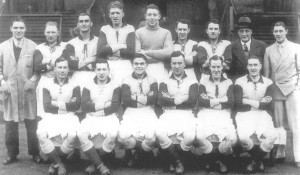 In effect, the team would be run by the Board of Directors with Boland being the link man between board room and the players, and he took over in that role for the beginning of the 1935/36 season.
Like others before him, Boland came out of the secretary's office where he first assumed the position of assistant secretary. From 1932 following the departure from the club of Albert Pickles he had been the club secretary, and the youngest in the entire Football League to hold the position.
Bromilow had been a professional footballer but Boland had gone no further than playing for Burnley's junior teams and although no one could have known it at the time he was to be the last Burnley manager, in effect, with no professional playing experience.
Nothing much changed for Burnley and in three of the next four years we had mid-table finishes in the Second Division. The one better season came in 1937/38 when we finished as high as sixth, our best finishing position since relegation in 1930.
Boland though was building a side. In March of 1936 he gave a debut to Burnley's youngest ever player Tommy Lawton and then went on to bring players to the club who would go on and achieve great success in years to come at Burnley. Full back Arthur Woodruff was signed from Bradford City in the summer of the same year and in the last three months of 1937 he was to add two very significant signings.
In October he signed an 18 year old wing half from Great Harwood Town by the name of George Bray and a month later he plucked a young player from the north east called Harry Potts.
It was believed things were beginning to improve but two games into the 1939/40 season the league was suspended following the outbreak of war. Boland left the club during the following year.
Alf Boland is pictured on the far right of the 1930s team picture shown above