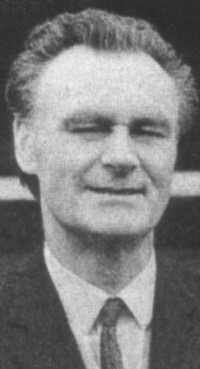 His playing career had come to an end just three months after leaving Burnley in 1949 for Notts County in a £12,500 transfer, a big deal for a player already aged 34. From there he moved to Sheffield Wednesday where he worked as a coach for over four years before accepting his first management role with Burnley.
Brown had been a hard man, a disciplinarian in his playing days and his management style was hardly different, and just as he had marshalled the 'iron curtain' defence in the early post war seasons he set about creating a similar way of playing as a manager.
In three seasons as Burnley manager the side conceded just over 150 league goals. In two of those seasons Burnley conceded fewer goals than any other club in the division and in the 1955/56 season only Champions Manchester United conceded less.
His first season ended with a mid-table finish but both the 1955/56 and 1956/57 seasons saw Burnley finish in seventh place.
However, Brown was planning ahead and with new chairman Bob Lord was instrumental in setting up the Gawthorpe training ground which is still in use by the club today.
He was very much a manager who, rather than bringing players in from other clubs, very much wanted to groom young players, and amongst the players he brought to the club were young North Easterners John Angus and Jimmy Robson who would go on to be part of one of the club's greatest successes.
Brown's stay at Turf Moor though was just three years when he made the decision to leave to become the manager of Sunderland. He remained the last Burnley manager to move on for a manager's job elsewhere until January 2010 when Owen Coyle moved to Bolton Wanderers.
Brown was with the Roker Park club for seven years before moving on again, returning to Hillsborough where his coaching career had started. This time he was Sheffield Wednesday manager. There were to be four years there, a period which saw Wednesday play in the FA Cup Final where they were beaten by Everton.
In the summer of 1968 he returned to Sunderland for another four and a half years before he called time on football management in November 1972. He handed over to Bob Stokoe who just months later led Sunderland out at Wembley in the FA Cup Final.
Alan Brown moved to the south west and for a time was assistant manager at Plymouth Argyle. He remained in that part of the country until his death in March 1996.
Prior to his death he wrote a book on his coaching methods. Many of the top managers of the time provided financial help to ensure the book was published, they held him in such esteem.
Many of them spoke of his influence on their careers and none more so than then Nottingham Forest manager Brian Clough who throughout his own management career often said he wished he had Brown sat alongside him.
Clough recalled their first meeting when he was a young striker. Brown told him: "You may have heard people say that I'm a bastard. Well, they're right."
Clough said of Brown: "Alan Brown taught me about discipline. I knew plenty about that from my mam, of course, but Browny's discipline was applied to the team as a whole as well as to the individual. It was collective discipline.
"If you need an example, remember how my teams at Derby and Nottingham Forest went about their work: not by effing and blinding at match officials, not by intimidating referees or hacking the ball away in disgust at free kicks given against us.
"Referees regarded my teams as their favourites because we simplified their jobs. We made refereeing easier than it was with other teams. We didn't antagonise them or chase them with angry words and gestures."
Brown was, without doubt, a disciplinarian. It was his management technique that saw the early departure of centre-forward Peter McKay from Burnley and there was always one story told by left-back Harold Mather about him.
It was in the days before managers and players had cars and Mather was on his way to training one day and saw Brown walking in front of him. He caught up with his boss and they walked in together.
After training, Mather was called into the office to be told: "Next time you see me walking down the street, stay a few paces behind. Don't catch me up and walk alongside me, I don't want people in this town thinking I have favourites."
It was Brown's style and that's what he brought to Burnley for three years and it was three years that were more successful than any league table can ever suggest.
There were new players introduced who would become members of Burnley's title winners just a few years later and there was perhaps Brown's greatest legacy - that of Gawthorpe.