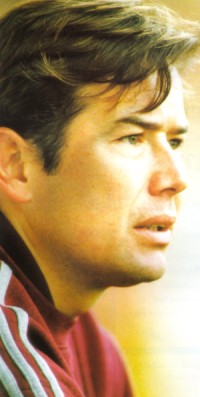 Sheffield Wednesday's Chris Waddle was amongst the first to be linked along with Crewe boss Dario Gradi and Roy McFarland who had just left Bolton. Mike Walker, the former Norwich and Everton boss, told us he was the man for the job and every ex-Claret under the sun had his name down.
Brian Flynn was the fans' favourite but he pledged himself to Wrexham and when the club finally announced a press conference the media revealed that the man to get the job was Steve Coppell who had just departed Crystal Palace.
So it was something of a surprise when the board presented Adrian Heath the following day. He'd been away from the club just a few weeks after going to Sheffield United as assistant boss, had always been in the running but was not, despite the words of Chairman Frank Teasdale, the choice of the fans.
"I wouldn't have left Sheffield United for any club other than Burnley," he said, "It is a club that gets under the skin once you've played for them."
He asked the players for a push for the play offs in the last sixteen games but instead we faced a real battle to stay up. Only a point a game was picked up in those games and a win at Wrexham on the penultimate weekend ensured our safety.
Heath had worked with Clive Middlemass as his assistant but on the first day of pre-season training in 1996 he announced the appointment of John Ward with Clive moving to another role within the club.
Things improved, there's no doubt about that, although there were constant rumours that he was falling out with players. Steve Thompson was the first to be snubbed by the manager, goalkeeper Wayne Russell didn't even merit a good morning, and then there was the very public falling out with Kurt Nogan that saw the striker move on to Preston.
During that season there were some shocking performances, nothing new there, and defeats at Rotherham and York certainly strike a cord, but there were also some outstanding performances and as we pushed for the play offs none were better than the away wins at Brentford and Walsall in successive weeks.
We were looking a good bet for promotion but after the Walsall win, with eight games to go, we lost John Ward to Bristol City and the season collapsed with only eight more points from eight games. Heath brought in former Evertonian Colin Harvey to replace Ward but we had to settle for ninth place.
When Ward left we were one point from the top of the league, but ended the season sixteen points behind Champions Bury after the dreadful run in and Heath set about rebuilding for the 1997/98 season.
The first signing was Marco Gentile from MVV Maastricht. Over the previous twelve months a whole posse of inadequate foreign players had been on trial, headed by Portuguese striker Bambo, but Gentile was Heath's first international signing. Mark Patterson was next. He'd signed on the dotted line and was the first of a number set to join us from Sheffield United including Chris Short and Lee Sandford.
Come June and everything changed. Colin Harvey left to go back to Everton who were expected to name Sky pundit Andy Gray as their new manager to replace Joe Royle. Gray turned it down and instead Everton once again turned to Howard Kendall. Just a week after Harvey's departure, Heath followed him to become assistant manager to Kendall at Goodison Park.
News broke on the last Tuesday in June that Heath might go, and supporters' spokesman Big Dave Wynne was immediately talking to the media on the subject.
"The board of directors must move heaven and earth to keep Adrian Heath at Burnley. The board must push the boat out financially to keep him at Burnley, it will be nothing short of a disaster if the manager is allowed to leave," said Wynne.
In truth, no one at Burnley Football Club made any attempt to try to persuade Heath to stay and on Friday 27th June he was confirmed as the new assistant manager of Everton Football Club.
Following his departure Heath said he might have considered staying had anyone spoken to him but did add: "I wouldn't have left Burnley for any club other than Everton. It is a club that gets under the skin once you've played for them."
HIs stay at Everton was shortlved when both he and Kendall were sacked in the following summer. He also had a short spell as Sheffield United manager but was replaced by Neil Warnock. He worked alongside Peter Reid at Sunderland, Leeds and Coventry and was twice caretaker manager at Coventry.
He's not been involved with English football since he departed Coventry in 2007 although there were strong rumours in November 2007 that he was on his way back to Turf Moor as assistant manager to Peter Reid who, it was believed, was set to the land the manager's job.
The job went to Owen Coyle and Heath went to America as head coach of Austin Aztex, a club owned by Stoke director Phil Rawlings. When Rawlings joined up with Burnley director Brendan Flood to move the franchise to Florida as Orlando City, Heath moved with them and remains head coach.