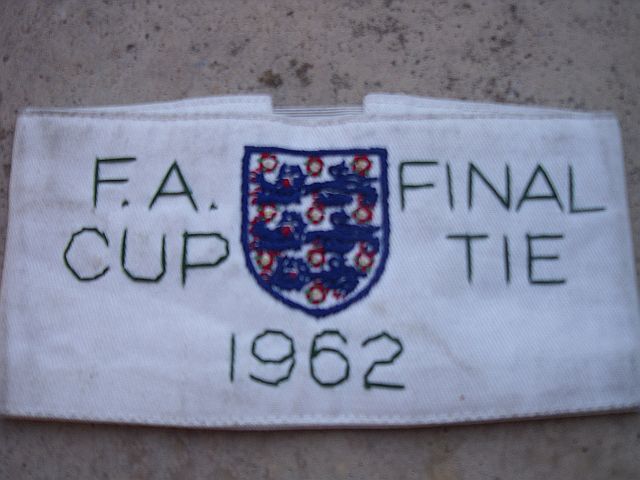 Despite scoring 101 goals that season and playing some of the best football the country had seen, we picked up only 11 out of 26 points from the 30th game to the 42nd. Meantime we had reached Wembley in the FA cup – a possible consolation prize.
I was 18 years old and in the U6 at St Mary's College and with my fellow pupils, ex-pupils and members of St. Mary's (Burnley) Youth Club team, we had supported the Clarets from the Longside area that was to become the away paddock at a later, more violent, segregated era.
After reaching Wembley with a 2-1 victory over Fulham in the semi-final replay on April 9th, the mad scramble for tickets for May 5th began. My Dad, chief photographer for the Burnley Express, obtained three from the club and other members of our group were season ticket holders or got lucky in the ticket draw or queued. Somehow, those who really wanted to go got their ticket.
The special train was due to leave Burnley Central at about 4 am. I walked from the Towneley area down Oxford Rd. and joined a quiet file of people making their way through the town and up Standish St. On the train already were supporters from Colne, Nelson and Brierfield, among them Lester Davidson and Clive Wells.
At Central Station myself, Mick Woods, Neil Calvert and Tony Kluczniak boarded and at Blackburn we were joined by people from Haslingden and the Rawtenstall area, including Michael Egan.
We were armed with huge amounts of sandwiches and flasks and mine were carried in my tartan duffle bag (a fashion item of the time). We had little money for buying food or drink for the next 24 hours.
We arrived at Euston station in the early morning and began to make our way into central London. There was no raucous chanting or anti-social behaviour in those days so we made little impression on the capital. At a crossing as we stood politely at the central reservation in Whitehall we were surprised to get a wave from a limousine as Ernie Marples the well known Minister of Transport passed by. We hoped it was a good omen.
So we made our way to Wembley by tube, fairly early, in order to soak up some atmosphere. Once inside the turnstiles we found that our tickets from different sources put us in different pens on the terraces. There was a great deal of trading between ourselves and with other Clarets trying to be together and the best we could do was to end up in two groups.
Dad was there as official photographer (see the photo of his lavishly embroidered FA arm band) and picked us out behind the goal for one of his crowd photos but I am half hidden by Tony Kluczniak's arm as he swung my rattle as we all cheered for the camera.
The match was great for the neutral but a disappointment for us. Greaves scored a soft goal in the 3rd minute. We were the equal of Spurs or their betters for the rest of the match. Jimmy Robson, who had one of his best ever games, equalised just after half-time (the 100th FA final goal at Wembley) but immediately Bobby Smith restored their lead. I still felt confident we would get another and we did – Robson sprinted from half way to equalise again only for it to be flagged for off-side. With no multi-angle cameras or slow motion, no-one knows to this day whether he began his run from his own half when the ball was played.
The match was clinched by Spurs in controversial circumstances. A left wing centre was contested by Blacklaw and Cliff Jones right in front of us. It was a foul in the air on the keeper which was immediately flagged by the linesman. However the ball ran loose to Medwin whose shot hit Cummings' arm on the line and a penalty was awarded - which Blanchflower converted. There were no mass protests to the linesman, who had lowered his flag, or to the referee – that sort of thing just wasn't done, especially in a cup final.
At the end, we called upon the players to come and be applauded by the fans but as was the custom, or perhaps in their disappointment, they made their way off at the opposite, tunnel end. We only saw a jubilant Spurs pass us by as we politely applauded them as the second best team in the country!
However, the day was not over and we made our way back into the city, with hours to wait before the special left for home about midnight. I knew from Dad that the reception for the club was at The Cafe Royal so we arrived outside at about 10pm.
It had been a great dinner, with most FA dignitaries and press there rather than the Spurs banquet. Quietly the door opened and John Angus emerged for some fresh air. He saw us and came over and proudly showed us his loser's medal and chatted about the match and accepted our commiserations. A lovely, quiet chap - I doubt if he remembers but he made our day and gave us a memory to treasure as a consolation.
We arrived home more than 24 hours after we had left. I slept through until the re-play of the final on TV (black and white) on Sunday afternoon – Jimmy Robson's 102nd goal at Wembley was still inconclusive! Another season of "what if" and "if only" . There seem to have been so many of them since but of course every supporter of every team probably feels the same.
However, in 2009 we had a joyous day at Wembley which will probably be remembered by one of our younger supporters in another 47 years time who I hope will write a similar article for his fellow Clarets.