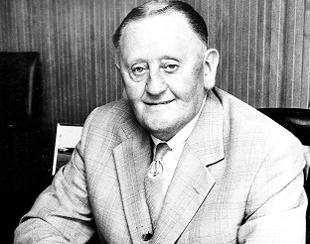 A great disservice said Lord
The storm sparked off at a meeting of Burnley Town Council General Purposes Committee when Alderman John Cassidy, leader of the Labour party, said that traders in central areas of town were in terror of a cup visit from Everton, and this meeting was held before Burnley had won their replay at Leyton Orient to confirm the tie.
In the speech that led to the storm, Alderman Cassidy alleged that some business people in the centre of town, the Central Station and the football ground were in terror and were frightened to death of the hooligan element among Everton supporters.
Cassidy said genuine Burnley supporters were wanting the Clarets to lose the Leyton Orient replay because of the serious consequences a victory would bring.
He called for extra police coverage and moved a resolution that the apprehension of the traders be conveyed to the Chief Constable with the hope that every measure would be taken to protect the public.
It is fair to say that Cassidy, who attended the game when it was played, and his comments did not receive approval from all quarters and there were swift reactions from the Lord Mayor of Liverpool, the Mayor of Burnley, Burnley Football Club chairman, Mr Bob Lord, from the Burnley Conservative Association and from local shopkeepers while Alderman Peter Henry confirmed that no effort would be spared to give adequate police cover.
Cassidy's comments had come following some problems involving some youths when Everton had last been in town for a league game, but he found little support.
Alderman Peter McKernon, the Lord Mayor of Liverpool, said: "Liverpool football fans are 100 per cent sportsmen. They are known throughout the football world for their great knowledge of the game and their appreciation of the finer points.
"These criticisms upset me because we claim to have some of the best supporters in the country. I am sure the whole of the Liverpool City Council will support my views about the remarks of Alderman Cassidy."
Edward Sandy, the Burnley Mayor, replied to Alderman McKernon. He said: "I was not present when this statement was made, and all I have to go on are Press reports. I would have thought that the matter could have been dealt with through the usual channels of the Watch Committee if Alderman Cassidy felt so strongly about it.
"Because a handful of youths got somewhat out of hand, it is wrong to blame a city like Liverpool as being the home of hooligans. The facts were that these youths were dealt with efficiently by other youths, members of the police cadets.
"The only thing I saw the main body of police having to do was escort the offenders off the ground. This could have happened on any ground in the country, and I should have thought at the incident would have long since been forgotten."
Bob Lord agreed to go with Alderman Cassidy and visit these traders who were supposedly frightened to death.
That wasn't until, naturally, he'd had his say. "Alderman Cassidy has done a great disservice to his town," blasted Lord.
"He has done a very great disservice to Burnley Football Club, and he has done untold damage to future relations between the supporters of Burnley and those of Everton.
"If we are going to make statements just because of a few hooligans, surely, we have lost all sense of proportion.
"As to the suggestion by Alderman Cassidy that there are faithful supporters in Burnley who hope we will lost at Leyton so we won't have to face a visit from Everton, that, to me, seems ludicrous.
"Burnley Football Club have no qualms about Everton supporters. The very great majority of them are good sportsmen like all other football fans. It must be made very clear that Burnley Football Club has no connection whatsoever with the comments made by Alderman Cassidy."
One week before the tie, Everton hosted Burnley at Goodison Park in a First Division game with our Mayor invited as the guest of the Lord Mayor of Liverpool. Alderman Sandy had no hesitation in accepting the invitation.
John Cassidy had a colourful and controversial career in local politics after being elected to the Council in 1951. He became leader of the Labour group in 1959 and held that position for four years before resigning.
Two years later he was banned from holding any office in the party for a period of three years and was severely censured for disruption in party affairs. He immediately resigned his aldermanic seat and a year later he was expelled from the Labour Party for causing continued disruption.
He tried to rejoin the party at a later date but was refused and in the 1980s, after years out of politics, he was selected as a parliamentary candidate for the Social Democratic Party but he never realised his ambition to stand at a General Election in Burnley.
It wasn't just in politics he caused problems either. He was a committee member of the Concert Artistes Club in Burnley but was expelled for breaking the rules. He lodged an appeal but that led to a national ban from the Club and Institute Union.
He died in January 2000 at the age of 78 when he was found collapsed at the bottom of the stairs at his home in Hobart Street, Burnley. He was transferred to hospital but failed to recover.
He was, without doubt, a colourful and controversial figure in town in the 1960s and Burnley fans at the time, and I presume those of Everton, will always remember that outburst half a century ago.