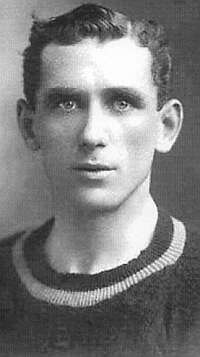 George Halley
It is, of course, sad to countenance the possibility that the record of 30 games unbeaten in one season will be rewritten. However, sadness ought not to be our prime emotion. Regret has its place, but the events to unfold this weekend ought to merit a small celebration – not just of one team and one season – but of a wider perspective that realises the value of past deeds.
It is, too, unfortunate that this has come to pass at a time of great uncertainty in the here and now of the present day. Historical glories seem superfluous, even mocking, when raised in the midst of desperate struggle. Yet, at the same time, it would be wrong to ignore this moment merely to avoid the charge of a Nero-like fiddle. We are not blind to the challenges visible on the horizon. We will all, in the coming weeks, shout and scream ourselves purple in an effort to assist the team to safety. But ask yourself this question. Why are you so concerned? What is it about our club that makes you think it so special?
You might answer that, simply, Burnley is your team, perhaps even your town, and as such deserves your support. But how often do we draw attention to the less-than-impressive away followings brought to the Turf by supposedly big clubs? 'Where's the devotion; where's the faith?' we think. It's actually more instructive to ask the converse: why we follow Burnley around the country in numbers; why we think that Burnley is a club worth such devotion and sacrifice. The answer to that question lies partly in the subject of this article.
Inevitably, there will be those who seek through comparison to denigrate the achievement of the 1920-21 team. This is quite absurd. It is a symptom of the progressive mind to see improvement as simply a matter of historical process. Time does its thing, and things get better. Not only is this not borne out by experience, but the logic of this approach means that the achievements of the past have little or less value than those of the present. By exaggerating the simplicity and coarseness of the early game, this nostalgic attitude implies the superiority of later versions. It not only misrepresents the past, but diminishes it also.
So let us have no sepia-tinted cynicism about how Thierry Henry would have skinned George Halley or how Robert Pires would have bamboozled Cliff Jones. (In any case, I have a feeling that Tommy Boyle would have had them both for breakfast). It's a flawed perspective that has the serious side-effect of obscuring the very real ways in which the past persists, ways in which our understanding of the present is indebted to the deeds of another time, the manifold ways in which the efforts of our predecessors permeate our lives.
If we are to indulge in comparison, a more realistic focus would be on the role of money in the building of many successful sides, for this is observably universal. The antics of Jack Walker or Roman Abramovich are merely contemporary versions of something that has always gone on in football. Burnley have usually been on the seller's side of this market, carefully nurturing their saplings in the finer arts of the game, but the team of 1920-21 was, like the Arsenal and Chelsea of today, a machine carefully constructed from imported parts. Some key players had been signed as professionals, purchased from other professional clubs as part of a conscious policy to build a team capable of winning honours.
Behind this policy were a few men of ambition and vision, working industriously behind the scenes at Turf Moor. Board member William Bracewell had a particularly keen eye for spotting natural talent, and his tireless scouting efforts were both trusted and valued by chairman Harry Windle. In John Haworth, Burnley had a manager skilled in bridging the gap between boardroom and playing field. The club's efforts to lift themselves from Second Division obscurity did not go unnoticed by the townsfolk, who gave their support in increasing numbers, lifting the financial fortunes of the club in the process.
Joe Anderson
So, everything was in place: an ambitious board prepared to invest, a thorough scouting system, a canny manager and enthusiastic support. What one cannot compensate for, however, is events. The FA Cup triumph of 1914, accomplished by a relatively young team, promised to be just the start. By the end of the First World War, however, Burnley had lost some valued squad members to the slaughter, and those that remained had precious few years of top-flight football left in their bones.
Many have wondered what the 1914 team might have accomplished in those lost years. Given the ferocity of the conflict, it is probably closer to the mark to be thankful that they were able to come through the trauma and resume, more or less, from where they left off.
Burnley began the 1920-21 campaign on the back of a second place finish that saw the club post a profit of £9,189 for the 1919-20 season. The club was healthy, but hungry for more silverware, the players all the more determined to make things count while they had the chance. Rumours of striker Bert Freeman's retirement had been circulating for some time. George Halley and Tommy Boyle were well past 30 years of age, whilst Billy Watson was 29. These players had seen four prime years of their career shorn off by the war, and the desire to realise the promise of this fine Turf Moor team was all the more urgent.
As is well documented, the team started the season disastrously. After three games, a pointless Burnley propped up the First Division. The management team took the difficult decision to drop 35 year-old Bert Freeman. The move was significant; all concerned knew that it effectively ended the career of the man who had made an invaluable contribution to the recovery of the club, and who, of course, had scored the goal that brought the FA Cup to Burnley. With the issue of Freeman resolved, winger Willie Nesbitt returned on the right, and young Benny Cross (another astute recruit from non-league football) made his debut at inside-left. Another youngster, Walter Weaver, retained his place on the left-wing. The forward line-up was completed with the formidable pairing of Joe Anderson in the centre and Bob Kelly at inside-right. At the back, Boyle returned from a slight injury and Jerry Dawson was recalled after two matches out.
This could, of course, have turned out to be just another unsuccessful reshuffle, the first of any number of experiments that might not have worked out. Every manager plays around with formations and tactics, only a few hit upon the alchemy that produces a winning team, and even this is dependent on events beyond the manager's control. Even those that choose the right options need the additional fortune of avoiding too many unsettling incidents or injuries, and of receiving their share of the lottery that is the bounce of a slippery sphere. If all of these things fall into place, then a world of football possibility opens. This is exactly what happened at Turf Moor; it turned out to be an inspired reorganisation of the team that allowed a talented forward line to express itself freely.
The run started on 6 September with a 3-0 defeat of Huddersfield, a game that revealed the immediate and intuitive understanding between Cross and Weaver down the left. These two created numerous chances, and the general consensus was that Huddersfield had escaped lightly.
This attacking verve became a feature of the season's play, especially at Turf Moor, where a host of decent teams found the Burnley forward line irresistible. An injury-hit Chelsea succumbed 4-0, both Oldham and Aston Villa were thrashed 7-1, Sheffield United went home on the back of a 6-0 drubbing, and, perhaps most satisfactorily, Blackburn Rovers were sent packing 4-1, the Clarets underlining their superiority a few days later with a 3-1 victory at Ewood Park.
Billy Watson
The creation of chances, of course, does not presuppose the scoring of goals, and here perhaps lies the key. In Joe Anderson, Burnley had a player at the very height of his game, with an insatiable appetite for rippling the net. 'Joe Andy' was a strong, compact and extremely competitive forward, an unsophisticated marksman who cared for little except scoring. His robust approach to the game won him few plaudits, but he was a match-winner. At the back end of October, with Burnley just a few games into their run, the Clarets travelled to face much-fancied Tottenham. After only 20 minutes, Burnley found themselves a goal down and reduced to ten men. It looked bad – but not impossible with Joe Andy around. Early in the second half, Anderson turned the game on its head, slamming in two brilliant individual efforts in the space of three minutes. Burnley held on for an unlikely 2-1 victory, sending 45,000 North Londoners home in a dark mood, leaving the London press to whine about Burnley's allegedly strong-arm tactics.
To prove that this had been no miscarriage of justice, the Clarets completed the double over Spurs the following week with a 2-0 victory at Turf Moor in front of 36,000 fans. The Burnley Express wasted no time in pouring scorn on the preening hacks of Fleet Street, writing on the eve of the return game with Spurs that:
The easy manner with which they have accounted for other teams led the Spurs followers to expect a repetition of previous successes. Burnley, however, brought the Rooster off his perch. The Spurs received a rude shock, and their supporters - aye, and the Pressmen too - were evidently totally unprepared for the result.
Though Burnley laid some teams to waste, other sides proved more formidable challengers. As one would normally expect, only a team of real character could avoid defeat in so many games in such demanding circumstances. On more than one occasion, Burnley had to summon up all their reserves of strength and determination to maintain their unbeaten run.
Middlesborough held a 1-0 half-time lead at Turf Moor before second half goals from Anderson and Cross secured two points. The Clarets struggled at Chelsea and Bolton, where Anderson goals secured 1-1 draws, and a key phase of the season was the double header with title rivals Liverpool. Burnley prised three points from the two games, winning 1-0 at the Turf after a resilient defensive display in a 0-0 draw at Anfield. They also had to hold on grimly for a point at Oldham, after some uncharacteristically poor defending saw them lose a 2-0 lead.
Perhaps the biggest scare came in the home game against Derby on 12 February. Burnley ran out at Turf Moor that day as proud holders of a new Football League record of 23 First Division games without defeat, the previous mark of Preston's having been exceeded in a drab 0-0 draw at Villa Park in midweek. Then an unwell George Halley had battled through the ninety minutes, and was soon after confined to his bed with pneumonia. Without Halley, Burnley's defence creaked under Derby pressure, and the Rams missed a penalty and had a goal disallowed with the score at 0-0. Burnley eventually prevailed narrowly, 2-1, but the Derby team won few friends as they openly targeted Joe Anderson, hacking him continuously and, after just 28 minutes, putting him out of the game with a fractured cheekbone.
In all of these games, Burnley overcame severe examinations of their toughness and mettle, and each time they emerged bruised but unconquered. And we should also take into account the fact that very few of the medical and nutritional sophistications of today were available. Trainer Charlie Bates was said to be a wizard at soothing sore and battered feet, but it was remarkable, and rare in those days, to see a team perform at such a consistently high, intense level with unchanging personnel. By the turn of the New Year, just twelve players had been used with any regularity.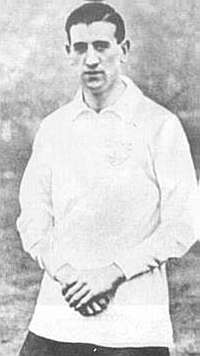 Bob Kelly
Such stability was a misfortune for the players who found themselves on the fringes of the team. These included such established names as Freeman, Eddie Mosscrop and John Lindsay. David Taylor could not reclaim his shirt after an injury at Spurs, and young Alf Bassnett found his first team chances severely limited. Normally, a senior reserve could almost certainly expect a call up at some point, but such opportunities were rare in this most distinctive of seasons.
Not surprisingly, by March the season was taking its toll on the core of players who had been virtually ever-present since August. Watson was said to be exhausted, and Anderson was still suffering from the facial injury sustained against Derby, so much so that it was reported he couldn't head the ball. George Halley was making only a slow recovery from pneumonia, his illness giving Bassnett the chance to shine.
On 25 March – Good Friday – Burnley entertained Manchester United in front of a full house of 40,000 at Turf Moor. A Benny Cross goal gave Burnley the points and put the team eight points clear of second-placed Liverpool. Furthermore, they had now completed the milestone of 30 consecutive League games without defeat.
With nine fixtures left, and the championship in sight, Easter Saturday saw the Clarets travel to Maine Road to take on the blue half of Manchester. The official attendance of 42,000 did not include the hundreds crowded on housetops and squatting precariously on stand roofs. In front of this multitude, it was not to be Burnley's day. Tommy Boyle missed a penalty and young Bassnett was twice elbowed into unconsciousness. Man City eventually ran out 3-0 winners and Burnley's great unbeaten run had ended.
The defeat at Maine Road was a bittersweet occasion. Defeat always rankles, but there was also a sense of relief in that the pressure of maintaining a run had been lifted. In his diaries, Billy Watson noted that he was glad to have reached the milestone of 30 games, but that every match had become like a Cup Final, with the spotlight of the national press trained harshly on the team that everyone now wanted to beat. Over that weekend, the press finally had the opportunity to herald the achievement of the Clarets. A proud Burnley Express editorial saluted the team:
To play matches every week, and sometimes more than one match per week, without losing a game in the League tournament for nearly seven months is the best possible proof that the team is composed of the finest players of the day, and every individual member who has participated in these historic games may well feel proud of the distinction they have helped to gain for both the club and the town.
The Burnley News reflected the sense of fulfilment around Turf Moor that a fine set of players had at last received the honour they deserved:
So an end has been put to Burnley's record-breaking run. But do we mind? Not a bit of it! We have been partners with the greatest team that ever was. We know full well that never in our time will such a thing be accomplished again, and we like to think that we live in an age that will be remembered when we personally are forgotten.
This little paragraph, full of warm-heartedness and prescience, ought to be our barometer if Arsenal avoid defeat in their 31st game this weekend. It should not give cause for bitter regret. That 30 game run never was accomplished again in their time; we have not, nor will we ever, forget those who brought such distinction to our club for the first time in its history; neither will the rewriting of this record diminish by one iota the huge achievement of that Burnley team, clad in claret and blue, proud to call Turf Moor its home. Renewed in memory, such achievements remain a source of everlasting hope, since memory tells us that nothing that was worthy in the past is ever lost.
To finish (and I thank you for having the patience to read this far), a question and a poem that may hopefully place things in some perspective. Let me present you with a choice – we can have three points at Walsall, or we can keep the record. Which one would you choose? It didn't take me long to decide, and I was reminded of the Serge poem:
Let's get to work so that one day, perhaps, a passer-by might see
in the lines ripening at this moment, as I too haul in my net in the pond
of useless days,
some traces of a reassuring sky that I cannot see there.
In times of hardship, only by pulling together do we reach the day where uncertainties and worries may be dispelled. The great Burnley teams of the past remind us of those days, and they do us a valuable service by this. So this weekend, find the time to raise a glass to the giants of 1921; but in doing so, don't forget our more pressing concerns – that we have work to do in these next few weeks, everyone together, to dispel the dark clouds so that we might again see traces of a more reassuring sky.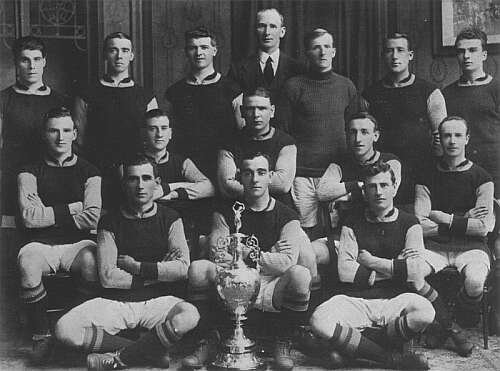 This article by Phil Whalley was originally published in April 2004
when Arsenal had equalled our record of 30 league games without defeat in one season