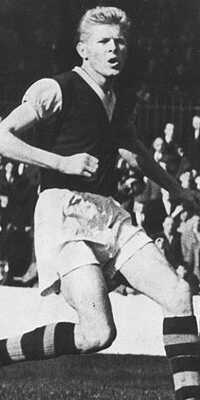 We'd certainly played in Northern Ireland. There were games against Glentoran in 1959 and 1961 and then pre-season tours in both 1996 and 1997 when we played a total of nine games, but none in the Republic, although in the back of my mind I did seem to have this notion of a game having been arranged against Manchester City during the big freeze of early 1963.
There was certainly one link between our club and Dublin, and to be more precise between our club and Dalymount Park the home of Bohemians. It was there that our England goalkeeper Colin McDonald saw his career come to an end after he broke his leg in an inter-league game from which he never fully recovered back in 1959.
So last month we drew 0-0 in our first ever game there, or was it the first? I still wondered about that lost game in 1963 but accepted it was just my mind playing tricks on me.
Then came an email from a Burnley fan based in Ireland. He told me he'd been to the game all those years ago and that it had been played at Dalymount Park.
That was followed by an email from another Claret who was able to confirm the date for me - and incredibly it was on a Friday evening (just as it was this year) and more incredibly played on the same date 15th February.
Had we really played two games in the Republic, both of them at Dalymount Park and both of them on the same date 45 years apart? The answer is yes.
The winter of the 1962/63 season was a bad one, and the harsh weather was with us for week upon week, causing severe disruption to the football programme. We played Sheffield Wednesday on the Turf on 29th December but it was March before we were next in league action against Sheffield United at Bramall Lane.
We were fortunate to get that Wednesday game in. We won 4-0 and West Ham's 4-3 win at Nottingham Forest was the only other First Division game to beat the weather.
We did play three FA Cup ties during January and February. There was the 3-0 win at Spurs on a frozen, snow covered pitch, and then two games against newly promoted Liverpool that saw us go out to a penalty in the last minute of extra time at Anfield.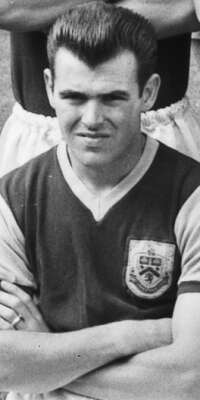 Clubs were desperate to get games in, and on that Friday in February the Irish press were reporting that the Leinster F.A. were hoping to stage an exhibition game between Burnley and Blackpool at Dalymount Park with an 8:00 p.m. kick off. The two clubs were due to play each other in a league game at Bloomfield Road but, as was the case with just about every other English fixture, it was very doubtful. It was said that the two clubs would fly to Dublin for a friendly should the league game be called off.
&nbsp
This article was originally published in March 2008
The league game was called off but unfortunately Blackpool pulled out of the Dublin game. It all looked as though it would have to be cancelled but at the eleventh hour Manchester City, who were also out of action, agreed to go in their place.
And so, on Friday 15th February 1963, Burnley played Manchester City at Dalymount Park in a game that ended 1-1 on a weekend that saw just four First Division games played and at a time when the FA Cup 3rd round was still waiting to be completed six weeks after it had started.

The Burnley team was a strong one; it was the team that had beaten Sheffield Wednesday in the last game of 1962. Ray Pointer was injured in that game and had missed the first two cup ties, at Spurs and at home to Liverpool, but got a 45 minute run out in this game.
A quick glance at the Burnley team shows that it included two players who went on to manage the club in Jimmy Adamson and Brian Miller, but there was a third future Burnley manager who took part in the game. Just check the Manchester City team and the appearance of a certain 20-year-old John Benson.
We've been fortunate to find a report of this game from the Irish Times and we are delighted to reproduce that here, our forgotten night in Dublin in 1963.
English stars fail to excite the crowd
Burnley and Manchester City, while being technically efficient, produced nothing spectacular for 15,000 eager Irish supporters at Dalymount Park last night.
The football from both sides was neat and constructive, but team work took precedence over individual brilliance in virtually all phases of play and the crowd abandoned the terraces wondering whether football across-Channel was so superior to League of Ireland fare after all.
The spectators, eagerly anticipating a brand of football far superior to the type that they have had to suffer week after week, were sadly disappointed. The two English first division sides, loosening their limbs, provided the exhibition football that just about satisfies but never fires the enthusiasm.
Peter Dobing, the ex-Blackburn Rovers forward, playing at outside-right for Manchester City, was the outstanding footballer on the field. Dobing alone was prepared to test his individual prowess against a fast-covering Burnley rear-guard. He persevered for 77 minutes and only then did his tactics pay off. He shot from 20 yards; Blacklaw blocked the ball, but Harley, the City centre-forward, was in position to level the scores.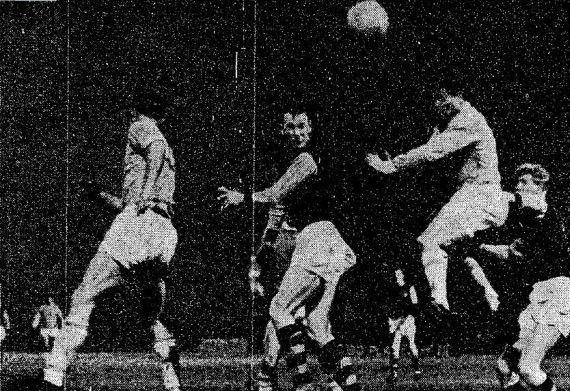 Burnley will be criticised for confining their tactics to purely sweeping play from one flank to the other, but they were obviously biding their time, until a breach appeared in the Manchester defence.
Only then did they try to make a thrust through the centre. Unfortunately, they had neither the speed, guile or anticipation to climax the moves begun at midfield.
Pointer, the fair haired inside right, was the real threat to the rival defence. However, he placed most of his passes to Connelly on the right wing and the England star was strangely hesitant and, apparently, reluctant to send the ball across City's goal.
There was no score in the first half. Burnley played the more accurate football, with every man moving into position for a pass, and covering off when tactics went awry, but Manchester, although not nearly as constructive in their ideas, broke directly through the middle and looked more likely to score.
Dobing, revelling in the mud, tested Blacklaw with a fast shot midway through the first half and placed Harley, his centre-forward, and Young, his outside-left, for volleyed shots. The first was narrowly wide and Young's was beautifully taken down by Blacklaw.
Burnley, for all their planned approach work and skilful supporting of each move, rarely looked dangerous. McIlroy, the schemer in the front line, who fed greedily on Adamson's almost casual but ever-accurate supply of passes, tried every stratagem in his vast repertoire to open the Manchester defence. But he was too slow to catch the opposing rear-guard napping.
The spectators, always anxious to cheer a promising move, were obviously hoping for a much more lively second period. Burnley replaced Pointer with Robson, who fitted in like the spare piece in a jig-saw puzzle, but never showed any enthusiasm for a direct assault through the centre.
The second half was only a quarter hour old when Connelly scored. He came inside to meet Harris, who was cutting across-field. The left winger flicked a neat inside pass to his opposite number and Connelly calmly left-footed a splendid goal.
The score was the incentive for Manchester City's retaliatory efforts. Dobing, who was receiving a more consistent service from Benson and Oakes, his wing halves, played some brilliant football. He was assisted in his efforts by Hannah, who replaced Young.
Hannah broke down the left wing in the 77th minute and passed inside to Dobing whose shot was blocked by Blacklaw. The ball went loose to Harley and he scored. Manchester piled on the pressure but failed to snatch the winner.
The teams were;
Burnley: Adam Blacklaw, John Angus, Alex Elder, Jimmy Adamson, John Talbut, Brian Miller, John Connelly, Ray Pointer (Jimmy Robson), Andy Lochhead, Jimmy McIlroy, Gordon Harris.
Manchester City: Harry Dowd, Barry Betts, Cliff Sear, John Benson, Bill Leivers, Alan Oakes, Peter Dobing, Bobby Kennedy, Alex Harley, Roy Cheetham, Neil Young (George Hannah).
This article was originally published in March 2008