It was very much peace time again and many of the stars from the FA Cup winning team of 1914, prior to World War I, were still with the club. We'd added to it with players of the like of Joe Anderson who had come in to partner the incomparable Bob Kelly a year earlier. This was considered to be the best Burnley side in the club's almost forty years of existence.
Any hopes of honours, however, appeared to be dashed almost before the season had warmed up and by the first week in September we were bottom of the league and without a point after defeats against Bradford City twice and Huddersfield, two sides who had made 100% starts to the new season.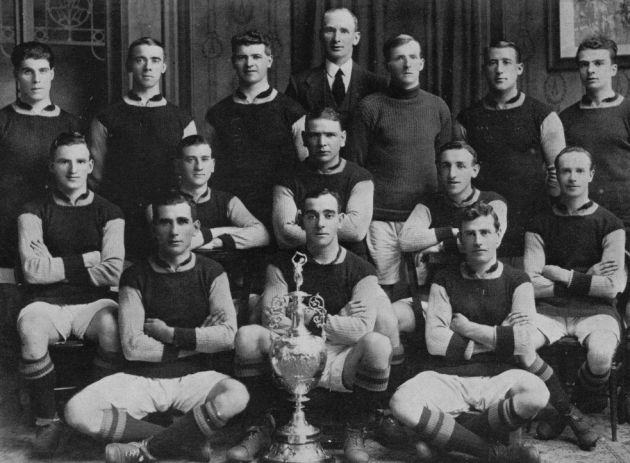 The 1920/21 Championship winning team
Our return fixture against Huddersfield brought us a 3-0 win with goals from Kelly, Tommy Boyle and Billy Nesbitt. After the shocking start to the season, this was an unexpected win but it was to prove the most significant of results. It ended the run of three defeats and brought us our first points of the season but far more importantly it started an unbeaten run in the league that was to take us through to March and a league record that Burnley were to hold for over eighty years.
It is very difficult for the modern day Burnley supporter to contemplate it but this team in claret & blue went on to remain unbeaten for no fewer than thirty games, and twenty-one of those were won. By the time we lost again, in late March against Manchester City, we were seven points clear at the top of the league and well on the way to our first title. We hadn't dropped a single point at home after that early defeat to Bradford City.
We stuttered in the last few games but on 23rd April 1921, St. George's Day, a 1-1 away draw at Everton was enough to clinch the title with three games still to play, as the season ended almost as it started with us winning none of the last six.
Burnley were League Champions for the first time in their history and without doubt John Haworth had put together the greatest ever Burnley side. We'd won the FA Cup seven years previously and now the league and without the war time interruption history could well have shown this to be one of the great English sides of all time. The townsfolk had responded too – as Turf Moor attendances soared to an average of almost 33,000.
The season might have ended with a hiccup but the form returned in the following season. By the turn of the year we were right there at the top again alongside Liverpool and early in 1922 a record crowd of almost 41,000 saw us take on local rivals Blackburn Rovers. Disappointingly that game was lost 2-1 and in the next home game an injury to captain Tommy Boyle brought the great player's career to an end.
Boyle had been an inspirational captain since signing for Burnley in 1911 and his absence would have a great effect on the team.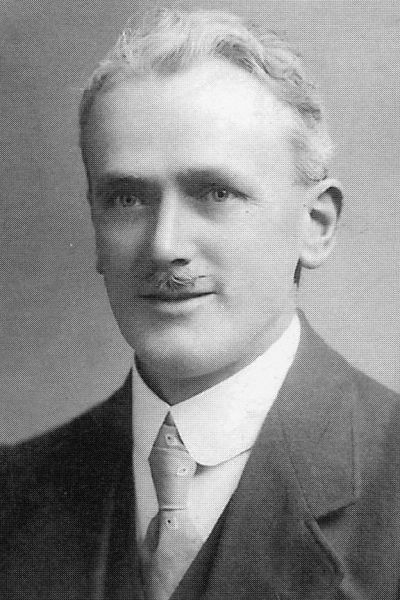 John Haworth won both the FA Cup and league title as manager
We slipped and ended the season in a disappointing 3rd place and that meant that in the last four league seasons we had finished in each of the top four positions. That 1921/22 season proved to be the last one for this great side and things were to get somewhat more difficult for Burnley.
With Boyle no longer in the side there was another blow when George Halley left in the summer and the 1922/23 season proved to be a struggle. After those four top four finishes in the previous four seasons it was a major disappointment for the Clarets who ended the season in 15th place.
There was little to cheer for the Burnley supporters, apart from the odd big win, although towards the end of that season we signed centre forward George Beel from Chesterfield. He would become the goalscorer we were looking for.
Beel scored nineteen league goals in his first full season with Burnley but there was to be no improvement in 1923/94 as the rest of the team struggled to score goals. Only a cup run that saw us reach the semi-final lifted the gloom as the team finished the season in a disappointing 17th place.
That cup run created a record that is hardly ever likely to be broken at Turf Moor. Having beaten South Shields and Fulham we were then drawn at home to Huddersfield in the 3rd round. We won the game 1-0 in front of a crowd of 54,775. It was the highest ever attendance at Turf Moor and remains so to this day.
The great days were well and truly over and as the slide continued into the 1924/25 season tragedy hit Turf Moor. Manager Haworth had brought success to the club beyond anyone's dreams but after fourteen years in charge he contracted pneumonia and at the age of 48 he died in December of 1924.
In any history written about Burnley Football Club, the name John Haworth should be right up there in lights, and to think that the Burnley folk were none too impressed with his appointment in 1910. Things had changed and the town mourned his passing.
The club turned to director Albert Pickles but there was to be no real improvement and that 1924/25 season ended with us in 19th place whilst we dropped a further place in 1925/26 and just avoided relegation.
Things were looking bleak but in April we travelled to Birmingham and came back with a 7-1 win. Jack Bruton scored for the Clarets that day but no one will ever remember that fact as Louis Page broke a club record by scoring the other six. It is an achievement that has never been equalled. Even with that result it still took two wins in the last two games to keep us up.
There were soon to be hopes of a revival as we ended the 1926/27 season in 5th place in the league and we were thankful to Page and Beel, it was their goals that helped us to such a high finish. Beel got 24 but even though he improved on that a year later there was to be no repeat finish for Burnley.
He did more than beat it, he went on to create yet another Burnley record by scoring 35 league goals, still the most scored by one player in any one season. Where we would have been without his goals is anyone's guess, even with them we finished down in 19th place.
A year later and he'd scored another 30, taking him past Bert Freeman as the club's highest goal scorer and again we were thankful to him as we ended the season in the same position. It was also the season that saw a final farewell for goalkeeper Jerry Dawson who played his 522nd and last league game for the club on Christmas Day.
The decade had started with greatness but sadly ended with a relegation that had been threatened over the previous few years. Beel, by his own standards, struggled for goals, hitting just 10 in 30 games and there's no doubt that a few more from him would have kept us up as his goals had done in the previous two seasons, we were to be relegated on goal average.
It was not how we wanted to go into the 1930s and certainly not the way we would have wanted to remember the 1920s, the decade when the League Championship came to Turf Moor for the very first time.
It might not, in the end, have been the most successful decade for the club overall but one that will be remembered for that wonderful achievement in its very first full season.
There was worse to come for Burnley before it got better.