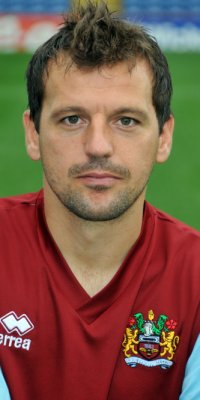 Given no chance by anyone outside the home dressing room before the match, Burnley ultimately did go out - but only after a football match that will go down amongst the most dramatic in the modern era, the one in which clubs like Burnley are not supposed to be able to compete with the gargantuan wealth of top-flight clubs.
We came to Turf Moor that night with hope, but not belief. Yet there is a point upon the spectrum at which the two collide, and it arrived after approximately 73 minutes of the match, when Robbie Blake left Chris Gunter spinning on his axis before placing the ball perfectly for Chris McCann to put the Clarets two to the good. The magical Blake had already curled home a sublime free-kick to spark outrageous thoughts of possibilities; even before Blake's free kick was guided home by Jay Rodriguez thanks to the flailing limbs of Alnwick, the outrageous had become the seemingly inevitable as a result of sheer will.
And with belief came a sound which has not have been heard at Turf Moor for many years. As the comeback unfolded before our disbelieving eyes, the volume gradually rose until the old ground must have resembled the intimidating bear pit of forty years ago from which the big city clubs were regularly dispatched with their tails between their legs.
Those of us who cannot claim to have seen Burnley play in front of 40,000 in the glory days have heard noise at Turf Moor before, but it has been of a different type, borne of relief in the face of adversity or the one-off success of the plucky underdog. This was different: louder, more euphoric, the roar of credible achievement and the possibility of glory.
Of course, it all ended with a horrible kick in the ribs. But regardless of Roman Pavlyuchenko's unjust intervention, this Burnley team have created a chapter in the history of this club which compares with the deeds of earlier generations who are still revered around the town. This team do not quite have the pedigree of those fabled teams, but their football echoes the best traditions of the club and they play with jaw-dropping spirit and heart.
There was a message to be drawn from the performance last week which is especially pertinent as Manchester City chase around the globe waving armfuls of 50 quid notes at every top class footballer in sight. It is this: you can buy players, but you cannot buy a team. Those are forged from spirit and togetherness and will to win. This Burnley team, costing approximately the same as David Bentley's backside, has the sort of collective value which cannot be quantified in cold currency.
Burnley were a team on Wednesday: not as fluent as they were against Chelsea or Arsenal or even in the first half at White Hart Lane. But in conditions which did not favour pretty football, they were as tight as a unit can be. They covered each other, roused each other, and fought for each other. They trusted in themselves, each other and their principles to carry them through when they had no right to have such faith.
I remember turning to my mate at Stamford Bridge, with 5 minutes remaining in extra time, and telling him that I didn't care if we won or lost. We'd done what we set out to do, I said. We'd made our point: we'd proved that we can play this game and hold our own with the great and the good of English football.
On Wednesday night, every Burnley player made his point in capital letters, in bold ink, and circled it in highlighter pen. Robbie Blake might never have quite established himself in the Premier League, but he proved himself to be a player of Premier League class; you simply don't bewilder top flight opponents without having that talent. Alexander, too, showed that his quality deserved a higher stage. The younger players - Paterson, Eagles, McCann, Rodriguez - demonstrated that they have what it takes to play against Premier League opponents every week. So too the less eye-catching cogs who exist below the headlines.
Five times, we have played Premier League teams in this cup run, and four times we have won the night. Had league points been at stake from those games, we would have taken 10. This team, with only a few additions, can play at that level. It has proved that to itself, and in doing so it has made Burnley proud.
And so, through the desolation and disappointment, it is worth reflecting on this: for the first time in my time watching Burnley, we have a team which will be talked about for years to come for their accomplishments on a national stage, which have demanded the admiration of an audience far beyond the borough of Burnley for both the skill of their play and the quality of their character. The young kids who were at Turf Moor on Wednesday night will look back in wonderment at the miraculous deeds of Blake, McCann, Rodriguez and co when they talk to their kids forty years from now - just as those of elder generations today talk of European nights and league championships.
There was a gentleman, as I came away from White Hart Lane two weeks ago, who was telling his neighbour that it was a shame they had drawn Burnley rather than Derby, because Derby might have provided a more serious challenge. A challenge, sir? Oh, you got one of those in the end all right. You faced the same challenge which Bury, Oldham, Fulham Chelsea and Arsenal faced previously. And despite your millions and the galvanising prospect of a cup-final, you bloody nearly went the same way as those earlier victims.
Yet now, ironically, this Burnley team must challenge not their opponents, but themselves. For the choking disappointment of Wednesday night, they must target redemption. They must challenge themselves to play with the same desire and craft which they showed against Spurs over the remainder of the league campaign.
Because if they do that, then they can play at Wembley this season. They can do so in a play-off final, and they can win it. They have indeed made their point: now, they must prove it.
This article was originally written in the week following the Carling Cup Semi-Final against Tottenham Hotspur that was played over two legs in January 2009