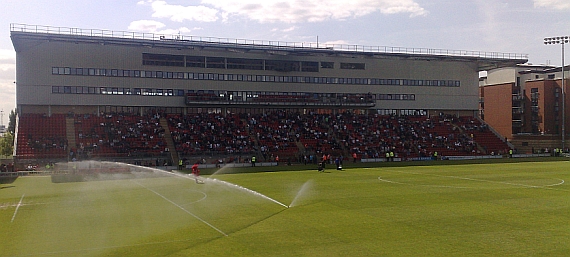 We now move on to Leyton Orient
Swansea have joined Padiham, Staveley Miners Welfare, Parkgate, Stalybridge Celtic, Eastwood Town, Swindon Supermarine and Colchester United in going out immediately after taking their place as the Clarets Mad team.
They were clear favourites yesterday against Leyton Orient but they went the way of the others with only Warrington Town having won through a round.
Having gone 1-0 down to a Jimmy Smith goal, Swansea did equalise right on half time through Cedric van der Gun. It all looked as though it was going to a replay until two minutes from time when Swans' captain Alan Tate scored an own goal as he sliced a ball past his own keeper.
That's now left Leyton Orient as the Clarets Mad team, ready to take the curse into the next round. No matter what happens, with this cup run they are bound to go out and in any case they've been dealt a difficult hand with a home tie against Arsenal.
As the Clarets Mad team you wouldn't have bet on them against Crawley, let alone the Gunners.
Clarets Mad Road to Wembley (Results so far)

Extra-Preliminary Round
Staveley Miners Welfare 5
Padiham
0
attendance 90
(winners receive £750 prize money)
Preliminary Round
Staveley Miners Welfare
1 Parkgate 3
attendance 110
(winners receive £1,500 prize money)
First Round Qualifying
Parkgate
1 Warrington Town 3
attendance 122
(winners receive £3,000 prize money)
Second Round Qualifying
Bamber Bridge 1
Warrington Town
1
attendance 223
Warrington Town
4 Bamber Bridge 2
attendance 236
(winners receive £4,500 prize money)
Third Round Qualifying
Warrington Town
1 Stalybridge Celtic 3
attendance 429
(winners receive £7,500 prize money)
Fourth Round Qualifying
Stalybridge Celtic
1 Eastwood Town 2
attendance 659
(winners receive £12,500 prize money)
First Round Proper
Swindon Supermarine 2
Eastwood Town
1
attendance 2,603
(winners receive £18,000 prize money)
Second Round Proper
Colchester United 1
Swindon Supermarine
0
attendance 3,047
(winners receive £27,000 prize money)
Third Round Proper
Swansea City 4
Colchester United
0
attendance 7,005
(winners receive £67,500 prize money)
Fourth Round Proper
Swansea City
1 Leyton Orient 2
attendance 6,281
(winners receive £90,000 prize money)
Fourth Round Results
Torquay United 0 Crawley Town 1
Watford 0 Brighton and Hove Albion 1
Bolton Wanderers 0 Wigan Athletic 0
Arsenal 2 v Huddersfield Town 1
Fulham 4 Tottenham Hotspur 0
Everton 1 Chelsea 1
Southampton 1 Manchester United 2
Swansea City 1 Leyton Orient 2
Burnley 3 Burton Albion 1
Birmingham City 3 Coventry City 2
Wolverhampton Wanderers 0 Stoke City 1
Notts County 1 Manchester City 1
Stevenage 1 Reading 2
Aston Villa 3 Blackburn Rovers 1
West Ham United 3 Nottingham Forest 2
Sheffield Wednesday 4 Hereford United 1
Fifth Round Draw

West Ham United v Burnley
Notts County or Manchester City v Aston Villa
Stoke City v Brighton and Hove Albion
Birmingham City v Sheffield Wednesday
Leyton Orient v Arsenal
Everton or Chelsea v Reading
Manchester United v Crawley Town
Fulham v Bolton Wanderers or Wigan Athletic