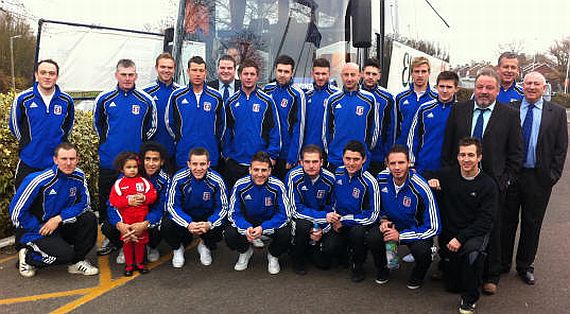 The Swindon Supermarine team about to leave for the tie at Colchester
Supermarine were beaten 1-0 to a Dave Mooney goal scored midway through the first half, but they made a real game of it and had a number of opportunities to grab an equaliser, none more so than when they hit the post.
It continues our wretched run in the competition and for the seventh time in eight ties our club has lost their tie. Now, we are with Colchester United of League One and they are already underdogs for their third round tie against Swansea City at the Liberty Stadium.
Former Burnley assistant boss John Ward, now in charge at Colchester, is looking forward to the tie and admitted, after a difficult afternoon yesterday, that it was very much a case now of the boot being on the other foot.
Clarets Mad Road to Wembley (Results so far)
Extra-Preliminary Round
Staveley Miners Welfare 5
Padiham
0
attendance 90
(winners receive £750 prize money)
Preliminary Round
Staveley Miners Welfare
1 Parkgate 3
attendance 110
(winners receive £1,500 prize money)
First Round Qualifying
Parkgate
1 Warrington Town 3
attendance 122
(winners receive £3,000 prize money)
Second Round Qualifying
Bamber Bridge 1
Warrington Town
1
attendance 223
Warrington Town
4 Bamber Bridge 2
attendance 236
(winners receive £4,500 prize money)
Third Round Qualifying
Warrington Town
1 Stalybridge Celtic 3
attendance 429
(winners receive £7,500 prize money)
Fourth Round Qualifying
Stalybridge Celtic
1 Eastwood Town 2
attendance 659
(winners receive £12,500 prize money)
First Round Proper
Swindon Supermarine 2
Eastwood Town
1
attendance 2,603
(winners receive £18,000 prize money)
Second Round Proper
Colchester United 1
Swindon Supermarine
0
attendance 3,047
(winners receive £27,000 prize money)
Second Round Results
Sheffield Wednesday 3 Northampton Town 2
Burton Albion 3 Chesterfield 1
Huddersfield Town 6 Macclesfield Town 0
AFC Wimbledon 0 Stevenage 2
Hartlepool United v Yeovil Town - Postponed
Bury 1 Peterborough United 2
Notts County v AFC Bournemouth - Postponed
Droylsden v Leyton Orient - playing Monday
Crawley Town 1 Swindon Town 1
Brighton & Hove Albion 1 v FC United of Manchester 1
Southampton 3 Cheltenham Town 0
Torquay United 1 Walsall 0
Charlton Athletic 2 Luton Town 2
Colchester United 1 Swindon Supermarine 0
Hereford United 2 Lincoln City 2
Port Vale 1 Accrington Stanley 0
Wycombe Wanderers 3 Chelmsford City 1
Carlisle United 3 Tamworth 2
Dover Athletic 2 Aldershot Town 0
Darlington 0 York City 2
Third Round Draw
Burnley v Port Vale
Coventry City v Crystal Palace
Bristol City v Sheffield Wednesday
Fulham v Peterborough United
Doncaster Rovers v Wolverhampton Wanderers
Brighton and Hove Albion or FC United of Manchester v Portsmouth
Huddersfield Town v Dover Athletic
Crawley Town or Swindon Town v Derby County
West Ham United v Barnsley
Reading v West Bromwich Albion
Arsenal v Leeds United
Sheffield United v Aston Villa
Leicester City v Manchester City
Bolton Wanderers v York City
Blackburn Rovers v Queens Park Rangers
Swansea City v Colchester United
Wycombe Wanderers v Hereford United or Lincoln City
Stevenage v Newcastle United
Burton Albion v Middlesbrough
Millwall v Birmingham City
Southampton v Blackpool
Watford v Hartlepool United or Yeovil Town
Chelsea v Ipswich Town
Sunderland v Notts County or Bournemouth
Scunthorpe United v Everton
Manchester United v Liverpool
Hull City v Wigan Athletic
Stoke City v Cardiff City
Tottenham Hotspur v Charlton Athletic or Luton Town
Preston North End v Nottingham Forest
Norwich City v Droylsden or Leyton Orient
Torquay United v Carlisle United