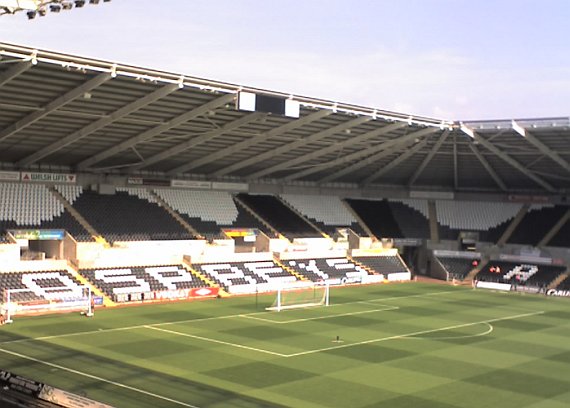 Back at Swansea for the next round
Having started with our near neighbours Padiham, we've been in the south for the last three rounds and that will continue into the fourth round with our new team Swansea City drawn at home to Leyton Orient.
Swansea will be favourites but they should be aware of the Clarets Mad curse that only Warrington Town have so far beaten when they defeated Bamber Bridge.
It was a comfortable enough win for the Swans yesterday once Gary Monk had given them the lead midway through the first half. Darren Pratley added a second before half time and it the second half goals were scored by Cedric van der Gun and Scott Sinclair.
Colchester described Swansea's performance as an exhibition in passing and one that they would hopefully learn from.
And so we stay at the Liberty Stadium for the next round when Leyton Orient attempt to continue the appalling Clarets Mad record.
Clarets Mad Road to Wembley (Results so far)

Extra-Preliminary Round
Staveley Miners Welfare 5
Padiham
0
attendance 90
(winners receive £750 prize money)
Preliminary Round
Staveley Miners Welfare
1 Parkgate 3
attendance 110
(winners receive £1,500 prize money)
First Round Qualifying
Parkgate
1 Warrington Town 3
attendance 122
(winners receive £3,000 prize money)
Second Round Qualifying
Bamber Bridge 1
Warrington Town
1
attendance 223
Warrington Town
4 Bamber Bridge 2
attendance 236
(winners receive £4,500 prize money)
Third Round Qualifying
Warrington Town
1 Stalybridge Celtic 3
attendance 429
(winners receive £7,500 prize money)
Fourth Round Qualifying
Stalybridge Celtic
1 Eastwood Town 2
attendance 659
(winners receive £12,500 prize money)
First Round Proper
Swindon Supermarine 2
Eastwood Town
1
attendance 2,603
(winners receive £18,000 prize money)
Second Round Proper
Colchester United 1
Swindon Supermarine
0
attendance 3,047
(winners receive £27,000 prize money)
Third Round Proper
Swansea City 4
Colchester United
0
attendance 7,005
(winners receive £67,500 prize money)
Third Round Results
Burnley 4 Port Vale 2
Coventry City 2 Crystal Palace 1
Bristol City 0 Sheffield Wednesday 3
Fulham 6 Peterborough United 2
Doncaster Rovers 2 Wolverhampton Wanderers 2
Brighton and Hove Albion 3 Portsmouth 1
Huddersfield Town 2 Dover Athletic 0
Crawley Town v Derby County -playing Monday
West Ham United 2 Barnsley 0
Reading 1 West Bromwich Albion 0
Arsenal 1 Leeds United 1
Sheffield United 1 Aston Villa 3
Leicester City 2 Manchester City 2
Bolton Wanderers 2 York City 0
Blackburn Rovers 1 Queens Park Rangers 0
Swansea City 4 Colchester United 0
Wycombe Wanderers v Hereford United - playing Tuesday
Stevenage 3 Newcastle United 1
Burton Albion 2 Middlesbrough 1
Millwall 1 Birmingham City 4
Southampton 2 Blackpool 0
Watford 4 Hartlepool United 1
Chelsea 7 Ipswich Town 0
Sunderland 1 Notts County 2
Scunthorpe United 1 Everton 5
Manchester United 1 Liverpool 0
Hull City 2 Wigan Athletic 3
Stoke City 1 Cardiff City 1
Tottenham Hotspur 3 Charlton Athletic 0
Preston North End 1 Nottingham Forest 2
Norwich City 0 Leyton Orient 1
Torquay United 1 Carlisle United 0
Fourth Round Draw

Torquay United v Crawley Town or Derby County
Watford v Brighton and Hove Albion
Bolton Wanderers v Wigan Athletic
Arsenal or Leeds United v Huddersfield Town
Fulham v Tottenham Hotspur
Everton v Chelsea
Southampton v Manchester United
Swansea City v Leyton Orient
Burnley v Burton Albion
Birmingham City v Coventry City
Doncaster Rovers or Wolverhampton Wanderers v Stoke City or Cardiff City
Notts County v Leicester City or Manchester City
Stevenage v Reading
Aston Villa v Blackburn Rovers
West Ham United v Nottingham Forest
Sheffield Wednesday v Wycombe Wanderers or Hereford United