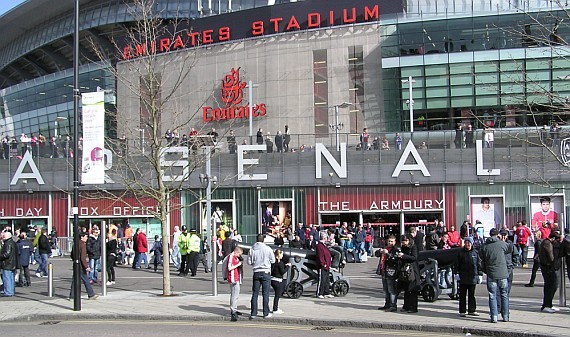 Emirates will stage the replay
That looked even more likely when Tomas Rosicky gave the Gunners the lead eight minutes into the second half but there was a shock to come for the Wenger Boys when Jonathan Tehoue had most of the crowd on their feet with an equaliser just over a minute from the end of normal time.
They are likely to go out in the replay but this was a massive boost for a club that are at the centre of the Olympic Stadium wrangle and expressing serious concerns about their future.
A trip to Old Trafford faces the winners, but they won't be decided until the Emirates replay on Wednesday of next week.
Clarets Mad Road to Wembley (Results so far)

Extra-Preliminary Round
Staveley Miners Welfare 5
Padiham
0
attendance 90
(winners receive £750 prize money)
Preliminary Round
Staveley Miners Welfare
1 Parkgate 3
attendance 110
(winners receive £1,500 prize money)
First Round Qualifying
Parkgate
1 Warrington Town 3
attendance 122
(winners receive £3,000 prize money)
Second Round Qualifying
Bamber Bridge 1
Warrington Town
1
attendance 223
Warrington Town
4 Bamber Bridge 2
attendance 236
(winners receive £4,500 prize money)
Third Round Qualifying
Warrington Town
1 Stalybridge Celtic 3
attendance 429
(winners receive £7,500 prize money)
Fourth Round Qualifying
Stalybridge Celtic
1 Eastwood Town 2
attendance 659
(winners receive £12,500 prize money)
First Round Proper
Swindon Supermarine 2
Eastwood Town
1
attendance 2,603
(winners receive £18,000 prize money)
Second Round Proper
Colchester United 1
Swindon Supermarine
0
attendance 3,047
(winners receive £27,000 prize money)
Third Round Proper
Swansea City 4
Colchester United
0
attendance 7,005
(winners receive £67,500 prize money)
Fourth Round Proper
Swansea City
1 Leyton Orient 2
attendance 6,281
(winners receive £90,000 prize money)
Fifth Round Proper
Leyton Orient
1 Arsenal 1
attendance 9,136
(winners receive £180,000 prize money)
Fifth Round Results
West Ham United v Burnley - to be played Monday 21
st
February
Manchester City v Aston Villa - to be played 2
nd
March
Stoke City 3 Brighton and Hove Albion 0
Birmingham City 3 Sheffield Wednesday 0
Leyton Orient 1 Arsenal 1
Everton v Reading - to be played 1
st
March
Manchester United 1 Crawley Town 0
Fulham 0 Bolton Wanderers 1
Sixth Round Draw

Stoke City v West Ham United v Burnley
Manchester City or Aston Villa v Everton or Reading
Birmingham City v Bolton Wanderers
Manchester United v Leyton Orient or Arsenal