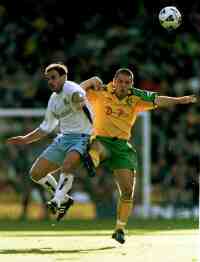 Fred West wins a header at Norwich
By the time we arrived on the other side of the world, otherwise known as Norfolk, Wolves had crept into second place courtesy of a win at Walsall on the Friday night. It was still first versus third in the first big top of the table clash of the season.
The one thing you don't want to do in a big game is concede early but that is precisely what we did. Although we should probably have made a better effort in clearing the ball there was nothing we could do when Gary Holt hit the shot from distance. It flew in via the underside of the bar giving Nik absolutely no hope at all.
We weren't at our best in the first half but Alan Moore was starring on the left hand side of midfield just a day after signing a long term deal. As half time approached we were somewhat unlucky to still be behind but worse was to come. Moore went down injured just minutes before the half time whistle and was taken off.
An early second half goal from Iwan Roberts gave us an uphill task but we got back into it when Stretch Armstrong hit home from a right wing corner. Now it was the turn of Glen Little and he gave the Norwich defence a torrid time. The equaliser looked a certainty until Glen went down under a challenge and it was clear immediately that it was the hamstring again.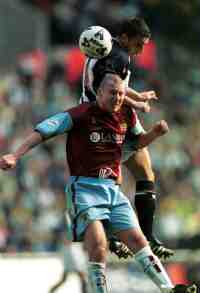 Lee Briscoe in a challenge at West Brom
Despite a late flurry we couldn't get an equaliser and we dropped our first away points of the season. Worse though were the injuries to Moore and Little. Stan immediately said they would be doubtful for Tuesday but it was to be some time before we saw either of them again, in fact Moore eventually needing an operation on a groin injury. The two of them had been in inspirational form as we started the season so well and both were going to be badly missed.
So it was that three days later both were missing as Dario Gradi brought his time wasting experts to Turf Moor. Crewe had played five of their first eight games at home and hadn't picked up a solitary point on their travels. Even without Little and Moore this should be comfortable enough.
Who said that? With less than half an hour gone we found ourselves 2-0 down and deservedly so. We just couldn't get going and it was clear already just what we were going to miss without the two injured players. We even scorned a great chance to get back into the game when Paul Cook missed from the penalty spot, this time no second chance as at Hillsborough in August.
There was some improvement in the second half and Gareth Taylor pulled one back with around 30 minutes to go, we were now getting on top. By this time we had already made a couple of substitutions significantly Andy Payton coming on for Dean West.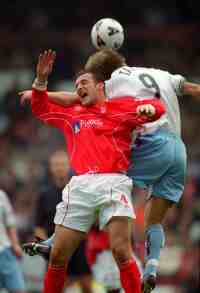 Gareth Taylor gets a header at goal at Forest
Payts doesn't get to start games now but on this occasion he was to prove the hero not once but twice. He equalised from the penalty spot but try as we might we couldn't find a winner. Then in stoppage time disaster struck and the time wasters of Crewe went back in front with a free kick from distance. Just time then for Payts to equalise again, as we scored almost straight from the kick off. There were demands for Payts to get back into the starting line up after this but it was not to be.
The next two games are hardly worth a mention, two 1-0 away defeats at the hands of West Brom and Nottingham Forest and two pretty poor performances. On both occasions we lost to second half goals and on both occasions we looked as if we would never score.
John Mullin came on as a sub at West Brom and it was to be his last appearance in a Claret and Blue shirt, he was sold to Rotherham before the game at Forest. The Forest game saw a Clarets debut for new signing Tony Grant, again as a substitute. He had been signed that week from Manchester City for a fee of £250,000.
Back home and it was Barnsley who had lost all their five away games and scored just the one goal away from Oakwell. Everything went to plan and we were soon 2-0 up with goals from Gareth Taylor and an own goal from Chris Morgan. Right on half time Bally gave away a needless penalty and his former Sunderland colleague Chris Lumsdon, then on loan at Barnsley, pulled one back from the resulting spot kick.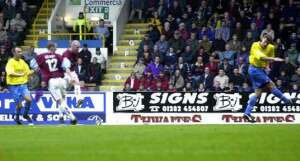 Lee Briscoe makes it 2-0 against Barnsley on the Turf
Not too long into the second half Morgan scored again at the Cricket Field End but this time for his own side and incredibly in a game we had dominated it was now 2-2. Payts looked as though he was going to be a hero again when with just a few minutes left he put us back in front from the spot (this is currently Payton's last goal for the Clarets) but even then we couldn't hold on and Barnard scored from a free kick from distance with Nik the Greek watching it go in admirably.
We were back to winning ways on the following Tuesday when a Paul Cook goal at the Bee Hole End, another wonderful Paul Cook goal, was enough to beat Crystal Palace. Steve Bruce was still manager of Palace at the time and had been there for a whole three months. He did look to be getting restless for a move.

It was one of those games to be hit by an appalling refereeing performance and Mark Clattenburg is certainly one to keep an eye out for in the future. Here's hoping we don't get any more performances as bad as this for the rest of the season.
There was even more good news as Glen Little returned on the subs bench and played the last couple of minutes. The win ended a run of eight consecutive wins for Palace who remained at the top of the league. The Clarets were back in third place and second place Wolves were our next opponents.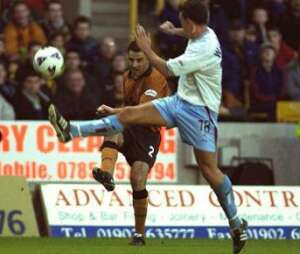 Paul Weller moves quickly when he realises it is Kevin Muscat closing in on him
Quite what we were trying to do at Molineux is impossible to work out. We changed our system and in doing so allowed Shaun Newton and Mark Kennedy all the space to do exactly what they wanted and for the first half we were well and truly destroyed. We trailed 3-0 and to be honest it could have been much, much worse. We were out played and out thought by our hosts.
It was only when we went back to a more familiar system in the second half that we made any contribution at all to the game. By then it was too late but at least we avoided an absolute pasting and kept the score down to three. The second half also saw the introduction of Glen Little again for a full half after his appearance on the previous Tuesday against Palace.
The next game was also away, at Gillingham, and a game the Burnley players did not want to play. Tragically Tim Ellis, son of assistant boss Sam and his wife Helen, had been killed in a road accident. Tim was well known to the players who were badly affected by the news but the Football League refused all requests to put the game off.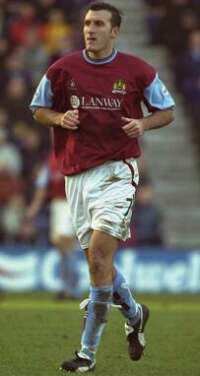 Glen Little back in the starting line up at Gillingham
It was always going to be a difficult game for us and despite starting well we soon found ourselves two goals behind. It was hard to believe having started so well but Gareth Taylor pulled one back midway through the second half.
A second half penalty won us a much deserved point, surprisingly taken by Glen Little now back in the starting line up. I would have always thought Glen was the least likely of penalty takers (with the possible exception of Bally) and although he scored you wondered whether a Glen Little penalty might cost us at some stage if he was to take them like that.
At the end of the first part of the season review we were top with 21 points from 8 games. We had added just 6 more points in the next 8 games, a poor run of form, and had found ourselves down in fifth place. We were five points behind leaders Wolves who had a game in hand and four points behind second place Palace who had two games in hand.
We had been badly missing Glen Little and Alan Moore but Glen was back and Alan was not too far away. We needed to get some better results together now starting with the home game against Sheffield United on the Sunday in front of the ITV cameras.