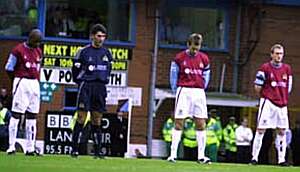 Turf Moor observes a minute's silence for Tim Ellis
The next three games were set for Turf Moor and the first of these was a Sunday afternoon game against Sheffield United in front of the ITV1 cameras. You can tell that it is Sheffield United from Stan's page in the match programme, this is the one game where he fails to offer a welcome for the visiting manager. There is certainly no love lost between him and Neil Warnock.
The day gave the players and in fact everyone involved with Burnley Football Club including the supporters the opportunity to pay their respects to Tim Ellis in an impeccably observed minute's silence before kick off.
Because of playing on the Sunday we had fallen out of the top six and were in eighth place at kick off, our lowest position since the season kicked off. We were without Steve Davis who was out with a tweaked knee. Stan said afterwards that it was probably something and nothing and he would be ok for the following week. Unfortunately the injury was to keep him out for months and forced the skipper out of many games. The captain's arm band was handed to Paul Cook in front of a dreadfully small crowd.
It wasn't a classic performance and gave no real hint of what was to come in November but we won the game 2-0 with first half goals from Gareth Taylor and Paul Cook in the first half. Our less than exciting visitors managed just the one shot on goal throughout the game.
The win took us back to sixth and into the play off positions but by the time we kicked off again the following Saturday we had fallen to ninth. Portsmouth were the visitors and there was a lot of interest in the game with Pompey fielding a Japanese goalkeeper, a striker who we had ourselves tried to sign and a midfielder who was the talk of the First Division. They were Yoshi Kawaguchi, Peter Crouch and Robert Prosinecki.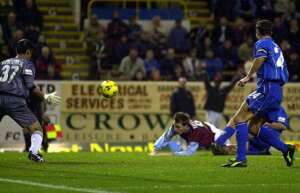 Gareth Taylor scores our goal against Portsmouth
Kawaguchi did everything asked of him in front of a press box full of Japanese reporters although from all accounts he wasn't to have another good game for them. Prosinecki just made you wonder what all the fuss was about, he was poor and was eventually substituted after making hardly a contribution all afternoon and that leaves the beanpole striker Stan was ready to pay £1.5 million for.
Portsmouth came to defend and look for a 0-0 draw and that always makes it difficult but we passed the ball around really well and kept plugging away. Eventually we got our noses in front and deservedly so with just around 20 minutes to go. It came from a Gareth Taylor header, his third goal in three games.
Then the ball squeezed through to Peter Crouch by accident as a Portsmouth player got his shot all wrong and Crouch did well to bring it under control before slotting in an equaliser. It won them a point their performance hardly merited.
Three days later and Gianluca Vialli brought his Watford side to the Turf and this time we got in front early, Glen Little was put through by Paul Weller and finished superbly with only two minutes on the clock.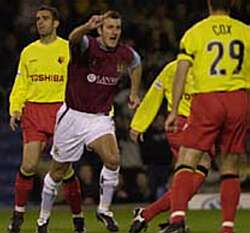 Glen celebrates the only goal of the game against Watford
At the time I wrote about the first half,
"For long periods in the first half it was like watching the 1970s Dutch team as we passed the ball around with some style. I thought Tony Grant stood out at times during this period as he orchestrated much of it. It was wonderful at times to see the pass and move style of the new look Clarets. I was just frightened someone might open up the Watford defence with a sixty yard pass, Stan would have been accused of playing the long ball game again."
We passed the ball around so well in that first half and even though Watford won themselves a lot of possession after half time the result never really looked in any danger despite the slenderest of leads. The 1-0 win had given us a return of seven points from the three home games, an excellent return.
It was Coventry next for the first time in 26 seasons for a league game. It was difficult to imagine that less than two years ago we had made the same journey for an FA Cup tie as the underdogs from two division lower.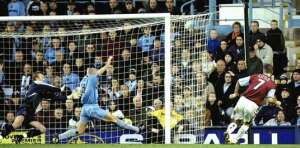 Glen scores the wonder goal at Coventry after a piece of genius from Paul Cook
I'm not too sure exactly what I can write about this performance, words cannot do it justice. Yes it was that good, the passing if anything was better than the Watford first half and as much as Coventry bleated about being below full strength they had to admit they were miles behind us on the day. I previously described the performance as the best away from home for 27 years and a 3-0 win at the same ground in the 1974/75 season under Jimmy Adamson.
I see no reason to retract that, this was a wonderful performance from the Clarets. We even had the most brilliant of goals to make it 2-0 with the sheer classy intelligence of Paul Cook taking a free kick from inside the Coventry box.
From start to finish we were on top and at no stage did Coventry ever get the opportunity to put us under any pressure whatsoever. Cooky was in superb form at his old club as was Coxy at the back but there wasn't anything but an outstanding performance throughout the side. Just to make it all even better Alan Moore returned as a late substitute for the first time since getting injured at Norwich.
As we left the ground news filtered through that we had gone top, Palace and Wolves both had three games in hand but we were three points clear. It was just about a perfect day, I had lost contact with a very good friend of mine earlier in the year but when I got home there was an email from him waiting for me. What a superb day it was.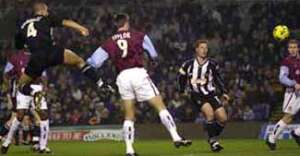 Gareth Taylor's winner at home to Grimsby
Grimsby were next, another TV offering on a Friday evening, and after a good start the Mariners were in free fall. We had made it £5 all round the ground and the three home stands were a sell out. Clarets Mad asked everyone to bring a scarf to the Turf and before the game we saw some of our European greats from the 1960s out on the pitch promoting the forthcoming video When we were Kings.
Everything was set up and within three minutes we were in front from what was now becoming a regular source a Gareth Taylor header from a Paul Cook cross. The impressive Danny Coyne then spent the first half showing us just why he is such a highly rated goalkeeper and virtually kept Grimsby in the game single handedly.
It was still 1-0 at half time and that is the way it stayed throughout the second half as we lost our way just a little although we were never troubled at the back where Coxy and Arthur were outstanding. Again Alan Moore got a run out coming on for Paul Cook. At the time there seemed no real significance in Paul Cook coming off but there was to be news about him before our next game eight days later.
On the following Friday I received a phone call during the afternoon to tell me that Paul Cook had been loaned to Wigan Athletic for a month. It seemed too ridiculous for words, Cooky had been an impressive ever present all season, but further checks showed it to be accurate. The explanation was that Cooky wanted a deal beyond the end of the season and we couldn't offer him one so he had gone to Wigan to try and win a deal there.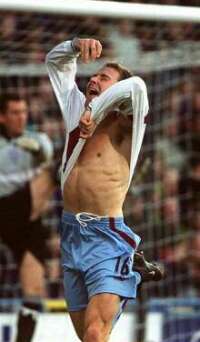 A goal at last for Ian Moore
The day after we set off for Crystal Palace, the first of those awful visits to Selhurst Park. I'm not sure who was responsible for building it there but it must be the most difficult ground to get to by road in English football.
We were without Gareth Taylor who was suspended and also Paul Cook with Lee Briscoe returning after suspension and Alan Moore getting his first start since recovering from the groin injury he picked up at Norwich.
There is no hope whatsoever of getting a good game of football on the Selhurst Park pitch is it in such a poor state and this was certainly nothing like the sort of performance we had come to expect from the Clarets in recent weeks.
We went in front half way through the second half with a goal that was much to do with Fred's persistence as he attacked a loose ball in the area. It was flicked in by Ian Moore who then celebrated the goal as if it was a cup winning goal. It was no surprise, Mooro hadn't scored since getting our second at Birmingham. He had failed to score in the previous thirteen games.
Goals are sometimes like buses, you wait for ages and then two come at once. Palace equalised before half time but then Mooro did get his second just after the hour and what a good goal it was. Bally won it, doesn't he always, and played it for Alan Moore as Ian made a 50 yard run from deep. Alan played it into his path some twenty yards from goal and Ian made no mistake as he hit it into the bottom corner.
This time the celebration involved a run of at least seventy yards to the Burnley fans but this time he kept his kit on after waving his shirt above his head after the first goal. That was four wins in four an Palace now only had one game in hand on us and were nine points behind. Wolves were second, two points behind with two games in hand. Being top was certainly becoming enjoyable.
For some reason we had another away game the following week although the journey was not quite so long and tedious. We were at the home of The Haunted One, Deepdale, to play his Preston North End. They had made a poor start to the season but were now on a hell of a good run that had seen just one defeat in the previous fifteen league games, a 2-1 reversal at Crewe.
Some days are good, some not so good, but some are really special. This one was really special. It was set to be one of the games of the season in front of the television cameras.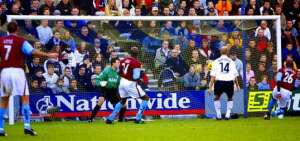 Arthur's first goal at Deepdale
We started well and were in front after seventeen minutes from a most unlikely source. Our French defender Arthur Gnohere had been playing extremely well alongside Coxy at the back in the absence of Steve Davis but did we really expect him to be on the end of a Briscoe free kick to head home right in front of the Preston fans at the Town End?
Arthur celebrated in some style, although to be honest he didn't really know what to do. Just eight minutes later and the Claret and Blue end of the ground were celebrating again as Glen hit home with the outside of his foot after we had been gifted the ball.
Two up at Deepdale, this was dreamland but it was not to last. Shortly afterwards Nik the Greek failed to collect a routine ball and as it was laid back McKenna reduced the arrears. Poor Nik, he was to be involved in the next major incident as he received a yellow card for handling the ball INSIDE his penalty area. We had been allocated an assistant referee who had either been drinking heavily the night before or was cross eyed and somehow he thought he was outside. Referee Pearson, the league's biggest homer, waved yellow with the Burnley bench having already got Cennamo ready with a red card expected but Nik stayed on.
Preston started to push forward and just four minutes before half time were awarded the most generous of penalties. The television cameras may well show that it looks clear cut but from that side of the Shankly Kop it was clear that Branchy had played the ball. Alexander scored but we should have been back in front straight from the restart. Alan Moore chipped the keeper from not far over the half way line, Lucas got a touch but it came back off the bar and straight onto the head of the onrushing Ian Moore. I am not so sure how but he managed to head it straight at the falling Lucas and the chance went leaving us to go in at half time with the score 2-2.
When we have almost forgotten this match in years to come though we will always remember the move just after the hour that saw the Clarets back in front at 3-2. It was to be the winning goal and it was to be Arthur's second. He played a one-two with Alan Moore on the edge of the Preston box, Moore superbly flicking it back to him. He held off Macken, switched the ball from one foot to the other and all in one movement slipped it past Lucas. This was a magnificent goal, it won the match and was every bit a match winning goal in its quality. Hell, Arthur was no a goalscorer as well.
In the last minute Gareth Taylor had a perfectly good goal disallowed but it didn't matter, we had won. That goal had it been allowed would have mattered by the end of the season.
Four points clear of Wolves now who only had the one game in hand and nobody else was threatening our place at the top. Just to make it even better as we started to make the short journey home we received news of the FA Cup draw, Canvey Island at home. Bring on the Unprofessionals.
To be fair Stockport played a lot better against us than expected but I certainly don't hold with this crazy theory that they deserved something from the game. We beat them 3-2 but the scoreline was only close because of a last minute goal.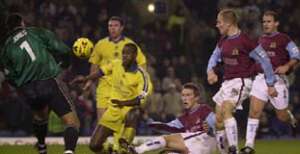 Ian Moore scores a professional goal against his former club
We got in front early with another strange looking Glen Little penalty but then Nik messed up another cross within a couple of minutes and we were level. It was 1-1 for a long time before we scored twice in five minutes that left us 3-1 up with twenty minutes to go. There was one each for the returning Gareth Taylor and for Ian Moore.
A needless penalty in stoppage time allowed Shefki Kuqi to pull one back for Stockport. Just as the disallowed goal at Preston didn't seem important then neither did this, a goal against that seemed to mean nothing. Kuqi was being linked with a move to Burnley but we were having problems dealing with the Unprofessionals. You would have thought after the Ian Moore signing that brought about the nickname we would have known better.
That was six wins out of six. Our lead at the top was now seven points over Wolves, KKMC, West Brom and Norwich although the first two did have a game in hand. There was just one match left before Christmas the visit of Millwall.
This game brought our run of wins to an end as Millwall came and got a point in a 0-0 draw. There is nothing surer than you won't get much entertainment from a Mark McGhee team but his promoted side had sneaked into the bottom play off position although they were eleven points behind us. They did their job though and we had to settle for a point. It was just one of those games when we needed a break that didn't come.
Still it was Christmas, we were four points clear of Wolves who were second and their game in hand had gone.
See you all on Boxing Day as we start Part Four.