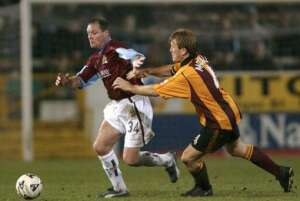 Gazza takes on Stuart McCall in his Clarets' debut
That left seven games and realistically we were looking at no more than another nine points to ensure a play off place. Basically three wins would do it to reach the First Division play offs for the first time.
It was Bradford City first at home but sometime during the afternoon it started to rain. This time though there was not going to be any postponement and at the third time of asking the game went ahead.
The Clarets fielded new signing Paul Gascoigne who received a superb reception from the Bradford City fans as well as the Clarets. This was to be a feature of the rest of the season as Gazza won standing ovations at each of our remaining three away games.
Gazza came in for the injured Alan Moore and Glen Little replaced Paul Weller as the Clarets started with the sort of tempo that had beaten Preston three days earlier. We attacked Bradford as if our lives depended on it and the Yorkshire club, who were in a poor run of form, had no answer to it. The most surprising thing was the fact that it took us as long as twenty minutes to go in front. A long Johnson throw won a corner and it was Johnson who was onto the knock down from the corner kick to hit home from close range for his second goal in two games.
Twice Gascoigne came close with free kicks during the first half and there was no doubt at all that we should have had a penalty when Gunnar Halle pushed Johnno just as he was about to make it two.
Everything changed though in the second half as the visitors came more into the game and dominated. Having said that it all hinged on two incidents. Firstly the Bradford keeper made a wonderful save from yet another Gascoigne free kick and then Marlon couldn't hold Jorgensen's effort and the ball rolled in for an equaliser. We had to settle for a point and that left us needing eight more from six games.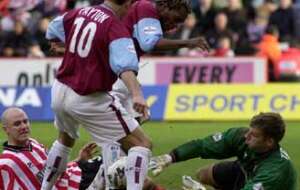 Payts tries to rescue something at Bramall Lane
Last season I referred to Bramall Lane as a graveyard for Burnley and nothing has changed. The mood was relaxed in the stand before the game with most people confident we would take the points. Nothing could be further from the truth, the performance was just as bad as at Walsall and the 3-0 defeat did not flatter our hosts.
There seemed to be a lack of organisation from the start with players having been moved into different positions at the back and in midfield and to accommodate Gareth Taylor we played with all three strikers. That was made worse by Coxy getting injured, he was to play no further part all season.
We were 1-0 down not long after Cox went off and to be honest it was something of a relief to go off at half time just the one goal behind. Before we had warmed up in the second half it was two and a late third just about made the scoreline a reflection of the Blades' domination.
We just surrendered with the exception of Kevin Ball who was absolutely outstanding at the back. I can't recall a player ever winning quite so many headers in a game and but for him the score could have been much, much worse.
If we are not likely to get a result against Sheffield United away then we are certainly not against Wolves at home and that was next. However we had even less chance because of the performance of referee Barry Knight. Nobody has been able to explain why he disallowed Gareth Taylor's goal and nobody has been able to explain why he allowed Alex Rae make the decision to send of Alan Moore.
Apart from that he refereed the game in his usual offensive and arrogant manner, a man who is not fit to be inside a football ground.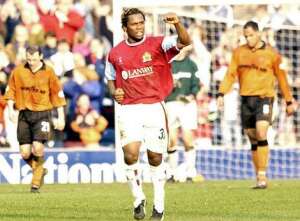 Johnno celebrates his goal against Wolves
I will excuse him on Wolves' first goal. Cameron was ONSIDE when the ball was played out wide to him and Sturridge was ONSIDE when the ball was crossed for him to score. Both times Arthur was the player, who having got in a block, played the players onside.
By half time we were three down and although Wolves had been the better side there was no doubt that the 3-0 scoreline flattered them. We made changes, and significant changes, at half time that saw both Gareth Taylor and Paul Gascoigne come off and almost immediately from the restart we had pulled on back from Ian Moore.
Back in with a chance but this was when Knight, on the demands of Alex Rae, sent off Alan Moore. If his connection with Halle's face was intentional then he deserved to go but there is no evidence, even from the slow motion, that it was and this was another disgraceful decision.
David Johnson kept up his form of scoring at home with a third in three but it was too late and it was another defeat. There seemed to be a mood of optimism because we had come back from 0-3 to 2-3 but the fact remains that this was another defeat that we really could not afford.
We were still fourth but incredibly now only three points above ninth, wins were needed and we got the chance for one at struggling Portsmouth on Easter Monday. This is one of the nightmare trips of the season, the longest journey and then facilities for away fans that presumably came in with the ark.
There was no Crouch in the Portsmouth line up, he had gone to Villa, but Prosinecki was there and this time the Burnley fans who made the trip to the south coast got the chance to see what all the fuss was about. He orchestrated everything good in Portsmouth's play although it has to be said that they looked a dreadfully poor side.
We went 1-0 up through David Johnson and were far and away the better side in the first half, this surely was the three points we were in such need of. However we had never taken into account that we would sit back on it after half time and certainly not taken into account that Nik Michopolous was going to give us as bad a performance as there has been from a Burnley goalkeeper.
When Portsmouth equalised the Greek keeper gave it away all on his own as he tried to take the ball with his feet rather than go down and collect it in his hands. It was a dreadful and amateurish piece of goalkeeping. Suddenly we tried to go forwards again but it was too late and we had to settle for a point. With three games to go we remained in fourth place. The view was that two wins would definitely secure a play off place.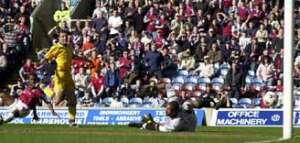 2-0 against Gillingham as Johnno scores
The first came against Gillingham in what was the easiest of home games. The Gills had nothing to play for and it showed in everything they did. At no times did they show any adventure but even so we were unable to get the breakthrough in the first half.
It finally came ten minutes into the second half after a scramble in the six yard box following a Glen Little cross. Nobody was sure who had scored it but it was initially given to Ian Moore. Video evidence has since clearly shown that Moore has no right to the goal, it was in fact scored by Kevin Ball. He doesn't score many and we are certainly not going to take it away from him.
Within five minutes it was two and it was David Johnson again, this time equalling a Burnley record of scoring in his first four home games for the club last achieved by Paul Shaw who was on this occasion on the other side.
There was one thing for certain, Gillingham wouldn't come back. We had got one of the two wins. Mathematically we needed four points from the last two games with the first one taking us to Grimsby.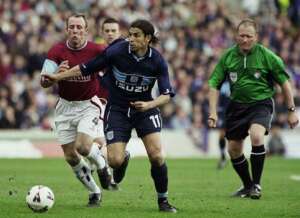 Bally in action in his last Burnley game against Coventry
It is difficult to find words to describe this performance but disgraceful and appalling are certainly two that come easily to mind. You could not have believed we had a hope of promotion given the way we played.
Almost before the game had settled down we were two behind. There were rumours in the stands of a problem in the dressing room and subsequently there have been all sorts of stories told. The names of Tony Grant and Kevin Ball have been mentioned as having had, shall we say, disagreements with the management.
It was three at half time when Nik the Greek did his Portsmouth manoeuvre again and went for the ball with his feet. What a let down and there were some angry Burnley fans inside Blundell Park.
So we came out and did a bit better in the second half. It was difficult not too and Grimbsy had already sat back and accepted the points. Right at the end we pulled one back from Lee Briscoe and with all the results going against us it was only this goal that was keeping us in the top six.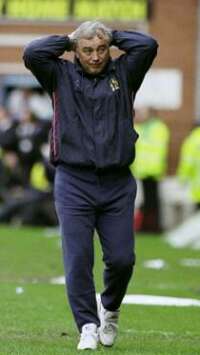 Stan at the end of the Coventry game with the play off hopes ended
There was one game left and to get into the top six we had to beat Coventry and then hope that either Millwall lost or Birmingham didn't win or Norwich won by no more than us. Millwall were soon out of the equation as they went 3-1 up and Norwich, playing against ten for virtually the whole of the game, were 1-0 up at half time. It looked as though Birmingham could help but we needed a goal.
Birmingham then pulled out of it early in the second half by scoring twice but then we scored. It came from Gareth Taylor who had only just come on and for a short time we were in the driving seat. Then Norwich scored again and try as we might we couldn't get another. Two Gazza free kicks in stoppage time were kept out by Hedman and we had to settle for seventh place for a second season.
A year ago I said missing the play offs were just a disappointment. This time though it is much harder to take. We were top at Christmas, in fact four points clear. Even to win a play off place didn't even need average form in the second half of the season. We couldn't achieve that, in fact since Christmas we have been virtually a relegation side. That should be setting off alarm bells inside Turf Moor, we need to arrest our current form otherwise we could find ourselves in a relegation battle next season.
Let us not forget the truly dreadful home form since December and neither forget the performances at Cheltenham, Walsall, Sheffield United and Grimsby that fell way way below the sort of performance expected from a First Division side.
After the hopes were built and built up to Christmas it has been a major disappointment and it really does take some believing that we have actually missed out on a top six place. Oh to go back to the pre-Christmas days when we were tearing teams apart with a fantastic passing game dominated by Tony Grant and Paul Cook.