The build up to the season had consisted of a trip to the Isle of Man (yawn !!) and a couple of friendlies against Premiership clubs at the Turf. The usual thing and games that would once again give no clues as to how we would do.
The league season was set to get underway on 11th August but not for Burnley, we had to wait until 6:15 p.m. on the Sunday for live TV coverage on the new channel ITV Sport provided by ITV Digital. The fans were not happy with this but our own club told us to behave ourselves and get on with it because this wonderful company were going to hand over lots of money to us.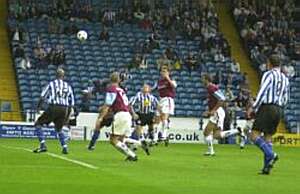 Gareth Taylor scores our first goal of the season at Hillsborough
So it was to Hillsborough on the opening day and although I don't think we provided a classic for a TV audience estimated to be in three figures we picked up our first three points comfortably. The first few minutes had been frightening and Wednesday had the ball in the net but as the game went on we assumed control. It was no surprise when we did take the lead as Gareth Taylor headed in a Stretch Armstrong cross and then the game was wrapped up with a twice taken penalty from Paul Cook after Glen Little had been fouled in the box.
Incredibly for the first time in twenty years we started the first game without a single new player in the starting line up. There were six new signings at the club in Luigi Cennamo, Tony Ellis, Arthur Gnohere, Mark McGregor, Alan Moore and Dimitri Papadopoulos. Four of them made the bench but the exciting new signing Dimitri Papadopoulos missed out because of an international call up. He would surely be pushing for a first team place as soon as he returned.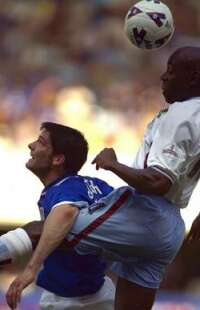 Coxy beats Tim Cahill in the air at Millwall
It was Wimbledon at home the week after, just the same as a year earlier, and we were to win again this time with a 3-2 scoreline. Having fallen behind we had to thank the Don's keeper Kelvin Davis for helping us back into it and he was directly responsible for two of the goals scored by Alan Moore and Gordon Armstrong. In between them there was another penalty from Cooky and although Wimbledon fought back well we were worthy winners.
Two wins out of two and Stan elected to give some of his players a rest for the Worthington Cup tie against Rushden & Diamonds. It all backfired and despite bringing on Paul Cook, Glen Little and Ian Moore at half time we went out 3-2 with our goals from Ian Moore and Mark McGregor. For those who don't bother with the Worthington Cup it was going to be a long time before they saw McGregor again.
We were back to full strength on the Saturday for the trip to Millwall and this was the hottest game of the season, certainly as far as the temperature was concerned. It was hard work sat watching such was the heat and humidity never mind playing in the game. It was very much like Sheffield Wednesday all over again and despite the whinging of Steve Claridge make no mistake we were the better side from start to finish. Goals from the two Moores ensured another 2-0 away win but we were left cursing Bradford City who had also made a perfect start and were above us on goal difference by just one goal.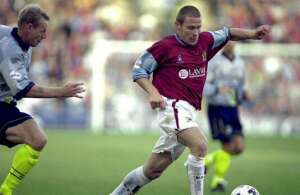 Ian Moore easily avoids the attentions of Stuart Pearce against Man City
Everyone was looking at the record books for Burnley's best start but the perfect start came to an end on August Bank Holiday Monday as we went down 4-2 at the Turf to Manchester City, again with the ridiculous 6:15 p.m. kick off time.
Just about everything went against us in this game. We started badly and went behind but rallied to draw level through Steve Davis. Then City's Tony Grant had a shot at goal (yes, really) and Stretch stopped it with his arm. A penalty it had to be and Stretch would probably get a yellow card. Enter referee Wilkes who incredibly waved red and we were down to ten men.
City missed the penalty but just after half time were back in front. How we battled though and Lee Briscoe with his first goal for the Clarets pulled us level. We didn't do a lot wrong but the extra man finally made the difference and with Goater making sure he enjoyed another visit to the Turf we were beaten 4-2. Still nine points from the first four isn't bad.
Not bad – it was to get better. We sat and watched England win in Munich 5-1 on the Saturday and then went off to Bradford City on the Sunday. A win would take us top but this surely was going to be a very difficult game.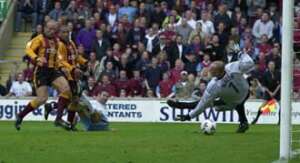 Tony Ellis scores the winner at Bradford
So it proved but we were up to the task and in a game that was a wonderful advertisement for attacking football it was difficult to believe that we went in at half time with the score 0-0. Bradford had seen a goal disallowed whilst Glen Little had appeared to hit the back stanchion with an effort only to see play waved on.
The second half was to see the goals though and twice Glen scored to put us in front but twice Bradford hit back to equalise. Then with not long left, and from the unlikeliest of sources, the Clarets found a winner. Unlikely source, it was Tony Ellis who had been released by Rochdale at the end of the previous season and was picked up by Stan just as he was about to sign for Telford. It was though to be his one and only big moment in a Burnley shirt.
There were two home games to follow against two clubs newly promoted and not having started too well, Rotherham United and Walsall. All the doubters were predicting that this is where Burnley would let it all slip.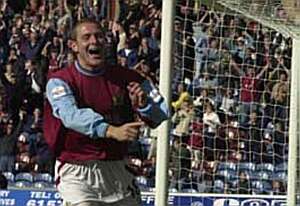 Ian Moore celebrates scoring against his dad's team
Not this Burnley side though. After an even first half against Rotherham we came out and scored twice in the first few minutes of the second half. It just had to be Ian Moore who scored the first against his dad's team and Paul Weller followed up with the second. A late penalty from Andy Payton (the regular penalty taker was on as a sub) finished the scoring for a 3-0 win.
The following week we were soon 2-0 up against Walsall with both strikers Gareth Taylor and Ian Moore getting the goals. Early in the second half Walsall pulled one back and Stan almost immediately brought off Ian Moore and replaced him with Lee Briscoe. The decision did not go down at all well in the stands and matters were made worse when Walsall equalised.
Now our manager is a genius or the luckiest man on earth but within no time at all we had restored our two goal lead and who scored these two goals, none other than Lee Briscoe. He had just three goals in his entire career and then scores two in a short space of time.
There was just time for Paul Cook to score a goal that was worth the admission money alone when he chipped goalkeeper Walker from out on the left touchline from some distance. For those of us watching in the Harry Potts upper tier we had the perfect view and it looked goal bound from the moment it left Cooky's foot.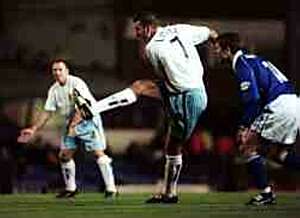 Glen Little scores at Birmingham
Things were getting better and better but on the following Tuesday we had a date with Mr. Miserable's Birmingham City at St. Andrews and games don't come much tougher than this. If you thought the Bradford game then you were in for a real treat with this one. Twice in the first half we took the lead, both times with wonderfully taken goals from Glen Little and then Ian Moore but on both occasion Birmingham came back to equalise through Andy Johnson. we had been much the better side in the first half, had turned in some superb football whilst the fans had introduced their new song 'Hey Burnley'.
The second half was a lot closer and at times we were put under pressure by a very good Birmingham side. The problem Birmingham were having though was the fact that they were playing a very good Burnley side. Maybe Birmingham shaded the second half but it was Glen who found the winner and over the whole ninety minutes we deserved it.
Played eight and won seven. Twenty-one points and already we were five points clear of second place Norwich at the top of the league. That was our next port of call on the Saturday and we will start part two of our review at Carrow Road. For now though the Clarets had made an unbelievable start to the new season and were scoring goals for fun.