It appears that Boxing Day fixtures are no longer scheduled for the Turf and so for the fourth year in succession we had to travel, this time to Rotherham. News came through during the morning that the game could be in some doubt but it was given the all clear at noon by referee John Brandwood.
Apparently the pitch was unplayable at the time but in sub zero temperatures in South Yorkshire Brandwood had this crazy idea that the pitch would improve and would remain so until almost 5 o'clock. Needless to say after wasting everyone's time and money he called it off at around 1:45 p.m.
It could have been worse though but the results went well for us with Manchester City being held to a 0-0 draw at home to West Brom and the Moyes Boys winning at Wolves. This meant that despite our postponement we would go into the New Year still top of the league no matter what the results were on the last weekend.
Not content with taking the ball off him Paulo Wanchope tries to poke his fingers in Arthur's eyes
The last weekend took us to Maine Road and KKMC, one of the clubs just four points behind us. There had been a scramble for tickets with the allocation from KKMC less than expected. There was no doubting amongst the Clarets' fans there that this was one BIG game. A win here would take us seven points above the bookies favourites, a draw would still be a damn good result.
We couldn't have got off to a worse start and were behind after just two minutes as City attacked down the left. Fred dived in and they were clear to get in a cross for Wanchope to finish.
To our credit we came back and how we came back. Gareth Taylor hit over when he should have done much better and then Glen Little did just what I had been expecting him to do since Gillingham, he missed a penalty. Again it was weakly struck and observers suggested that if a goalkeeper went the right way he would save it as long as he was patient enough to wait for it.
The last fifteen minutes of that first half were to be a complete disaster and who can say they didn't have a lasting effect on our season. Having done so well for the first half hour and being unlucky to be behind we then conceded three more goals in that first half and Goater still hadn't scored. Mind you Wanchope had by now completed his hat trick and the impressive Eyal Berkovic had got his name on the score sheet.
Even in the second half we continued to take the game to them and it as nothing more than we deserved when Ian Moore pulled one back. Try as we might though we couldn't score again and in the end it was City who made it 5-1 with a last minute goal from Darren Huckerby. Well I suppose at least Goater hadn't scored.
It was imperative that we got back to winning ways on New Year's Day against Bradford City but we didn't get the chance. In the most bizarre of circumstances the game was postponed because of a frozen pitch and this with undersoil heating and a match saver cover that boasts that it will keep down the cost of the undersoil heating in keeping a pitch fit.
It had apparently been fit enough to train on the day before and maybe the game being called off could have had something to do with the pie order having been cancelled on New Year's Eve. After all we couldn't play if we couldn't provide the fans with pies could we?
It really did take away the chance to get back to winning ways in the league quickly and it is possible that the loss of that chance would be vital, there would not be another home league game for almost three weeks.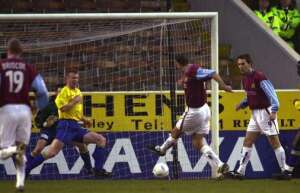 In front against Canvey Island courtesy of Glen Little
It was Canvey Island on the following Saturday and the Ryman Leaguers played well and were without doubt a credit to their league. The gate was a lot higher than feared after the Canvey Island manager/owner Jeff King refused to allow the prices to be reduced.
However well they played though there can be no doubt that we deserved our 4-1 win. Glen Little continued his season of goals with the first one and Ian Moore then went on to get his first Burnley hat trick. The win was at a cost though. Glen did his hamstring again and Gareth Taylor also picked up and injury although in his case it would only keep him out for one game.
There was good news though, Paul Cook was back from Wigan and came on as sub for Glen. He was back for good and not having been able to offer him anything a month earlier he was now going to get the one year extension on his contract that he wanted. The problem was though, he was going to be used almost as sparingly as Andy Payton from now on.
The 4th round draw the following day gave us a trip to Whaddon Road to take on Cheltenham Town, winners over Oldham Athletic. It was a tie that was going to give us a superb opportunity to progress into the last sixteen.
We were still being linked with Shefki Kuqi but on the following Friday that all came to an end when he signed in a £1 million deal for struggling Sheffield Wednesday.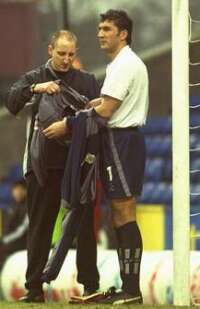 Nik Michopoulos has to swap his jersey because of a colour clash - probably the highlight of the game
A week later it was our second trip to Selhurst Park, this time to take on Wimbledon, and I could have predicted a poor game even before setting off. It was my birthday and it is not a date that has been kind to us over the years with either performance or result. On one occasion I recall having to sit through a hammering at Derby.
We weren't beaten but to be honest there is not a lot I can say about the game that is positive. It had 0-0 written over it from the off as a Clarets side with injury problems, and in our first league outing since Maine Road, kept it tight in a 4-5-1 formation.
Back in August we were all disappointed when Dimitri Papadopoulos was unable to play in the opening game at Sheffield Wednesday because of international duty. Earlier in the week the club denied that he was on his way back to Greece in a long term loan deal and as if to prove a point he came on at half time in this game for what was going to be his longest spell in a game. He had never played anywhere near 45 minutes in a game before but even in this one it was not to be. Half an hour later and he was himself taken off by an irate looking Stan and replaced by Tony Ellis. He had failed to impress at all and his season in the first team was only a week from its end. It was though to be the last first team appearance in a Burnley shirt by Ellis.
The tabloids were linking us with moves for Sheffield Wednesday's Gerald Sibon and Kevin Davies of Watford but on the following Wednesday Mr. Pompous at Bradford told the world that we were in talks with his player Robbie Blake. He was eventually to sign for us just over a week later and would make his debut as a late sub against West Brom.
We were still second but really in need of a win and the next game presented us with the ideal opportunity. Sheffield Wednesday were in the bottom three but they were fielding their new signing Shefki Kuqi for just the second time.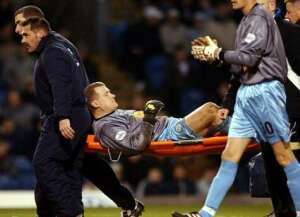 Pressman stretchered off - we never got a kick after this
This performance was a reminder of some from the previous season as we went down 2-1 to a Wednesday side that hardly impressed. We were a goal down on 33 minutes and it was no surprise when it came. It should clearly have been stopped by Michopoulos but the keeper made no attempt to go for the ball and allowed them in.
We really were poor and there is no way we would have ever got into the game but for Wednesday defender Ashley Westwood choosing to handle a cross for no reason whatsoever. Step up penalty taker number four for the season Gareth Taylor and it was 1-1 and suddenly we felt we could win it.
It was all Burnley now but with the clock ticking down the Wednesday keeper Kevin Pressman went down in a challenge with Taylor and was stretchered off to be replaced by a young rookie Sean Roberts. It was to be the 19 year-old South African's one and only appearance for them before being released.
With a whole load of stoppage time he was on the pitch for over ten minutes but was never asked to do anything, in fact it was Wednesday who attacked for the remainder of the game. The defence was all over the place and we conceded a goal, and needless to say the scorer was Kuqi. That wasn't it though as Kuqi won a penalty after being fouled by Arthur who was very fortunate indeed to stay on the pitch. Sibon missed that but the 2-1 defeat was a desperate result.
We were out of the top two now and there seemed to be a feeling that it might be difficult to get back in with KKMC and Wolves playing so well. Surely we weren't going to have to settle for a play off place after such a good first half to the season.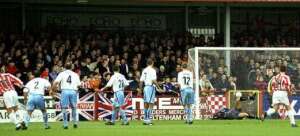 Luigi is beaten from the free kick taken by Russell Milton (far left)
It was the cup next and if the Sheffield Wednesday performance was bad this was diabolical, we started badly and went worse. Michopoulos picked up a serious calf injury and Luigi Cennamo came on for his first team debut as a replacement. Nik had certainly not been in any sort of form in recent weeks and had been responsible for a number of the goals conceded but for poor Luigi it was to be a nightmare.
His first two touches of the ball were to get it out of the net. He didn't seem to position his wall well enough for a free kick needlessly given away by Bally and that gave Cheltenham the chance they needed but he had no hope with the second as Fred West was beaten down their left too easily and the central defenders made no obvious attempt to clear the danger as Allsop came in to score.
Alan Moore pulled one back quickly but that was to be the end of the scoring. Fred and Bally battled as if their lives depended on it, I will make no comment about any of the other players on view. There was sympathy for Luigi though who looked like a rabbit in car headlights at times.

The cup run was over for another season and it was Cheltenham who would be going to The Hawthorns to take on West Brom in Round Five.
Things weren't looking good but the following Thursday a loan goalkeeper arrived in the shape of former Claret Marlon Beresford. He came out to a superb reception for his second debut against West Brom with no sign of Luigi Cennamo on the bench. He had blown it in one game and Stan was not prepared to use him again even as a substitute.
Jason Roberts has completely lost it as he leaves the field
West Brom were going well and it was going to be a tough game in one of those ridiculous Sunday evening affairs at 6:15 p.m. West Brom didn't just beat us, they outplayed us, out thought us and outclassed us. We simply weren't good enough.
Two goals in the last minute of the first half from Jason Roberts were just reward for the visitors and the half time scoreline of 2-0 was about fair. West Brom don't often score more than one but the goals always looked likely to come from Roberts.
If there was any sign of a comeback in the second half then I don't recall it, they were quite simply better than us and the win took them above us. The major talking point of the second half was Jason Roberts. He got away with blatant elbows on more than one occasion and then went crazy when caught in the chest by Bally. Referee Winter should have sent him off but instead suggested that the Albion bench substitute him. He started again though on his way off and finally got a yellow card.
There were accusations afterwards that he had been subjected to racial abuse from sections of the Turf Moor crowd and if that was the case then I have every sympathy with him but he really should be above that sort of behaviour.
One point from the last four league games, shades of 2000/01 all over again, and the next three games away from home. Albeit with games in hand we were now outside the top six and a staggering ten points behind the leaders Manchester City.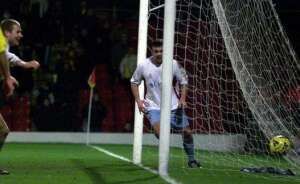 Paul Weller scores the winner at Watford
The three away games weren't against the toughest of opposition but in our current form they were still going to be difficult. The first was at Vicarage Road against GVW and Stan sprung a surprise by leaving out Coxy and moving Bally into the back four. Coxy had been captaining the side since Cooky went to Wigan and now it was his turn to hand over the captain's arm band and the new man in charge was Bally.
We looked a different team than the one that had played in recent weeks but again we were to fall behind when one of GVW's loan players Jermaine Pennant beat Branchy and cut in to score giving Marlon no chance.
Branchy was quickly taken off and we reshuffled bringing on Robbie Blake. We got on top and had a goal by Lee Briscoe disallowed for offside, it was a close call. We were still a goal down at half time and then in the second half Stan made one of those strange substitutions. A goal down he brought on a central defender (Ian Cox) for a striker (Gareth Taylor).
It didn't look as though it was going to work for him when Coxy gave away an extremely harsh looking penalty. Marlon saved it though and shortly after that Brisser took a free kick just outside the Watford box. He hammered it against the post and there was the central defender sub Ian Cox to hit in the rebound for 1-1.
No matter how we tried we couldn't get a winner and we threw on Brad Maylett. Then deep into stoppage time Glen played a superb ball from deep down the right for Maylett. The young winger should have slipped it inside for Ian Moore but took the wrong option, got in a cross that was deflected and dropped ever so invitingly for Paul Weller to hit home from about two feet out.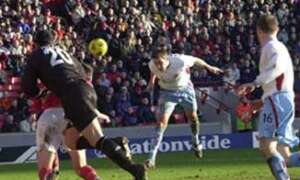 Gareth Taylor scores at Barnsley
At last a win and we went to Barnsley with confidence on a day when a strong wind was going to have an influence on the game. Again we went behind, to a Barnard free kick, and again we played well. When the equaliser came it was well worked and ended with Gareth Taylor heading in from a Lee Briscoe chipped cross.
We were under a bit of pressure in the second half against the wind but were really comfortable throughout that second half. With any luck at all would have made it two wins from two but we had to settle for a point in a 1-1 draw against a Barnsley side that had now gone twelve games without defeat.
Now back to where we started Part Four, Millmoor and the away game against Rotherham now being played on 12th Feb. Both sides had openings but then we went in front through a Taylor penalty. Two minutes later it was 1-1 with a penalty at the other end. From what I saw at the time and then later on television I would say neither of them were penalties but that was no surprise on a night when John Brandwood had a refereeing nightmare.
After three away games we were ready to return home to take on Nottingham Forest having climbed back to fifth in the league and five points away from an automatic promotion spot. That is where we will resume with Part Five of our review.