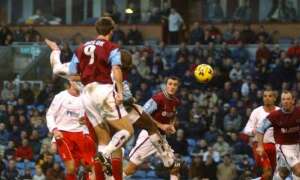 Arthur scores the equaliser against Forest ....
We were back home and there was no doubt that a home win was overdue, it was now over two months since the win against bottom club Stockport County. The week leading up to the game though was a sad one for Burnley Football Club with the passing away of former player and coach George Bray who had served the Clarets for many, many years.
There was a real treat before kick off though in the Foundation members non-exclusive bar with a visit from Jack Hixon the scout who had provided us with some many good players in the sixties, players such as Brian O'Neil, Ralph Coates and Dave Thomas. At the age of 81 Jack was as alert as ever.
There was a shock before kick off with Ian Moore left out but Robbie Blake still not getting his full debut. Instead against a struggling side in Forest we opted to play with just one striker. To be fair in the first half we played better than we had done for some time at home but there never looked to be a goal in it. The passing was fine but there didn't look to be any sharpness up front.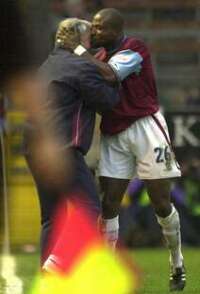 .... and celebrates with Stan
It had been one way traffic and the second half started with Robbie Blake on up front as a replacement for Tony Grant, injured right on half time. Incredibly twenty minutes later Blake, after failing to impress, was brought off to be replaced by Gordon Armstrong and we were back to just Taylor up front.
The inevitable happened and we went a goal down from the spot and so we reverted to two up front with Ian Moore coming on. I can't quite recall so many changes like this in a game before.
Then with just two minutes left Arthur was left unmarked to head home a Lee Briscoe free kick at the Bee Hole End and we had earned a point, but not before Arthur had chased down the touchline to plant a kiss on Stan's cheek.
Then it was the re-arranged game against Bradford City, or so it should have been. This time it was postponed because of a waterlogged pitch. There is no doubt that a lot of rain came down that day but independent witnesses inside the ground saw a pitiful effort at removing the covers with just about all the water falling onto the pitch with the inevitable postponement.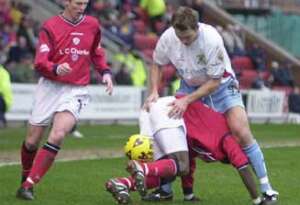 Strange goings on at Crewe
A week later we were back to winning ways with a 2-1 victory at Crewe but don't be fooled this was not a good performance. It wasn't an over difficult match with Dario Gradi's time wasters giving a poor performance.
We were in front early with an astonishing goal from the feet of Gareth Taylor his first non headed goal in open play since the win at Watford almost a year earlier. Quite how it took us until the second half to double the lead is a mystery but when it came it was worth waiting for, a classic from Alan Moore cutting in from the right and curling it inside the far post giving the keeper no hope.
Even then we managed to concede a goal causing us some late anxious moments as we were pushed back but we managed to hang on and got ourselves within five points of Manchester City in second place with two home games to come.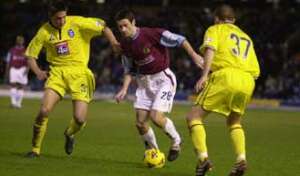 Alan Moore tries to break through the Birmingham defence
The two home games if won would really help to push our two visitors out of the play off race, that was the plan anyway. The first of these was Birmingham and again the rain came down with the game again in doubt. There had obviously been practice sessions on cover removal during the week and in front of a wonderful animated performance from director Clive Holt they were removed successfully to allow the game to go ahead.
Birmingham thankfully played badly on the night, in fact very badly, but we were so poor they beat us 1-0 and thoroughly deserved to. Marlon looked at fault with the goal but there wasn't a good performance to be seen and after the game I considered for the first time that we might not even make the play offs unless we could find something better than this.
It was the worst home performance of the season so far, even worse than the appalling effort against Sheffield Wednesday and instead of promotion hopefuls we were beginning to look like a relegation side. The win enabled Birmingham to get within four points of us rather than the gap of ten we could have created.
The second half saw the return of Steve Davis to the action for the first time since the end of October. So desperate had we got that the skipper was brought on at half time without even having had a run out in the reserves. He came through it and was back in the starting line up for the next match.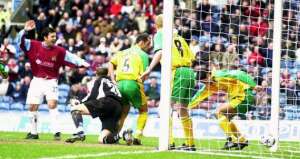 In front against Norwich from Gareth Taylor (off picture)
The Norwich game started so much better and this was the game when Robbie Blake finally made his full debut. It only lasted 57 minutes and it was the only start he was to make all season. We were soon in front but this was soon followed by an horrific looking injury to Glen Little that held the game up for almost ten minutes. Glen was, as it turned out, not seriously hurt but he had been knocked unconscious by an accidental kick and there was clearly serious concern for him out on the pitch.
It flattened the game for the rest of the first half and maybe having started so well we would have gone on to win comfortably. It was not to be as Norwich, the team with the poor away record, came back at us and eventually equalised to earn a 1-1 draw. At the end of the game nobody could deny their right to a point having dominated the second half.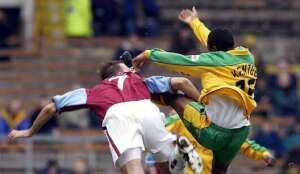 The accidental kick that knocked Blakey out cold
There was some booing from the crowd at the end and Stan took it upon himself, later backed up by Steve Davis, to have a go at the fans. Yes there was some at the end but to be honest I hadn't detected too much during the game. Still it caused some debate which split the fans, some suggesting they have the right to and others in total disagreement.
The next week would see us take on the bottom two away from home and with the home form so poor we really did have to be looking to take a maximum six.
It was Walsall first but before setting off the club confirmed that we had made an attempt to sign Paul Gascoigne from Everton. By the time we had arrived at the Bescot Stadium the whole story and ended with Walter Smith making it clear that Gazza was not available.
I don't think Gazza at this peak could have rescued us at Walsall. We had been bad seven days earlier against Birmingham but this performance was woeful as we went down 1-0 without once really threatening the Walsall keeper.
One again Stan said it was not good enough and once again he said he would sort it but things were not getting any better, the poor performances were coming far too often and this really was the worst of the lot. Clarets fans were pouring out long before the end shaking their heads in disbelief.
We had been lumbered with referee Paul Alcock again but despite the rantings in the desperate Bird Droppings we couldn't even blame him for this defeat. There was no complaint at the time from the Burnley players about the goal and having seen a rerun from that end there should certainly be no fingers pointed at Alcock for this one.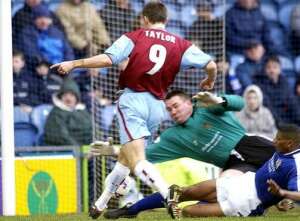 1-0 up at Stockport, Gareth Taylor scores
The theory was that we could play as badly as we did at Walsall and still win in the Land of the Unprofessionals so bad were they but as we were skulking out of the Bescot they were stunning everyone by completing the double over Bradford City.
So off we went to Edgeley Park, with Clarets Mad calling in to watch the youth team in action at Oldham en route. This really was to be as easy as reports had suggested it would be. I'm not so sure whether we did play any better than at Walsall, the fact is we didn't need to.
It has been a nightmare season for Hell-Wood's boys and they looked desperately short of a First Division side and to be honest looked ill equipped to be playing at any level of the Football League. It was perhaps due to our poor form that it took us until the second half before we got ourselves in front.
Taylor scored again with his feet, yes he really did, and then Ian Cox scored a screamer to wrap it up. Stockport finished with ten men when Daly was sent off for a blatant elbow on Mitchell Thomas who was finally back from injury. Sadly though Steve Davis picked up another injury and was to miss even more games.
At a forum not long before this game Stan had described Mark McGregor as a young player and one for the future. The full back in his mid twenties and with almost 250 league games to his name finally made his debut in this game replacing the suspended Fred West.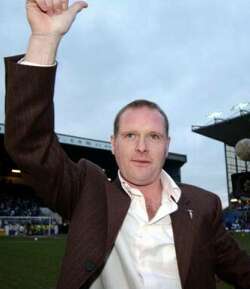 Gazza arrives
Preston were next some eight days later but there were to be massive changes at both clubs before the match kicked off at the Turf. Firstly we signed Forest striker David Johnson on a month's loan, a player known to Stan from Bury days and a player who had great success at Ipswich. He had just spent a month with struggling Sheffield Wednesday.
Then after an awful FA Cup performance Everton sacked Walter Smith and immediately made a move for David Moyes. Moyes jumped the North End ship and the first thing he did as Everton manager was to allow the Clarets to sign Paul Gascoigne but not until it was too late for him to play against his former club.
It was going to be Paul Gascoigne's night as we played in the Dame Thora Hird's Songs of Praise slot on Sunday at 6:15. He wouldn't play but he was to be introduced to the crowd but in the end he was upstaged by not one but two personalities.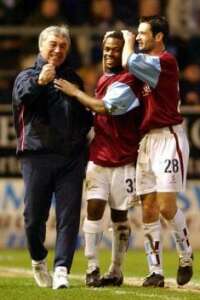 Johnno scores
David Johnson DID make his debut and caused early panic in the North End defence that enabled Ian Moore, who had made a fifty yard run, to chip the ball home from distance. He then followed that up with some quick thinking with Alan Moore at a free kick just over the half way line and went through to make it 2-0.
Our visitors looked dead and buried and it could have been much worse for them as we dominated the first half, playing better at home for quite some time. The second half was a much more even affair and Preston did get on top for a spell and pulled one back when Anderson, left unmarked by Fred, scored.
The second personality! Take your pick, either someone with no clothes on or a bee. We were treated to a streaker who had the scoreline 2-0 on the cheeks of his back side and bared it to the Preston fans. As he made his way back to the Jimmy McIlroy Stand he was rugby tackled by Bertie Bee in what is the funniest thing I have ever seen on the Turf.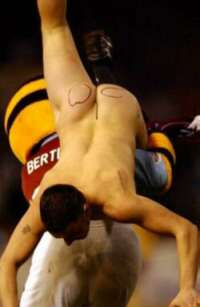 and then
That came just before Preston's goal but thankfully we held out for a much needed three points. With seven games left we had got back into fourth place and only three points behind West Brom in third. The top two looked out of reach now but it did look as though the play off places would go to four from West Brom, Burnley, Coventry, Millwall and Birmingham. It would take one hell of a run from anyone else and a poor run of form from those in the top group for any other outcome.
As for us the next game was scheduled to be Bradford City and Gazza's debut. Surely not even the frost or the rain could stop it this time.

It's is the first of the last remaining seven games that will decide whether we can catch up one of the top two or whether we will have to settle for a play off place and a possible trip to the Millennium Stadium at Cardiff in mid May.

That's all in the sixth and final part of our review of the 2001/02 season later this week.