We'd just recorded seven successive league victories up to the end of October to take us three points clear of Leicester at top of the league, and an incredible ten point lead over Watford who crucially held seventh place, just outside the play-off positions.
No team just goes on winning, and so it proved with the Clarets set to win just once in the next seven league outings, a run that would see us lose that precious first place.
With Sean Dyche and Danny Ings having lifted the Manager and Player of the Month Awards for October respectively we travelled to Millwall on the first Saturday in November. This is one old stomping ground where Dyche has had plenty of success but he must have been stunned when he saw his team fall two goals behind seven minutes before half time.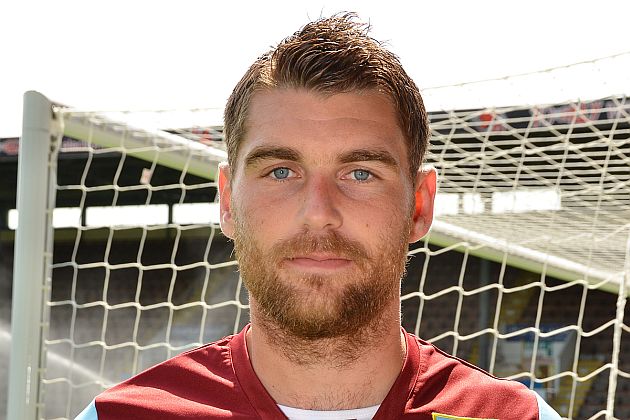 Sam Vokes scored the first goal at Millwall to get Burnley back into the game
Without the influential Dean Marney, who was injured, in midfield we didn't look anything like the same side. Scott McDonald gave the home side the lead and on 38 minutes we were well and truly dropped in the Shittu when the big Millwall defender got their second via a massive deflection off Sam Vokes.
It was only the second time we'd been two goals behind all season in the league; the other occasion being at Brighton when we were down to ten men after the dismissal of Tom Heaton, so it was a shock for those of us sat in that upper tier at the Den.
I was counting myself fortunate to be up there in the first place after the gremlins called traffic problems had hit us once more. On the day before the supporters' club weekend trip experienced problems, as had the team coach, but for us it was an accident on the M25 which forced us to go anti-clockwise when we left the M1.
I didn't realise just how good I was at navigation but armed with an iPad and its maps I steered us past QPR's Loftus Road and eventually down the Old Kent Road to get us there in good time.
Back to the game though and this 2-0 deficit. One thing we had learned by then in the season was that this Burnley side don't give up anything easily and my word we didn't take long to get back into this one.
Within a minute we got down the right where Danny Ings fed Kieran Trippier. The full back's cross took the slightest of deflections but Sam Vokes was there to head home. We were back in the contest and soon after went in at half time just one goal behind.
The rescue was complete ten minutes into the second half when Shane Lowry turned a Michael Kightly shot into his own goal. It could have been even better too. We had a blatant penalty refused for a foul on Vokes but in the end you always have to be delighted with a point away from home when you've been two goals behind.
We had to come from behind a week later too, and this time it was a late Ings goal to earn us a point against his former club Bournemouth as Eddie Howe returned to Turf Moor for the first time since his departure as manager just over a year earlier.
There is no denying that we weren't at our best but we were very much the better side on the day. Bournemouth opened the scoring early in the second half when their big signing Tokelo Rantie finally scored his first goal for them, and what a goal it was.
It was an incredible strike for the player who struggled all season to find the net and would have had a shockingly poor return of one goal but for those he scored against us.
Thankfully, Ings got that late equaliser and we moved into the next international break before resuming at Forest two weeks later.
That period was a strange one for me personally. On the Monday after the Bournemouth game I received the inevitable but sad news that my friend Andy Wood, with whom I'd gone to football for over 40 years, had passed away after a short and devastating illness. Andy sat one seat to my left and one row in front.
On the following weekend John, who sits to my right at home games, announced his engagement, but he escaped on the next Saturday to get to the City Ground.
A Vokes penalty gave us the lead at Forest but Simon Cox equalised just before half time and that's how it ended. They did put us under some pressure during the second half but they really didn't create much in the way of chances. Some little bloke with a Scottish accent spoke on television that night and saw it completely differently.
Then came Huddersfield away. This was the scene of potentially our worst away performance of the 2012/13 season, alongside that at Leeds. If we were hoping for anything better this time round then we were sadly let down.
We were second best in a first half that I'll always remember for the moving minute's applause for Henry Tattersall, a young Burnley supporter who had taken his own life that week. To see the Huddersfield fans, when they realised what was happening, rise to their feet and join in was a moving experience.
When referee Eddie Ilderton, who was to play a significant role in the second half, blew for half time we were almost miraculously still level at 0-0. We'd seen the worst of the performance but not the worst of the afternoon as Ilderton and his assistants took control.
He gave Huddersfield an early corner in the second half that was an obvious goal kick. They played it back to Burnley born Oliver Norwood who smashed it home. I still think Heaton should have dealt better with it but we were finally a goal behind.
The second goal, five minutes later, was pure nonsense from the assistant. He placed his flag across his chest to signal that Michael Duff had handled the ball inside the penalty box. It looked a good decision to me apart from two rather important things - he wasn't in the box and he didn't handle the ball. Even from the far end of the ground you could see that.
James Vaughan made it 2-0 but these officials hadn't finished. The other assistant wrongly flagged Vokes offside as he reduced the arrears but there was nothing any of the three of them could do as Ings went through to score with six minutes to go.
Ilderton had the last word though. He'd yellow carded Duff for arguing his case on the penalty and then sent him off at the end for a foul. There was no argument about the second yellow, probably the only big decision these officials got right all afternoon.
That defeat at Huddersfield cost us top place in the league. We dropped to second as Leicester went three points clear, and on the following Tuesday night we slipped into the play-off positions after a 0-0 home draw against Watford of which there is very little to write. It was a tepid game with very little incident with neither side ever really looking likely to score.
Third on the Tuesday night but by the time we left the Turf four days later we were back on top of the league after a 1-0 win against Barnsley that saw Kightly score his first Burnley goal, and what a good one it was as he received the ball from Trippier, deceived David Perkins, and finished expertly from the edge of the box.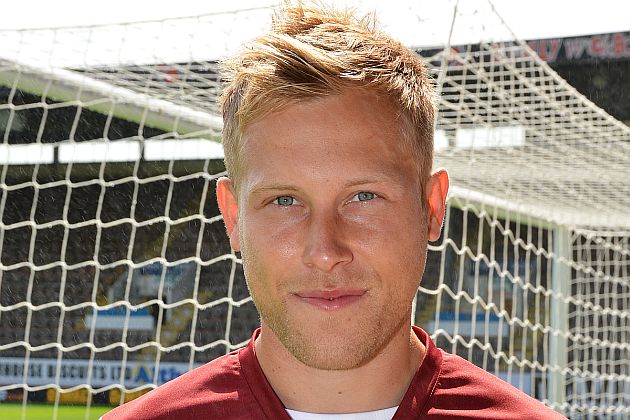 Scott Arfield's winner against the Seasiders proved to be our last goal of 2013
This was a relief. After such a good start to the season it had been disappointing to collect only four points from a run of five games. And it was good to be back on top of the league although next up were Leicester at the King Power.
It was, without doubt, a game of two halves. Leicester had the first half during which time they took the lead through a controversial penalty awarded by Andy D'Urso. Needless to say this was David Nugent playing against Burnley and he wasn't going to pass up that sort of opportunity to score.
We might have fallen further behind but by half time I thought we'd got a grip of things and so it proved in the second half. Ings scored within two minutes of the restart and we might have gone on and won it with Vokes having the best opportunity but seeing his shot saved by Kasper Schmeichel.
It kept us above Leicester but cost us top spot. That went to QPR for the next week but it was Burnley on top at Christmas after a 2-1 home win against Blackpool just four days before the arrival of Father Christmas.
Blackpool had started the season on fire but were by this time in serious decline. although still in ninth place ahead of kick off. We were better than them but it might not have been plain sailing had Heaton not made two smart saves with the score at 1-1.
Ings had scored early for us with Craig Cathcart equalising from a corner. It was then that Tom came into his own before Arfield won it for us with a superb finish from the left just into the second half.
Christmas in first place. Now that was something special. None of us could have known that we would lose top spot the day after and never regain it, but that's exactly what happened.
The Blackpool game was the last at home in 2013 but we'd trips to Middlesbrough, on Boxing Day, and Wigan to come before greeting 2014.
Neither game was particularly exciting. We lost 1-0 at Middlesbrough before earning a point in a 0-0 draw at Wigan. just one Ledesma strike midway through the first half at the Riverside got on the scoresheet.
It was the end of the calendar year and the half term report. We'd played every team once and won 44 points from 23 games, but had dropped back into third place behind Leicester and QPR. Even so, I reckoned if we could match that points return in the second half of the season it would probably be enough to get us automatic promotion to the Premier League.
Automatic promotion to the Premier League? That still took some believing even then, but tomorrow and Saturday we'll look back at the second half of the season before concentrating on 2014/15.