2006/07 Review Part Two - Moving on up
Feature by Tony Scholes
Updated Friday, 25th May 2007
There was a strong reaction to the home defeat against Colchester, fans saying we shouldn't have lost what should have been the easiest game of the season, and now we faced another promoted club in Barnsley.
Gifton Noel-Williams - hat trick against
Barnsley
We needed a result, we'd now lost three successive home games, and Barnsley had made a better start to the season than Colchester. Sadly home defeat number four quickly looked to be on the cards as Michael McIndoe scored twice with just over half an hour gone. Defensively we looked poor and we weren't threatening them going forward.
Shortly after the second goal Gifton Noel-Williams came on for the injured Alan Mahon. This time there were no boos for the striker, but in the next hour he was to completely change our fortunes. Jon Harley pulled one back with a free kick just before half time and that proved to be the catalyst. Gifton had scored just twice for Burnley previously, that night he more than doubled that with a second half hat trick. Suddenly the boos really had turned to cheers, he was no longer the scapegoat but the hero.


He was in the starting line up at Stoke four days later as we scored our quickest goal of the season. We'd hardly got into our seats when Andy Gray netted what proved to be the only goal of the game. It was hardly a classic against Stoke's Pulisball but we were much the better side and the points were deserved.


Southampton
came next, and mention this game to anyone now and I can guarantee that the first player mentioned will be Wayne Thomas. We started in great form and Steve Jones gave us an early lead. We came close to doubling it on two occasions, but when we won a free kick outside their box it led to the game completely changing. Referee Drysdale, who had a total nightmare of an afternoon, spotted something, got out the red card and off went Thomas for the second time, not only that but the fourth time as a Burnley player.
I'm not sure anyone saw anything, other than Drysdale, but we were down to ten men and two minutes later Southampton were level. We did take the lead again but we couldn't hold out and Southampton went on to win the game. Steve Cotterill said he couldn't defend Thomas and would review his position as captain, he also thought we would have won the game with eleven men.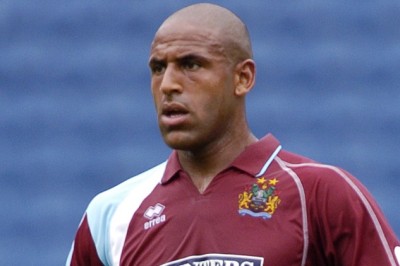 Wayne Thomas - sent off again against Southampton
Thomas' future was at stake, certainly as captain, but doubts were hanging over the manager with the bookies having him clear favourite to take the vacant manager's job at West Brom. There was a silence at Turf Moor, but in the lead up to the televised game at Norwich there was a real worry that we could lose our manager. A poll on Clarets Mad at the time came down strongly on his side with over 93% wanting him to stay.
The managerial situation was different at Norwich when we got there for a televised game on a Sunday lunchtime. Nigel Worthington's job was hanging by the thread following a statement from director Delia Smith during the week. If Delia thought it was going to have anything like the effect her 'Lets be having you' plea had she was badly mistaken as the Clarets stormed up to third in the table with a superb 4-1 win.


"Delia's Sunday Lunch - Stuffed Canaries" was how Clarets Mad guest reporter Tony Yates headlined his day in Norfolk, and it was just that as we turned in a superb performance led by what was probably Gray's best performance in a Burnley shirt. He scored two of the goals, with Jimmy O and Mahon getting the others. We were still in view of Carrow Road when we heard the news that Worthington had lost his job, hardly a surprise given the animosity directed towards him from the home support to add to the public warning from the TV cook.


That took us into a second international break, they really did seem to be coming when we really didn't want them. Mind you, by the time we played again we'd had the news we were all waiting for, that Steve Cotterill would not be leaving for West Brom, and when we did get back into action we collected no fewer than three clean sheets in a week.


None of them were particularly inspired performances but early goals from Michael Duff, his first ever league goal for the Clarets, and Gifton earned us a comfortable 2-0 win against Hull at the Turf and that was followed by goalless draws against Southend and Plymouth. The first of them was disappointing, at home against a Southend side who were struggling, but the second was a better point at Plymouth.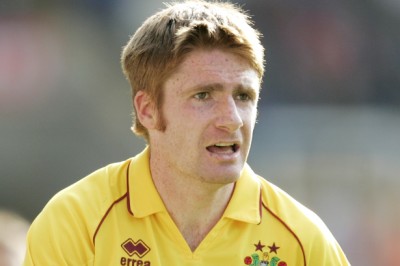 James O'Connor - got the opening goal against Preston
Plymouth v Burnley - you know what to expect now, a shockingly poor game. We've been there for the last three seasons and it is difficult to differentiate with all three being as bad as each other. Well not quite, the previous two had ended in 1-0 defeats, this time there was a point.
There was another cloud on the horizon though, no sooner had Tony Mowbray been installed at West Brom than
Sheffield Wednesday
decided to part company with Paul Sturrock and guess who was immediately named as favourite for the job. The Hillsborough club made an approach to the Clarets to speak to Steve but this was turned down by Barry Kilby. It didn't stop the speculation though.
We really didn't need it, and as we sat fourth in the table we had a big date with Preston coming up when we would be in front of the live television cameras for the second time in the month. Surely we wouldn't be able to provide them with another five goal thriller as we'd done at Norwich.


It was a top game, we were fourth in the table, Preston were second and already claiming to be certain play off candidates for the end of the season if they didn't go up automatically. We needed to beat them, and not only did we do just that but we gave Sky yet another game to savour with a dramatic finish.


Wayne Thomas was straight back in from his four match ban, but with John McGreal out injured there was no choice. He also retained the captain's arm band after the manager decided against a change. We started well, Jimmy O gave us a first half lead and for periods in the game we had Preston looking ragged. We should have had it won but then Preston didn't just equalise, they scored twice in three minutes leaving us staring defeat in the face with eighty minutes already on the clock.


I can remember slumping into my seat in disbelief, no way should we have ever been behind, and it didn't help looking over to the cricket field stand seeing over 2,750 Preston fans jumping up and down. I bet they thought all their Christmases had come at once.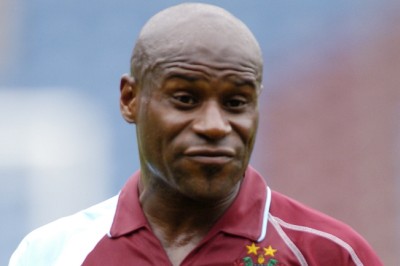 Frank Sinclair - his superb cross provided Sean St. Ledger with the opportunity to score
They didn't get too long to open their presents. Within two minutes they'd lost their lead and it was mard arse 'I won't play right back' Sean St. Ledger who was our unlikely hero. An attack ended with a superb cross from Frank Sinclair which the Preston defender got to before Gray and turned it into his own net. He might have been wearing a white shirt but Andy didn't leave him out of the goal celebrations and made a special effort to congratulate him.
I remember saying that I couldn't believe I was no celebrating having equalised in a game I thought we should have been winning, but win it we did. I can still see it now, Jones crosses from the left, Gray gets his head to it ahead of the defender and Nash can get nowhere near it. It looks good on TV, it really does, because you can't see any Preston fans dancing up and down at that end as the ball nestles in the net.


This had been the best performance of the season, to be fair Preston had been as good as any side we'd played and we'd beaten them fair and square. We were still fourth, and were now facing a really tough away game at Luton who were just one place below us. Yes, Luton were fifth in the table, and at the time RK
Sunderland
were as low as seventeenth.
It had been a strange month for manager Steve Cotterill, with West Brom and Sheffield Wednesday, but now with one game left in October he was in with a real chance of winning the manager of the month award.
Interact with us
Sponsored links