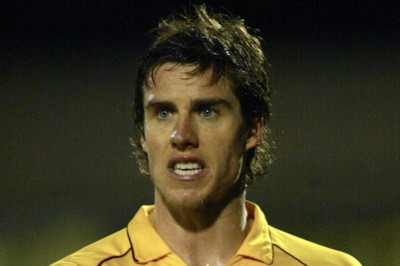 Andy Gray - scored the two goals at Luton
I received a message early that morning with the news that David Evans, who had been a regular on the message board as Eli for almost four years, had passed away at the age of 65 following a short illness. We were all stunned at the news and as tributes poured in we vowed to see the Clarets to victory and to dedicate it to David.
Luton were not so far behind us in the league at the time and their fans could have had no idea what was to come in the rest of the season, they'd been right up there in the play off positions until a weekend defeat at Ipswich and were hoping to make it to the Premiership by the end of the season.
Walking into the ground through someone's kitchen thoughts turned to the win there a year earlier. It was never going to be that sort of game again although having gone 2-0 up with both goals from the number 10 (this time Andy Gray) and then having a player sent off (Stephen Foster) it could so easily have been. As it happens Gray's two goals in the first half were always going to be enough as we recorded our fourth win in seven away games.
Foster's dismissal caused us some real problems ahead of the home game against Ipswich and manager Steve Cotterill sprung something of a surprise by playing teenager Chris McCann there alongside Michael Duff. They must have done well enough, we kept a clean sheet, and just as it looked to be heading for a draw the two central defenders were involved in the winner.
Quite why Duff was taking a stoppage time corner on the right wing is anyone's guess, but he played it short to substitute Alan Mahon and his cross was met by McCann at the far post and he made no mistake with his close ranger header. The only sour note was a late red card for Micah Hyde, yet another poor decision from referee Drysdale who had an absolute shocker.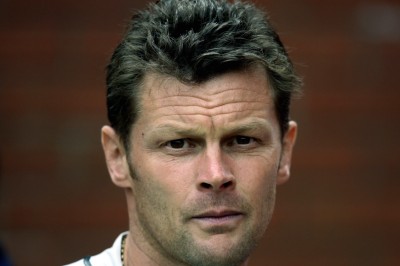 Steve Cotterill - Manager of the Month
It was a good win in the end and one that surprised many. Just a couple of days ahead of the game Steve Cotterill had won the October Manager of the Month Award for October. Now that usually means defeat in the next game. But not for the Clarets, this was our third win in successive games and we'd now gone seven games without defeat with five of them won.
The league table was really looking good. We were third in the table and just two points behind leaders Cardiff who were our next opponents. November had always been considered a tough month and after our visit to Ninian Park we had West Brom away and then a home game against Birmingham. Our next three opponents were all in the top five.
And old traditional ground is how some would describe Ninian Park, the word dump is used by others and I always think I'm going back in time to the 1970s. However, it does give real football fans the chance to still watch the game whilst standing and the problems we had weren't with the ground but with authority. Referee, stewards and police, they all caused us problems.
The stewards are at it every year down there, they are far worse than ours, and there was to be no exception. The behaviour of some of the police officers outside the ground was nothing short of a disgrace with Burnley supporters suffering unprovoked verbal, racial and physical attacks, and that was after the man in black Peter Walton had turned in a dreadful performance.
I'm not sure how we lost it, but we did, the Football League's last unbeaten away record had gone. We didn't deserve that result, despite the almost nonsensical rantings of Cardiff boss Dave Jones, but we certainly deserved the defeat that followed seven days later at West Brom.
We knew it might be a difficult game, and the one thing you shouldn't do is concede two goals long before the match has been going ten minutes. West Brom came storming forward right from the start and we simply had no answer as they swept into that 2-0 lead.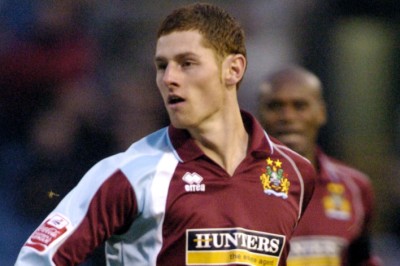 Chris McCann - winner against Ipswich and a goal against Birmingham
From then on we had plenty of possession but the only other goal was right on half time when they stretched the lead to three. It all went worse too with our old friend Richard Beeby sending off Frank Sinclair for what he viewed as two bookable offences.
Those two defeats hadn't done too much damage, although we were now five points behind leaders Cardiff we were still in fourth place but needed a win against second place Birmingham at home. We looked as though we'd do that too when McCann, who had scored our last goal in that win against Ipswich, turned in a cross to give us an early lead.
Unfortunately it ended with defeat number three. Birmingham won it with two bizarre goals. They equalised after we played pin ball in our own box, a Michael Duff clearance hitting Jon Harley. It could have gone anywhere but dropped ever so kindly for Nicklas Bendtner right in front of goal.
Brian Jensen had no chance but he did with the winner as he let a soft one in. It cost us a point and also cost the Beast his place in the side. When we played Leeds three days later it was Danny Coyne in goal for the first time in fourteen months. Gifton Noel-Williams and Gray scored second half goals and although Leeds pulled one back we really were comfortable winners.
Leeds looked a poor side, yet looking at who was on the pitch it was somewhat surprising. There were suggestions that they might even struggle to avoid relegation, at the time I certainly didn't think so.
Sod Leeds, we needed that win after the three defeats, but it came at a cost with Andy Gray's game ended early with an injury that was later confirmed as three broken metatarsals. Andy would be out for some weeks and with the loan window closed it was a massive blow for us.
Kyle Lafferty stepped up to partner Gifton at Ipswich and he played well. But he'd been moved out of the firing line onto the right wing when he gave us the lead with only a few minutes to go. It was just what we wanted after the two away defeats. A win at Ipswich which would be our first there for 37 years, but just as happened two years earlier we conceded a stoppage time equaliser.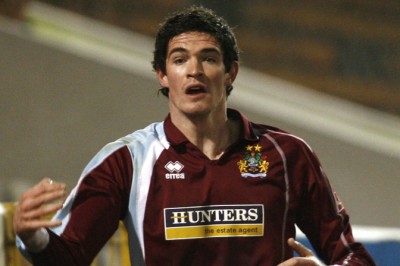 Kyle Lafferty - goals against Ipswich and RK Sunderland
This time it was from the penalty spot and for reasons only known to himself Gifton decided to stick his arm in the air and handle the ball. It was so similar to a late penalty Gary Cahill had given away at Plymouth whilst with Burnley. Needless to say they scored and we had to settle for a point.
There could be no complaints over the penalty decision but there certainly could a week later when referee Thorpe handed Coventry the points on a plate with a nonsense of a decision. He penalised John McGreal but I don't think anyone in the ground could have thought it was a penalty and certainly the Coventry players didn't.
We'd been the better side and to make matters worse he turned down a blatant penalty at the other end. Both those decisions came in the first half. In the second we didn't play anything like as well and couldn't get ourselves back into the game.
Roy Keane's Sunderland were next and they had started to find a bit of form. It was going to be a tough game but in truth it wasn't, and we should have won it. Some will blame the manager, some will point at a miss from Steve Jones, but whichever way you look at it the Wearsiders should never have gone home with a point.
Kyle scored twice, early in each half, and we looked to be coasting to victory. With around 25 minutes to go John Spicer came on for Wade Elliott and it was this substitution that led to fans blaming the manager for the subsequent loss of two points.
As it happens, Spice had been on the pitch for a quarter of an hour when they pulled one back and even then we should have got a third when Jones broke clear. He failed to even get a shot in as the RK Sunderland skipper Steven Caldwell got in a superb tackle.
Then came the second late, late hammer blow in a fortnight as David Connolly hit an unstoppable shot into the corner. They'd gone home with a point they could never have believed they would get.
We'd dropped to ninth in the table and we'd got second place Derby the week after. Although we'd only really deserved to lose the game at West Brom we'd now won only one of the last seven games and collected just five points. We needed to turn it round, starting with Little Billy's lot.