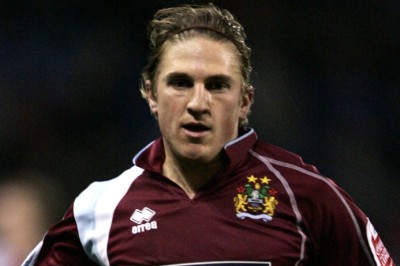 Paul McVeigh - scored the crucial second against Plymouth
The R word was on everyone's lips now, we'd gone no fewer than eighteen league games without a win, and there's no doubt things had got desperate. We'd even tried changing the shorts and socks for the Luton game to try and bring a change of luck.
It wasn't just the team, supporters were changing their match day routines and I didn't miss out. A different pair of shoes and a different route to and from the pub before the game was a last desperate attempt to bring a change of fortune. Amazingly, and what we couldn't possibly have known at the time, we already had enough points to stay up because a few weeks later one horrible little club would do a spot of cheating, or at least some serious bending of the rules.
We didn't know that, and it was tense as the teams came out to play Plymouth. Steve Cotterill made three changes to the side with recalls for Michael Duff, James O'Connor and Wade Elliott and that meant no place for loan defender Graham Coughlan, midfielder Chris McCann and Ade Akinbiyi with Paul McVeigh playing up front alongside Andy Gray.
It was just before the clock struck eight that finally our fortunes changed and it all came courtesy of two of the returning players. We won a free kick, Wade played it into the box for Duff to head home. 1-0 Burnley and seven minutes later we had doubled our lead as Gray quickly played in McVeigh with a header and the loan calmly slotted the ball past the keeper.
Two goals in front, the last time we'd done that was in December but we didn't stop there and just seven minutes before the break we were three up. The Plymouth defence struggled to deal with a ball into the box and it eventually dropped for Steve Jones who rifled a shot into the bottom corner across the keeper.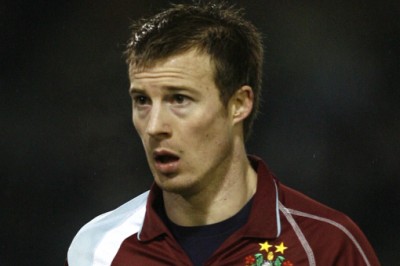 Wade Elliott - got the fourth as the Clarets returned to winning ways
Three Northern Ireland internationals had all scored and surely we'd finally ended the run. Nothing happened in the second half to suggest that we'd lose the lead and just past the hour we added a fourth and what a good goal it was. Wade took the ball on his chest some ten yards from the box. He brought it down, beat a defender on the outside before breaking into the box and hitting a shot into the far corner. Not a bad return for him, and after he'd been left out three days earlier for not scoring enough goals.
It ended at 4-0 although we had to survive a Plymouth penalty after Flood Warden Hall was conned by the diving Ebanks-Blake. Some people though are never pleased and as I left the ground a couple of people were saying we'd only won because Plymouth were poor. Fair enough, they weren't that good, but we were a side on a nightmare run, a side without confidence. Can't some people give us credit when and where it is due?
I always thought that when we did finally win a game it would be like the X43 bus service, wait an age and then three all come at once. But that notion was quickly tempered when I checked the fixtures. The next two, over Easter, were a trip to Birmingham and then Cardiff at home.
Easter Saturday is a day I'll always remember with emotions from real sadness to ones of pure elation. I was just a few minutes from leaving the house for Birmingham when the news came that I'd been half expected but didn't want to hear, that former captain, champion, international, coach and manager Brian Miller had passed away in Burnley General Hospital after a short illness. It was hard to take in that I'd never have a word with Dusty again on Harry Potts Way before a game, a real Burnley man through and through who had lived out all our dreams.
Wouldn't it be nice if we could go and get a win for him at Birmingham. "Some chance," I was told on the coach going down there. Well Brian this one was for you, and with the most unlikely of heroes. We played well and were every bit as good as the promotion chasing home side and it looked as though we were going to get ourselves a point from a 0-0 draw.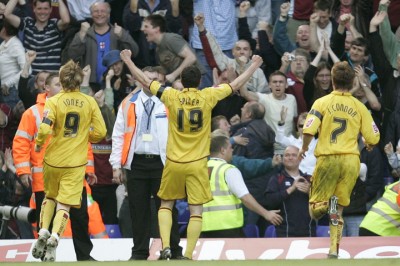 The winner at Birmingham
That all changed when one former Blackburn Rovers defender decided to give the ball away just over the half way line. It let in substitute John Spicer, but he had a lot to do. Suddenly he was in the clear, one on one with the keeper, and he gave him no chance as he lifted the ball home right in front of the Burnley fans. We'd been getting some stick from some Brummies all afternoon. All goals are celebrated, some more than others, this was probably the best celebrated all season.
That league table was beginning to look better for us, and two days later it was even better as the bus service worked perfectly. The third win duly arrived against Cardiff. Before the game there was a minute's silence for Brian and how moving it was. Both home and away fans alike stood in total silence alongside some of Brian's former team mates and players during his time as manager. A wonderful tribute to a Burnley great.
Burnley got off to an inspirational start and were in front after just four minutes. Gray got the ball into the box, Cardiff couldn't clear it and there was Jones to hammer the ball home. And it was nearly two shortly after as the two combined again, this time Jones racing past defender Gunter and Gray heading his cross against the bar.
Early in the second half we completed the scoring with a fantastic team goal. Almost every outfield player was involved as the ball finally got out to Elliott on the right and his near post cross was met by McVeigh who scored from close range.
McVeigh, Elliott and Jones, they've all been mentioned during these three wins but one player not is Eric Djemba-Djemba. Sometimes others take the headlines with goals, assists etc. but in the middle of all this the Cameroon international had been an inspiration in midfield. We were now seeing his quality and it would continue to shine throughout the rest of the season.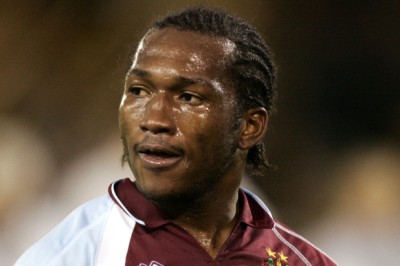 Eric Djemba-Djemba - in inspirational form
The following week the run of wins came to an end in an ugly game played in front of a hostile crowd at Elland Road. This was one game I desperately didn't want to lose, there was no way I wanted to give this lot any help in avoiding relegation. A point and we'd have been safe, but they beat us. The one good thing is that in the end it did them no good whatsoever.
We'd two more home games now, starting with the re-arranged game against Norwich. Ade was back in the side in place of the unavailable McVeigh and he gave us the lead in the first half. That's how the score remained until four minutes from the end. Then Andy Gray lifted the ground with his first goal since returning from injury, and Wade completed the scoring as he brought the ball down after a left wing cross before slotting it into the corner.
West Brom were next and in front of the Sky cameras. When we went to the Hawthorns in November Jason Koumas gave them the lead after five minutes but this time it took him six minutes to do the same. In that first match Nathan Ellington made it 2-0 after seven minutes, this time he made it 2-0 after eight minutes. This really was déjà vu and should it continue we would go on to lose 3-0 with the last goal coming just before half time.
We didn't, and I think we all know we got some good fortune, but in the end we deserved to come back and win the game. Andy Gray pulled one back after a mistake by Dean Kiely in the West Brom goal. It was offside, fair enough, but I've never had any sympathy for Kiely since he decided to take a kick at Robbie Painter on that glorious night at York in 1992.
Just before half time Paul McShane was sent off after an incident that left James O'Connor unconscious. From my vantage point it could have been an elbow, from the view referee Jones had it was clearly a clash of heads. The referee got it wrong.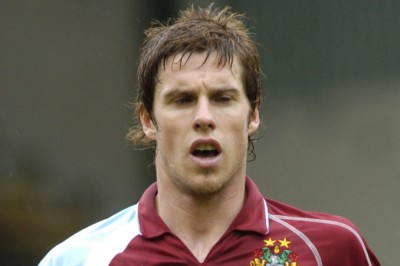 Andy Gray - back amongst the goals
Gray got his second after the interval to bring us level and then Chris McCann, on as a sub for O'Connor, won it for us with a wonderful header (well OK, it came off his shoulder) in the closing stages. Any sympathy for West Brom? Not on your life, after the things that had gone against us all season.
Three times we'd been on television and on all three occasions there'd been five goals. The Sky cameras were there again four days later when we travelled to the Stadium of Light to take on Roy Keane's Sunderland in front of what was the biggest Championship crowd of the season, what a draw we are. Surely there couldn't be a rush of goals again.
RK Sunderland meant business and they got on top right from the kick off. They went a goal up and then got the most ridiculous penalty I'd seen in many a year. It was an appalling decision by referee Kettle, but if anything it did us the biggest favour.
Connolly's spot kick was saved and from that moment we started to play with Eric once again pulling the strings. Finally, finally, yes finally we got a penalty of our own. We hadn't had a penalty in any of our previous 66 games and when Andy Gray calmly slotted this one home it was just 5,985 minutes since Garreth O'Connor had scored our last one. This was another poor decision by the incompetent Kettle, but who cared?
Level at the SSOL, and for a few short minutes in the second half it was to get a whole lot better. Wade Elliott has been reminded that most of the awards voting is carried out two or three weeks before the end of the season, so this is no time to be scoring the goal of the season, but this one was.
He collected the ball from McVeigh, brought it under control with his first touch. He took a second touch and then with his third hit an unstoppable shot into the top corner to the keeper's left. It swerved, it curled, it had power and stunned just about everyone.
Unfortunately we couldn't hold the lead long enough and they equalised from the third penalty of the game. He got this one right although Carlos Edwards played for it. It was pulsating stuff from then on but you sensed that there might once again be a fifth goal for the television cameras. When it came it was another stunner, but sadly at the wrong end. Edwards rifled the ball home from distance. The shot had power, direction (even going through Joey Gudjonsson's legs) and didn't deviate as it flew into the corner.
There was no comeback from this, we were beaten but we'd played our part in a magnificent game. Beaten by the Champions and they knew, they really knew just how difficult a game we'd given them. And to my mate in Sunderland, if you happen to read this, no matter what you try to tell me that first penalty of yours was not a bang to rights spot kick, it was a shocking mistake by the referee.
We just needed to end the season on a good note with a home win against Coventry but it didn't happen. We were not very good in that last match. Having gone 2-0 down we pulled one back from Paul McVeigh but deserved nothing from the game.
The league table shows we ended the season in 15
th
place. It could have been better, but we know it could have been much worse. It will be better next season.