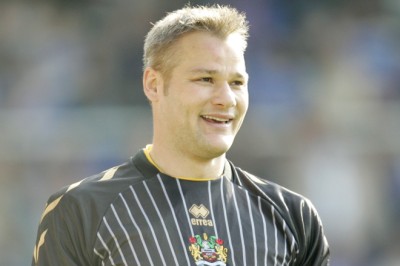 Brian Jensen - replaced the injured Danny Coyne against Derby
Little Billy's lot had climbed into second place in the league on the back of eight wins from their previous nine games. They were very much the form team in the division whereas we'd dropped down to ninth in the table.
We'd played well the week before against RK Sunderland and we played well again against Derby, but once more weren't able to take maximum points. At least this time we didn't lose ourselves a 2-0 lead, this was a game that ended goalless but was certainly no 0-0 bore draw.
Derby probably started the brighter and we had to be thankful to Danny Coyne for two very good early saves. It was all Danny was set to do, he came off injured shortly afterwards and we were thankful that Brian Jensen was on the bench. The Beast had been laid low with illness and was back in the squad for the first time since recovering. It's happen as well, we'd only sixteen players available to us.
He had precious little to do as Burnley became the better side, and we should have won it with Gifton Noel-Williams missing the easiest chance of the game. The results suggest it wasn't looking too good. We'd won just once in eight games, but other than the start at West Brom we were playing well enough and all we needed was a couple of good results over Christmas from the not too difficult games at Barnsley and Hull.
Barnsley on Boxing Day. It will always remind me of 2000 and Stan Ternent cancelling Christmas and accusing his players of having had too much plum duff. We lost that game 1-0, although didn't deserve to lose. This time we went there again and lost 1-0 and to be fair this was not a good performance.
Defensively we were shambolic and only the inspired form of Jensen kept us in the game for long periods. We fell a goal behind in the first half but quite honestly we should still have gone on to win it in the second half as we put continued pressure on the home defence.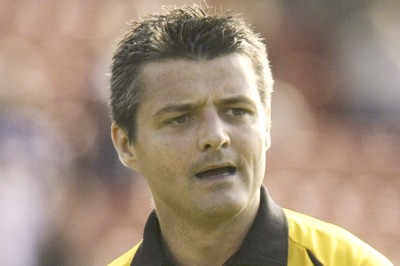 Referee Iain Williamson - just how did he miss that penalty at Barnsley?
Football fans like to make excuses, we tend to look for incidents in games that could have changed its course. Look no further than Oakwell, Boxing Day 2006, the 58th minute and referee Iain Williamson. Gifton's goal bound effort from close range, following a ball in from Wade Elliott, was heading in for the equaliser until a Barnsley defender decided to palm it away off the line.
A penalty and Barnsley down to ten men, put the penalty away Burnley and we will surely go on to win this game. Hang on, why is Williamson pointing to the corner flag? Why has he given us a corner on the left wing? Why is he not pointing to the spot? Why is the red card not out? All questions remain unanswered. Our long search for a penalty was almost a year old, and we weren't getting this one.
It really was the most blatant penalty of the season. It really does take some believing that it wasn't given. This particular referee loves to wave his cards about and here he was missing a golden opportunity. Overall it was a disappointing performance from the Clarets and we lost it 1-0, but I'll still point the amazing decision from Williamson as having cost us points, potentially three that day.
A lot of the talk in the stands that day centred on new director Brendan Flood with some saying that he'd put enough money in to bring in new players. Apparently, according to one 'informed' supporter we were signing Robbie Blake, Richard Chaplow, Ade Akinbiyi and Nathan Dyer. I wonder what it was that put those four names into his mind.
The talk continued at Hull in the last game of 2006, and the poor results continued, this time with the worst performance of the season so far. We were beaten half way through the first half when their second goal went in. Cotterill made quick substitutions but there was no way back, this was a shocker of a performance against a dreadfully poor side. Again Jensen was in top form and did more than his bit to keep the score down.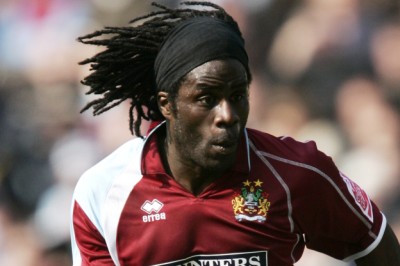 Ade Akinbiyi - signed on New Year's Day
We were next set to be in action on New Year's Day, a home game against Stoke, and Burnley fans wakening early were greeted with some very unexpected news. With the transfer window just about open we clinched the signing of Ade Akinbiyi from Sheffield United, just over eleven months since he'd moved in the opposite direction.
This message board was buzzing with the news, what a lift for the club. Although he wouldn't be able to play against Stoke he would be out on the pitch again just before kick off. If he did that, then no one saw him. There'd been no hint of a problem at the Turf and the club had been at pains to tell everyone that the game was not in any doubt. Then came the news, it was off, the pitch was waterlogged, the problem being the usual area in front of the Bob Lord Stand. Referee Russell Booth described that side of the pitch as saturated.
That took us to Reading and the 3
rd
round of the FA Cup. It was raining when we reached the stadium but we didn't take the warning seriously that there might be a pitch inspection. It's happen as well there was because otherwise someone could have drowned with the playing surface underwater in places.
Not as though Reading bothered to tell us what was going on, they didn't even bother to announce it when referee Rob Styles declared the pitch unfit and we received the news via text messages from people at home listening to local radio.
We'd been there about forty minutes or so when we were back on the coach home, and just on the M4 we learned that the game would be played that coming Tuesday meaning a major rush to get travel arrangements made.
We came back but Jensen's form wasn't up to the standards he'd set at Barnsley and Hull. He had something of a shocker and I'm still trying to work out just what he did as Reading went 3-0 up. There were positives, we netted twice to get the score to 3-2 and Ade looked as though he'd never been away.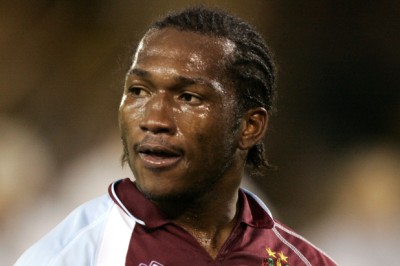 Eric Djemba-Djemba - signed from Aston Villa for the rest of the season
He scored our first goal, lobbing the keeper from the edge of the box and he forced him into two more good saves. It wasn't just that, his overall performance was excellent and it really did look good to have him back.
By the time we got to Southampton on the Saturday the team was getting a very different look about it. Ade was set to play his first league game and there were two more new signings in the team. Goalkeeper Mike Pollitt had arrived on a month's loan from Wigan on the Thursday and around noon on the Friday we announced that Cameroon international Eric Djemba-Djemba had signed from Aston Villa on loan until the end of the season.
There was also a departure with Micah Hyde ending his time at Burnley and joining League Two Peterborough, apparently the only League Two side he would have considered joining. Onto Saturday and all three of the new players were in the team at St. Mary's where we picked up a comfortable point in a 0-0 draw. I'm not so sure we ever looked like scoring in a game where we seemed content to take a point, but Southampton didn't either and it really was a predictable result.
We had two home games now. Norwich were our visitors on the following Saturday with the re-arranged game against Stoke to come three days later on the Tuesday. That was the plan, but Leeds referee Martin Atkinson put paid to those plans by calling the Norwich game off because the ball wouldn't bounce in a small area of the pitch in the corner close to the police box.
It was clear than neither manager agreed with him, but off it was and that meant a further wait until our first home game of the year. And when it did come there was yet another signing made, this time Icelandic international Joey Gudjonsson from Dutch club AZ Alkmaar. He made his debut against Stoke, replacing Djemba-Djemba midway through the second half, but it wasn't a good night for Burnley.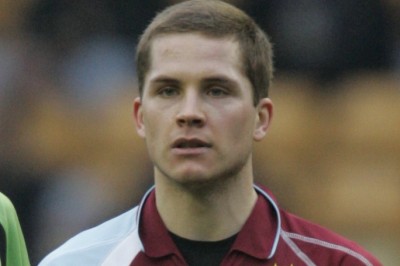 Joey Gudjonsson - made his debut against Stoke
We were second best to a Stoke side for whom Ricardo Fuller was the star and there could be no complaints at the 1-0 defeat. It really was a poor performance. We needed better but the next two games were both back on the road.
The first of them was Derby, a really tough game, and not made any easier when we conceded an early goal scored by Steve Howard. Other than that we played well enough but sadly the game was dominated by a ridiculous show stealing performance from Mike Riley. He sent off both managers and then showed Djemba-Djemba a red card for a second bookable offence. He'd been wanting to send someone off, but this was a very controversial decision by the attention seeking Premiership referee.
On the journey home came news that we'd sold Gifton Noel-Williams to Real Murcia for a £50,000 fee. Having had his short spell of stardom at Turf Moor he was once again public enemy number one with many fans and a move away from Burnley was probably a very good idea for him.
It came just one day before the transfer window closed and we were all hoping there might be some more news on incoming transfers with Steve Cotterill known to be hoping to bring in two more. One of them slipped the net, in fact by the end of the day we though both of them had.
However, at breakfast time on the following day came the news that we'd sneaked in with minutes to go to capture RK Sunderland's former captain Steven Caldwell. We thought we'd missed out on him after being linked the week before but Cotterill got his man.
Much of the discussion on the way to Loftus Road to take on QPR was about the lack of goals. We'd now gone six league games without one and it had been ten league games since we'd last won, beating Leeds in November. Some Burnley fans were already down in London, members of the West Yorkshire Clarets were appearing on Soccer AM. One of them was dumbstruck, another red faced member of the team couldn't be shut up, and they did manage to score once on the Road to Wembley.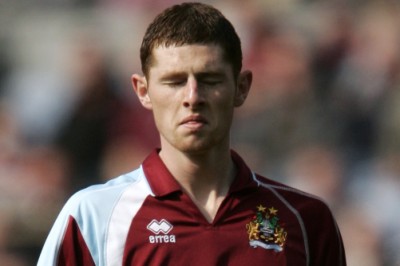 A goal at last - Chris McCann scored at QPR
They'd had a good morning but sadly they weren't to have a good afternoon. We went a goal behind but then finally scored a league goal for the first time since the 2-2 draw against RK Sunderland. Well done to Chris McCann who got on the end of a ball from Gudjonsson to head home.
That I'm afraid was as good as it got. Chris might have scored but he was twice at fault from dead balls into our box in the second half and both times they scored to win 3-1. There was some bright news for Burnley fans as we made a triple substitution. Latest signing Caldwell came on, and with him were Steve Jones and Andy Gray who were both returning from injury. It was good to see Andy back. We needed him and we needed him to be fit.
This was a bad period and with just about two thirds of the season played we were now down in fifteenth place in the table. The slide had to be arrested or we could be in serious trouble. Many more performances like QPR and we would be in serious trouble. Hopefully Andy Gray would link up well with Ade Akinbiyi and the goals would start to flow.