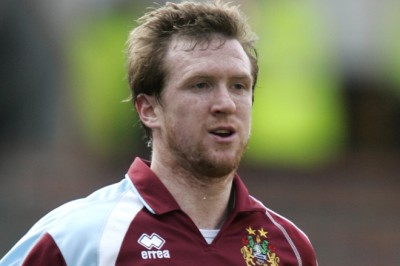 Steve Caldwell - captained the side on his full debut and was soon to be appointed club captain
It was not so much an air of optimism, more a realisation that Wednesday were hardly on top of their game. They'd just lost six consecutive games and were the only club in the country not to have gained a solitary point during the first six weeks of 2007 but they were soon to put that right.
The squad was two players lighter just ahead of the game. Wigan recalled goalkeper Mike Pollitt after he'd played just four games for us, whilst we also said farewell to Frank Sinclair who moved to Huddersfield on loan with a view to a permanent move. Frank had been a popular player with the fans and he also left with a glowing tribute from Steve Cotterill. The gaffer received an excellent response from his former captain.
Whilst on the subject of the captaincy, Ade Akinbiyi had led the side out at QPR in the absence of Wayne Thomas through yet another injury, but new signing Steven Caldwell was given the captain's armband for his full debut against Wednesday.
We needed a performance, we needed a result, and frankly we got neither. It was another poor ninety minutes of football and there was little positive to come from it other than the point. It was all goalless at half time when Clarets Mad took to the pitch for the Pie & Chips competition.
Encouraged by Jeff Brown, who announced the web site team as the keyboard warriors, the team did well enough and the three successful chips raised not much short of £400 for the Year of the Youth fund.
Back to the second half, and just ten minutes we took the lead with Wade Elliott's first goal in fifteen months. It was somewhat fortunate in that goalkeeper Mark Crossley did get down to the shot, but he couldn't hold it and turned to see it bounce in. We didn't care, we were in front for the first time since mid-December and at last Turf Moor had something to celebrate.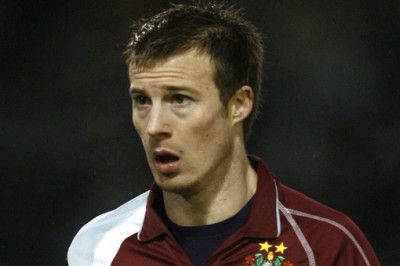 Wade Elliott - gave us the lead against Sheffield Wednesday
What we had to do was keep the lead for a while, if we could stay in front for ten minutes then the out of sorts Wednesday would probably have nothing to fight back with. Well three minutes it lasted, a whole three minutes, and we hadn't learned any lessons from the week before. Again a player had a free header from a corner, and again we were punished.
The games without a win were clocking up, and it was Wolves away next. Now we'd won this fixture last season so there was little likelihood of it happening again. Wins against Wolves are not commonplace.
Everything was put into some sort of perspective in the week leading up to the game with news from across the pond that Danny Karbassiyoon's football career was over. In need of further surgery on his knee he was advised not to play again.
But for the Clarets, Wolves it was, and we were a goal behind before we'd warmed our seats and it came from nothing other than a hopeful ball into our box. It could have been worse still but it was close to half time before they doubled their lead. That was that, but to be fair we rallied in the second half and came so close to a point. Chris McCann equalised and in the dying minutes Caldwell headed against the bar.
Nothing much was running for us to be fair. Again there were two clear penalty shouts for handball and I remain convinced that both of them would have been given at the other end. We needed some good fortune to go our way. We needed it against Leicester in what some were saying was a must win game.
Thomas was back but Caldwell retained the arm band and shortly after the game it was confirmed that he'd replaced his fellow defender as club captain. If this was a must win, then we were in trouble because we lost it 1-0 to a bizarre own goal. In all honestly Leicester will have left the Turf wondering just how they got anything from the game and even their manager Rob Kelly said as much. But they took all three points as the Clarets failed to create enough. The goal really was farcical, there was a missed offside in the middle of it all and then our defenders had a game of pinball with John McGreal the unfortunate player who was credited with the own goal.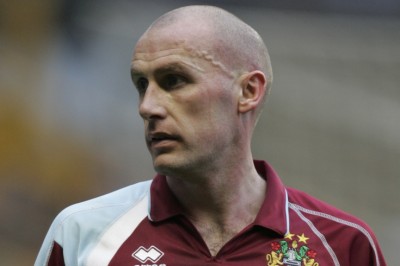 John McGreal - his own goal against Leicester gave the Foxes all three points
That left us facing a trip to Colchester and that wonderful stadium at Layer Road. Now if you are only going to miss one game in a season then this one is without doubt a potential candidate. That's how it was for me as illness restricted me to Custard World
TM
for the first time ever. From what I was hearing from down in Essex I had probably chosen the best and most entertaining option.
The good news was that we got a point; the bad news was that we had both full backs stretchered off. I'm not sure how much more bad luck Thomas is due but again this led to surgery whilst for McCann, who replaced the axed Jon Harley, the injury was not too bad.
Ade and Andy Gray haven't been getting much of a mention. Simply, our new strike pair were not doing very well at all. One was fighting back from injury, the other had returned from Bramall Lane unfit and it was costing us.
Finally one of them scored a goal, and how important it was. Again we conceded a bad goal in the home game against Crystal Palace and in my match report this is how I described it: "It was just a punt up field from the comical pyjama wearing figure of Gabor Kiraly that was allowed to bounce for Clinton Morrison to almost apologetically loop a header over Coyne and in."
It really was disastrous and things could have got worse for Danny Coyne in what was to be his last home game for the Clarets. He struggled with a ball across goal and then handled the ball outside his box only for the assistant referee on that side to fail to notice.
It took us over half an hour to get one shot at goal, and then Kiraly saved well from Ade, but then thankfully our returning striker came to the rescue. He got his head to a Michael Duff cross and powered it into the corner.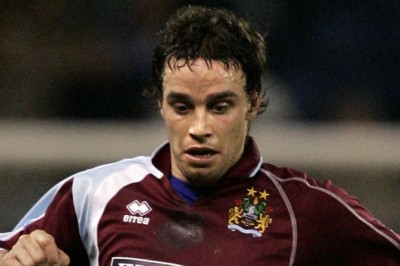 Michael Duff - supplied the cross for Ade to head home
We were thankful for that, and we were thankful for the point. Now we had a really important game at Southend. It might not have been a must win game but surely this was definitely a must not lose game. There are highs and lows in every season and there's no doubt for me that the closing stages of this game provided the lowest point of all.
Let's no beat about the bush here, we were nothing short of downright shocking. As it happened the inept Southend were no better and neither side deserved to get anything from the game. We can make excuses as long as we like, and we did see most of the defence limp off injured, but this was unacceptable and the only consolation was going to be the point we would get from a 0-0 draw.
Up went the board for stoppage time, I could almost manage a half smile because this could be an important point, and then disaster. One poor header from Wade, drafted in as an emergency right back, and that was it. They scored and there was no time for us to come back, not as though we would have done anyway.
Mr Taylor, when you blew that final whistle do you really know how those Burnley fans on that away end felt. Back in January I was punched outside Pride Park by some neanderthal posing as a Burnley fan, but this hurt more, this felt as though I'd had a knife shoved right through me. That was one hell of a long journey home, at times in stunned silence.
Could we be in a relegation battle? There was no could about it now, we were right slap bang in the middle of one and we needed to turn things round or we could be heading out of the Championship's trap door. What a time to be going to Deepdale.
As well as getting punched at Derby, we also saw Eric Djemba-Djemba sent off. Since then he hadn't started a game and again at Southend he'd been an unused sub. By the time Saturday came he was back in the starting line up at the expense of Joey Gudjonsson.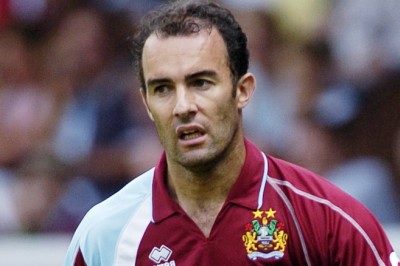 Graham Branch - came close to equalising at Preston with a right foot volley
We lost again, this time 2-0, but this was better, much better, and we could so easily have got something out of the game. A goal down at half time, and shortly after the resumption we lost Captain Caldwell to a shoulder injury and on came Graham Branch.
Branchy went up front and almost turned the game on its head as he rattled a right foot volley against the Preston bar. If only that had gone in, if only. It didn't and needless to say they got another and that was that.
We needed some inspiration, and we'd a two week wait for our next game because of the season's last international break. Off went our three Irishmen and our Welsh goalkeeper and whilst they were away we brought in two loan players. With defenders dropping out with a whole range of injuries in came Sheffield Wednesday's Graham Coughlan, and later on the same day we brought in forward Paul McVeigh. Both would be with us until the end of the season.
When we stepped out against Luton, and what a vital game this was, only Steve Jones of the international set was on the pitch. The two new boys got debuts, Eric retained his place, and the Beast was back in goal.
That inspiration we needed. I'm sad to report it didn't show. This was another nightmare of an afternoon against a Luton side that had relegation stamped all over it. We should have been in front, but by the end of the game we could so easily have lost it. Another 0-0 draw was what we got.
We were in trouble now alright, hovering just two points above the drop zone and not one of our last eighteen league games won. Five of our last eight games were at home and that was the only saving grace. There weren't many Burnley fans ready to back a successful fight against the drop, most appeared to have given it up.
There were just three days to the next game against Plymouth. This could be another disastrous night if we turned in this sort of performance again.