2005/06 Review Part Three – Clarets set for Christmas
Feature by Tony Scholes
Updated Wednesday, 24th May 2006
Remember, remember, the fifth of November – and for those of us at Luton I'm sure it is something we always will, it was one of those special days watching Burnley.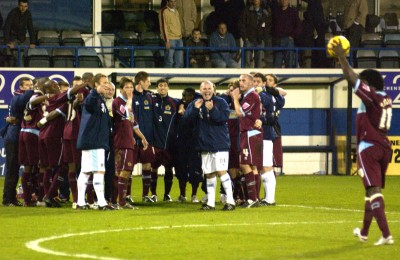 Ade celebrates with the match ball as he goes to join the huddle
After successive home games in the previous week against Hull and
Millwall
we were on the road to Kenilworth Road. James O'Connor had been cleared to play following his ridiculous red card four days earlier. There were two changes to the side with fit again John McGreal replacing Keith Lowe, and Duane Courtney came in for his first start in place of the injured Michael Duff.
It all started quietly but we got our noses in front with a good goal after fifteen minutes. John Spicer, who was to feature strongly throughout the afternoon, played the ball through for Ade Akinbiyi who made ground before beating former Claret Marlon Beresford with a shot into the bottom corner.


Luton tried to fight back but on the half hour the lead was doubled. I could say it was an identical goal, Spicer putting Ade clear, but this time the finish was stunning, hammering a half volley into the top corner from just inside the box. It was no surprise when it took our end of season award for best goal.


The away end was on its feet celebrating what they thought was a third away win of the season but six minutes before half time the game took a dramatic turn when Brian Jensen handled the ball outside the box. There was no questioning that he had gone over the white line but the judgement that he'd prevented a goalscoring opportunity was very debateable indeed. However, referee Melin sent him off and we had no goalkeeper on the bench.


Apparently Duff and Graham Branch are the replacements, neither were playing, so up stepped the unlikely figure of Spicer to don the goalkeeper's gloves for the rest of the game. Without wishing to be cruel, he said he'd never done the job before and to be honest that is how it looked.


By half time the home side had pulled one back and we feared the worst, probably even more so when Gifton Noel-Williams came on to replace Garreth O'Connor and we went 4-4-1 with Ade on the left wing.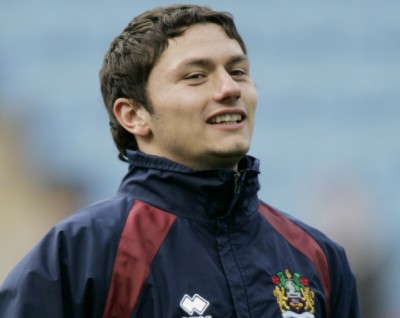 John Spicer - emergency keeper, then three goals in the next two home games
"We'll lose this 6-2" someone told me at half time, but that prediction was out of the window just nine minutes in when Ade made a superb run, was brought down in the box and took the penalty himself to take it to 3-1.
Back came Luton and on the hour they pulled one back, there was no way we were going to hold them for another thirty minutes. Those thirty minutes became twenty, then fifteen, then ten, as the tension in the away end grew and grew. Somehow we knew we were seeing something special.


Ten became five, four, three … yes it really was that tense. I can't remember now just how many minutes the fourth official added, as Luton tried to batter us with high balls into our box, but I can remember the amazing scenes when that final whistle finally blew with us still 3-2 in front.


Ade collected the match ball, we had a huddle on the pitch, whilst in the stand I can hardly remember an atmosphere like it. If only you could bottle days like this, they are a real reminder of exactly why you are a football fan.


Back home a week later and we made it four wins out of four, and Ade scored an even better goal than he'd done at Luton. Amazingly, and wrongly, referee Messias ruled it out for a non-existent foul, but we won the game 1-0 with Spicer's first league goal for the Clarets. He'd had something of a special week.


We were in the play off positions now and travelled to Elland Road in the midweek to take on a Leeds side who were two points and two places above us. We couldn't make it five wins out of five, but we never deserved the defeat that came our way.


For virtually the whole of the first half we were the better side, as Nathan Dyer got a start in a central position and left their less than mobile central defenders unable to cope. We should have got a lead but came in at half time level and paid the price in the second half.


Firstly a foul by Duff led to a penalty and then after having a goal disallowed we conceded the inevitable Robbie Blake goal. We then suffered from referee Bates whose performance could only be described as consistent; he gave them everything and more, and gave us nothing.


Back home against Dario G's boys we needed to get back to winning ways, and we did as for the second successive season we sent the strugglers home with a 3-0 defeat. Spicer was having a cracking November and added another two goals to add to his winner in the previous home game.


Dyer got the third which left Ade goalless after another superb display from him which Crewe could hardly handle. He got a goal a week later though as we went into the chaos that was Southampton FC and got a point from a 1-1 draw.
As we travelled down we heard that their manager barrow boy Harry Redknapp wouldn't be at the game after indicating he wanted to go back to
Portsmouth
. "Where's your Harry gone?" cried the Burnley fans on their first visit to St. Mary's.
The home fans seemed unconcerned and were more vociferous about their duck shooting chairman Rupert Lowe. "We want Rupert out, we want Rupert out," was their response and the Burnley fans joined in with them.


Down on the pitch, the home side led by Harry Bassett and the obnoxious Dennis Wise went one up from a penalty, but a superb second half cross from Graham Branch found Ade who earned us the point with a diving headed equaliser.


It was a good time to be a Burnley fan, but the graveyard known as Bramall Lane loomed – and somehow you just expect to lose when you go there. We had our chances, we could have twice gone in front, but we really could have no complaints as the promotion chasing Blades won 3-0. They were head and shoulders better than us on the day.


I suppose we might as well save one of our worst performances for Bramall Lane, no matter how we play it never makes any difference and that result came almost 22 years after our last point there in January 1984.


We'd slipped back to eleventh in the league, but Christmas was coming and we would start it with two home games against another promotion chasing team
Watford
followed by a Boxing Day clash against the very much in form
Stoke City
. Could we become promotion candidates?
Interact with us
Sponsored links