2005/06 Review Part Six – One defeat in last eight
Feature by Tony Scholes
Updated Sunday, 11th June 2006
Things were looking bleak for the beleaguered Clarets as we prepared for the televised home game against Norwich. The only good news was the form of strugglers Brighton, Crewe, Millwall and Sheffield Wednesday.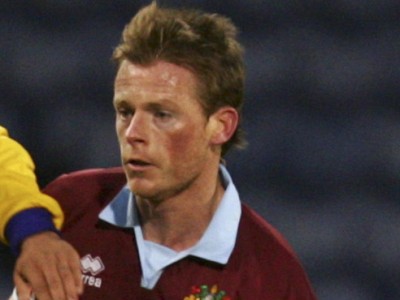 Alan Mahon - signed from WIgan on loan deadline day
We'd lost the last six games, and collected just five points from the last thirteen, and Norwich were in a decent run of form going into the game. We hadn't even scored a goal in the previous five games and we needed a piece of good fortune from somewhere, a fluke goal, a lucky bounce, anything just to get us a result.
It wasn't looking good but we did get some good news on the day before the game, in fact many would say a double dose of good news. It was emergency loan transfer deadline day and early in the day assistant boss Dave Kevan had suggested there could be some news.


And there was, but the first news was the departure of Gifton Noel-Williams who joined Brighton for the rest of the season on loan. The Burnley fans had just about given up on the striker who hadn't scored a goal since August, and it was certainly in the player's best interests to go and play elsewhere.


We were just absorbing that news when some really good news came in, a signing we could have hardly thought possible, the capture of midfielder Alan Mahon from Wigan. Like Andy Gray the week before he'd come in on loan with a three year deal agreed once the transfer window opened – and for a fee of just £200,000.


Steve Cotterill admitted to being excited at having secured that particular deal, and said Mahon would make us play better football. He didn't name him in the side to play Norwich though, he'd already selected the side and stuck with it although the new man took his place on the bench.


Watching the first quarter of an hour you could see all our problems, we had no confidence and but for some poor finishing by Norwich the game would have been all over. They missed three or four clear cut chances and just as you started to think we might be in for a heavy defeat the whole game was turned on its head.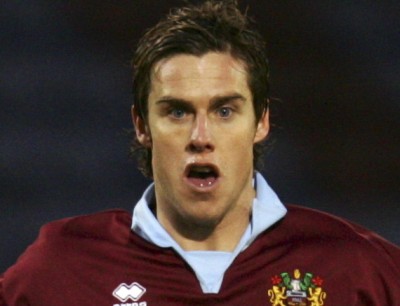 A goal at last - Andy Gray gave us the lead against Norwich
We worked the ball well with Frank Sinclair, Wade Elliott and Jon Harley down the left. Harley put Graham Branch clear down the wing and his low cross was met by Gray who dragged the ball back, turned and shot into the bottom corner.
Burnley were in the lead, the fact that we'd actually scored a goal seemed enough and Norwich were never in the game again. It was no surprise when we doubled the lead, Branch heading home an exquisite floated cross from Phil Bardsley and we'd finally got our win.


Three days later
Southampton
made their first visit to the Turf since the 1970s. Before the game I was warned about the fact that Jermaine Wright was in their side. On the last two occasions he'd played against us, for Leeds and
Millwall
, he'd scored within the first minute, although both times we'd gone on to win the game 2-1.
He didn't make it three, but we did go behind in the first minute, through a Bardsley own goal. But our new found confidence meant the heads didn't go down and we were soon level with Gray scoring again. He took it well although some suggested without the deflection off the defender it might have gone wide. The goal was given to Gray.


We then travelled to Hillsborough with renewed optimism. We hadn't won away since November, could this be the day we finally got our fourth away win of the season? It wasn't but it should have been, we were the better side and had four good chances to win it.


The best two fell to Sinclair and Chris McCann who both headed wide, McCann's in front of the Burnley fans at the Leppings Lane End was the easier of the two. But we kept a clean sheet, and got a point, and that took it to three games without defeat.


Another home win followed, and another Gray goal. It came against QPR and it was an excellent finish by the striker who had already been granted the old Andy Cooke chant by the Burnley fans.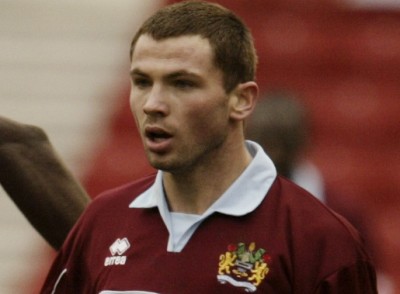 Phil Bardsley - an injury at Hull meant it was his last game for the Clarets
But as good as the finish was, Gray owed much to Mahon whose ball through to him was just about perfect. Although playing mostly out of position on the right the midfielder was already looking the part and that hadn't escaped the notice of the manager.
After the victory he said: "In Alan Mahon we have an absolute gem. He was quality all round and he is the jewel in our crown." I don't think many Burnley fans would have disagreed with him after an outstanding performance from the Dubliner in difficult conditions.


The following weekend was Easter and after a blank weekend in the previous season we were back to normal with games on the Saturday and Monday, although Cotterill was one of a number of managers complaining about two games so close together.


The first of them brought us our first ever visit to the Kingston Communications Stadium at Hull. First impressions were not good for supporters travelling by coach who were herded into a compound, described as a sterile area by the local police. The walk to the turnstiles, your only option was to go straight into the ground, was unwelcoming with a ridiculously heavy police presence, many of them with dogs you didn't want to get too close to.


Once inside the stadium I have to say I was impressed, it has some character with its strange looking floodlights on one side and its roller coaster roof, and there was a good atmosphere in side, aided by the large away support.


The game was somewhat drab, and a 0-0 draw always looked on the cards. Again we should probably have won it but as at Hillsborough we failed to take the chances. Kyle Lafferty, in for the apparently injured Ricketts, missed the best one in an otherwise decent performance. The only bad news was what looked to be a serious injury to Bardsley and his disappearance just before half time proved to be his last action for the Clarets.


Simon Jordan landed his helicopter at Gawthorpe as he flew in to watch is promotion chasing
Crystal Palace
on Easter Monday but he wasn't able to see his side take home all three points. It was another goalless affair but we played well and with any luck at all would have won this one.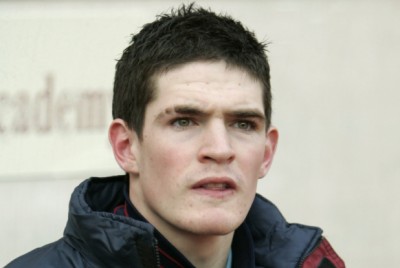 Kyle Lafferty - scored his first goal for the Clarets in the last game against Luton
If any side deserved to win it then it was us and their boss Iain Dowie admitted that his side had been somewhat fortunate to take a point, although having settled for a place in the play offs the result wasn't vital to them.
We ended the 2004/05 season at Millwall and a year later our last away game was on the same ground. It was our last chance of away win number four against a side already relegated and a side who in the days leading up to the game lost another manager.


Surely we would win this one, we were playing with more confidence, were unbeaten in six games and had conceded just the one own goal in that run. But we turned in a miserable performance and when a shocking error from James O'Connor gifted them a goal right on half time you knew we were heading for another defeat.


"I was looking for a performance and got nothing," Cotterill said after the game. "I feel very sorry for the fans who had to get up early to come down here and watch it."


A week later the curtain came down on the season with a home draw against Luton. We would probably have won this one but Marlon Beresford rolled back the years to deny us with a string of fine saves.


It could have been even worse too, we went a goal behind just before half time and there were just twelve minutes left when we grabbed the equaliser to earn ourselves a point. It was too late for it to qualify for the goal of the season awards but it will be one remembered by fans and scorer alike.


It was a first Burnley goal for Kyle Lafferty as the youngster turned the defender superbly before crashing an unstoppable shot past the former Burnley keeper. All that was left was for man of the match Kyle to get his deserved standing ovation and he was granted that when he was substituted three minutes from the end.


It's the start of a promising Burnley career for the young Irishman but the player who replaced him, Michael Ricketts, it was time to bow out. He'd been brought in during the January emergency but I don't think he'll be missed next season.


With all the players under contract, he and Phil Bardsley were the only ones to leave but a few days after the game four of them were placed on the transfer list. Duane Courtney, Micah
Hyde
, Danny Karbassiyoon and Gifton Noel-Williams are not likely to figure next season and although all of them are under contract for a further year we can expect them to be gone by the start of the new season.
A seventeenth place was disappointing in the end, certainly after we were in the play off positions at Christmas. But we really do have to stop selling our leading goalscorer in January, it really doesn't help. Who knows where we would have been a year ago had we been able to keep Robbie Blake, and who knows what the outcome of this season would have been with Ade available to the end.


Still it takes us into season seven in this division, and hopefully an improved performance once we get underway again in August.
Interact with us
Sponsored links