2005/06 Review Part One – Bottom of the League
Feature by Tony Scholes
Updated Sunday, 14th May 2006
The Clarets ended the 2004/05 season just below half way and manager Steve Cotterill was soon moving to strengthen his squad after the retained list had reduced us to nine players.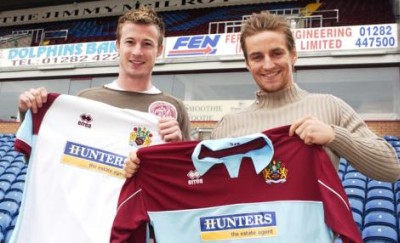 Wade Elliott & Garreth O'Connor - the first two summer signings
For differing reasons the manager released a number of players, including Tony Grant and Mo Camara who had remained in the side right up to the last game of the season at
Millwall
.
Within days of that game, Wade Elliott and Garreth O'Connor signed on Bosman transfers and they were quickly followed by three more Bosmans in Wayne Thomas and Gifton Noel-Williams from Stoke and
Arsenal
's American Danny Karbassiyoon.
The recruitment of new players all came to an end though and after friendlies at Cheltenham and Accrington, a home game against Malaga, and a second trip to Austria, we were ready to kick off at Crewe with a first team squad of just 16 players, and that included youngsters Chris McCann and Kyle Lafferty who had been promoted from the youth team.


Michael Duff and Danny Karbassiyoon were injured when we went to Crewe to kick off the season but Duff still had to take a place on the bench with coach Mark Yates added to make up the numbers.


Hopes were high against a side expected to struggle but we were beaten 2-1 with a late goal after Gifton Noel-Williams had equalised. Steve Cotterill was disappointed with the performance and said, "We were a bit too back-to-front at times, particularly in the first half," but he promised better for the visit of
Sheffield United
.
It was the same result though as the Blades came and took all three points, this time with the late goal came from us as Ade Akinbiyi got his first of the season. The manager thought we worth a point, I didn't, I thought Sheffield United were better than us on the night, even without Andy Gray who had been left out pending a move to
Sunderland
.
Their second goal should have been ruled out for a foul on goalkeeper Brian Jensen, who was in the side after Danny Coyne was dropped following the Crewe defeat. Referee Halsey missed it, but in all fairness they could have won it more easily.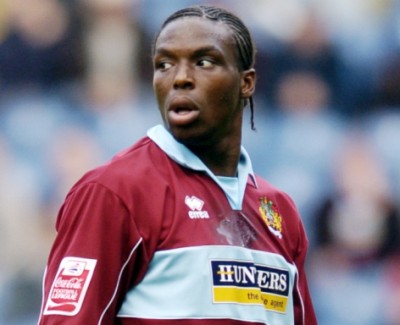 Gifton Noel-Wiliams - penalty miss
We needed to get our season moving and a win against Coventry was vital on the second Saturday of the season. I don't think this win was ever in question as we outplayed a poor Coventry outfit from start to finish.
We were two up through Garreth O'Connor and Wayne Thomas when referee Miller awarded us a somewhat dubious penalty on the say so of his assistant. It led to Coventry's Hughes getting a red card for dissent and one of the moments of the season at Turf Moor.


That was Gifton taking the penalty, and I cannot recall one as bad since John Angus missed from the spot at the Bee Hole End in the 1960s. I'm not sure where he was aiming but the ball certainly didn't go anywhere near the direction of the goal as it sailed high into the away fans in the cricket field stand.


Cotterill said of the penalty, "Gifton was pleased to learn at half time that his penalty hadn't killed anybody." Yes, it was that bad, but it wasn't to count as two late goals from Ade Akinbiyi completed a 4-0 win.


If ever a player deserved to get some goals it was Ade that day, this was without doubt his best Burnley performance to date, he dragged the Coventry defenders all over Burnley and in a very good Burnley performance he was the star man by some distance. The Turf Moor crowd were really warming to the £600,000 striker.


The season was finally underway but if we thought we were going to get anything at
Watford
we were sadly mistaken as just about everything went wrong for us. It started with the team news and the fact that both central defenders John McGreal and Wayne Thomas were out injured, and it went worse when Frank Sinclair limped off early in the game.
We fell a goal behind, equalised and then went behind again before playing some good football and looking as though we could equalise. Then came the moment when Brian Jensen went down injured after an accidental collision had caught him in the throat.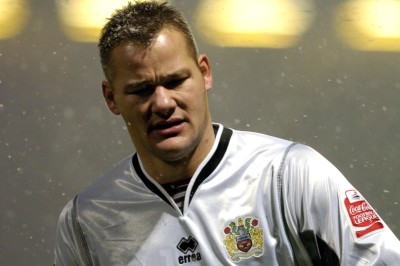 Brian Jensen - down injured but play continued
It really could have been serious but as the referee incredibly allowed play to go on, Watford, for whom gamesmanship became a feature over the season, refused to put the ball out and with the Beast still down they scored at about the third or fourth attempt.
Even then referee Messias walked back to the middle, ignoring the distraught Jensen who had to be stretchered from the field. It was a horrid moment and made worse by the awful comments of Boothroyd after the game.


Three days later we had an uncomfortable game in the Carling Cup against League Two side Carlisle. Michael Duff scored his first ever Burnley goal to put us in front but it looked to be heading for extra time after the visitors equalised. But Akinbiyi grabbed a late winner, played in by young substitute Kyle Lafferty and earned us another home time against
Barnsley
.
Manager Steve Cotterill, surveying his depleted squad, had a busy Friday ahead of the home game against Derby. News had broken the day before that we were set to sign John Spicer from Bournemouth but by close of business on the Friday he had been joined at Turf Moor by defender Keith Lowe from Wolves and Sheffield United full back Jon Harley.


Lowe was with us on loan and for a few days so was Harley, to allow him to play in the next two games having missed out on the deadline for permanent transfers.


Harley started, and played well, against Derby. But things didn't get any better in the first half and we went a goal down when Inigo Idiakez scored from a free kick from, shall we say, some distance. He was a hell of a way out but Coyne, now back in for the injured Jensen, couldn't get to it.


There must have been something in the half time cup of tea because we came out looking a different proposition in the second half and within a minute we were level, Akinbiyi again, and seven minutes after that Noel-Williams scored his first, and to date last, Turf Moor goal to put us in front.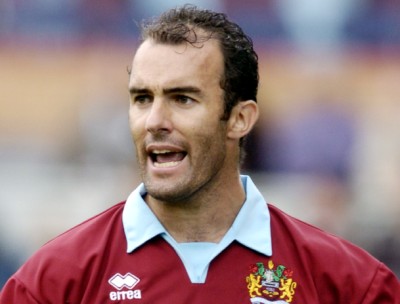 Graham Branch - involved in an accidental collision with Marc Edworthy
There was more gamesmanship to follow as Derby striker Grzegorz Rasiak went down to get Wayne Thomas sent off and then there was an unfortunate incident involving Graham Branch and Mark Edworthy that saw the Derby player stretchered off with a serious facially injury. It was a pure accident but the Derby fans reacted, Branchy did, and was eventually hit with an FA ban.
Typical of our early season luck, we conceded an equaliser in the eleven minutes of stoppage time added on by the incompetent Graham Laws and of all people it was Rasiak who got the goal.


Things were no better on Bank Holiday Monday when we went down 2-1 at
Reading
. Again Ade got our goal, in between two from Reading, and it was a result we hardly deserved. They were no better than us on the day and we could so easily have got something from the game.
In the end we got nothing other than another red card, this time for Garreth O'Connor, and we could have no complaints this time as he kicked out at a Reading player. To make matters worse, Thomas was stretchered off with a serious cruciate ligament injury.


As the transfer window for permanent signings set to close, Steve Cotterill nipped in to beat Wolves to the signature of AFC Telford centre half Duane Courtney. He cost us an initial fee of £25,000, although agreements were made for add ons based on appearances plus a sell on clause.


Back to the action and Wade Elliott took centre stage in the home game against Cardiff, scoring his first goal for the Clarets in the very first minute. He added a second midway through the first half after Cardiff had equalised but the visitors hit back again right on half time.


We struggled with Cardiff's front two of Cameron Jerome and Michael Ricketts and it was Jerome who was brought down by Frank Sinclair for a penalty that led to them going in front for the first time with less than twenty minutes to go.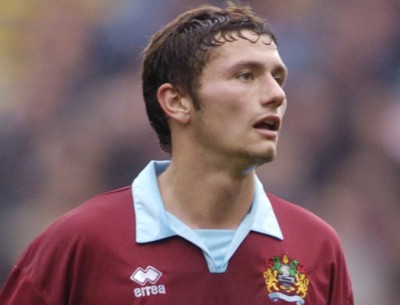 John Spicer - scored his first Burnley goal
A second home defeat of the season looked on the cards but Spicer, on for Branch as a substitute for his home debut, dinked a ball into the box that James O'Connor got on the end of to head home with just over a minute left.
We needed that, the next two games were away from home, and the first one of them was our shortest journey of the season to Preston. It was a much improved performance and in a goalless draw we had the better of the play.


It was tough off the field too where the Burnley bench had to contend with the antics of the midget in the suit, and at one point it almost came to blows. The draw brought us our first away point of the season and after the shortest journey we were ready for the longest to Plymouth.


In the previous season we had lost at Home Park 1-0 in an awful game when we played badly, this time we lost 1-0 in an awful game when we played badly. They were hardly any better, but in the very first minute of the second half, Micah
Hyde
conceded possession and it led to the only goal of the game.
There was some relief from the poor league form in the Carling Cup and Barnsley were easily swept aside by a Burnley side that switched to a 4-5-1 formation with the desperately out of form Noel-Williams left out.


Keith Lowe and John Spicer both scored their first Burnley goals, for Lowe a first goal in senior football but a goal missed by the cameras because they were changing tape just as we were set to take a corner. And after three games without a goal, Ade got the second.


Aston Villa
would be our next opponents, with the game scheduled for October, exactly thirty years to the date since we had last played at Villa Park. But there was the league to worry about before that. Things weren't good, just six points from nine games, but they went worse six days later when
Sheffield Wednesday
visited Luton in front of the Sky cameras on the Friday as we prepared to play Brighton the day after.
I sat and watched Wednesday earn themselves an unlikely point and then shuddered as George Gavin showed us the league table. We were bottom of the league, we needed to start winning games.
Interact with us
Sponsored links