2005/06 Review Part Four – Farewell to Ade
Feature by Tony Scholes
Updated Sunday, 4th June 2006
The Clarets got Christmas week off to the best of starts with what turned out to be a comprehensive 4-1 victory against play off chasing Watford at the Turf.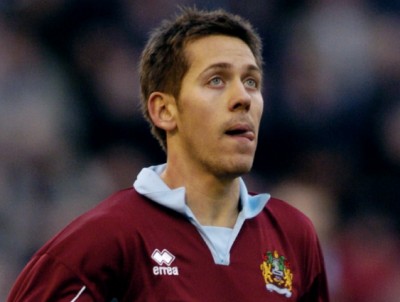 Jon Harley - scored his first two Burnley goals in the win against
Watford
The game was always going our way from the moment Graham Branch gave us the lead with a goal that won some of the goal of the season votes, but a goal that owed much to his poor touch at a vital time that forced him into going it alone.
But it looked spectacular for the television viewers who were treated to extended highlights, and it was these highlights that confirmed our second goal, three minutes before half time, should hardly have been allowed.


We won a free kick right on the edge of the penalty box after goalkeeper Ben Foster carried the ball outside the box, the only problem was for the flag happy assistant was that he was still a good yard inside the box. He wasn't watching, but he reacted to the crowd.


Jon Harley hammered the ball home for his first goal in Burnley colours and he doubled his own personal tally with a penalty in the second half after Marlon King had reduced the arrears and given us a shaky period.


A fourth from James O'Connor followed and with it our biggest win of the season, and one that players and fans enjoyed, particularly because of the sour taste left in the mouth following our defeat at Vicarage Road earlier in the season.


There was even a return for Wayne Thomas, far earlier than expected. He made a late substitute appearance and with the Stoke game coming next it was also a good time for Gifton Noel-Williams to come on and play as well as he had done for some time.


Boxing Day came and Gifton was in the side against his former side, as were Ade Akinbiyi and James O'Connor, whilst Thomas was again on the bench. It wasn't the most exciting of games, played in front of a crowd of nearly 18,000, but we won it with a solitary goal from Ade and that took us to fifth in the table.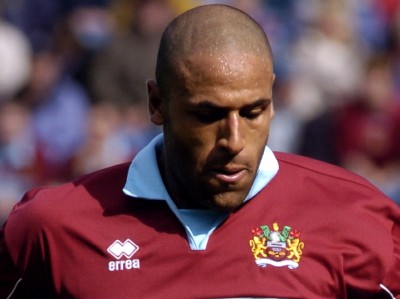 Wayne Thomas - early return from injury
What a Christmas present, the whole place was buzzing and there was real excitement as the fans left the ground. Little did we know that this was as good as it was going to get and none of us could have ever thought that Ade had scored his last Burnley goal.
The ludicrous fixture planners sent us to Norwich on a snowy Wednesday night but a change in formation to a back five did us no favours and we were a couple of goals behind at half time, and deservedly so. We switched back in the second half and put Norwich under some pressure, but we only managed an own goal which should really have been credited to Jon Harley and we dropped out of the play off positions.


Things were no better on the following day when we entertained
Sheffield Wednesday
in an early New Year's Eve kick off. The Yorkshire side, struggling down at the bottom of the league, hadn't scored a single goal in their previous seven games, but it took them just five minutes to score against us.
It was a disappointing performance from the Clarets, we conceded a second before pulling one back with a late penalty from substitute Garreth O'Connor. But successive 2-1 defeats was not the way we wanted to end the year and we went into 2006 in ninth place.


I'm still not quite sure how we didn't win our first game of the year at QPR. We went in front with an early goal, and a superb goal, from Chris McCann and then went on to outplay the London side for the rest of the first half.


We could have scored again on a few occasions, and there's no doubt Ade should have scored a couple of minutes before half time from point blank range. It was a good reaction save from the keeper but he shouldn't have been given a chance.


And then, in first half stoppage time we conceded a ridiculous goal. It was nothing more than a ball hit hopefully forward, but as Ainsworth beat Harley to the header in the corner of the box for some reason Brian Jensen had gone AWOL and the ball sailed over him and into the unguarded net.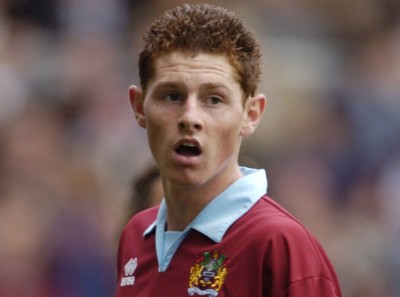 Chris McCann - superb goal at QPR
We didn't play anything like as well in the second half and in the end had to settle for a point but QPR should have been out of sight by half time after we had played as well as in any away game all season.
A week later and we were exiting the FA Cup in yet another game where the opposition were not as good as us. Derby were short of strikers and played Mr Karren Brady up front, needless to say it was he who did the damage scoring a goal in each half.


We equalised the first one with a good finish from Garreth O'Connor but again Ade missed a glorious chance from within the six yard box, hitting it wide when it looked easier to score, and the winner came shortly after that.


It was the first time since 2001 that we had failed to reach the fourth round, and with it went an opportunity to make some money from a cup run. As it happens we would have gone to Colchester in the next round but had that been won it would have been a trip to Stamford Bridge to follow.


Ninian Park was next, the ground still stuck in the 1970s, and it is fair to say a game where absolutely nothing happened for the first 58 minutes and nothing for the last 37 minutes either. Unfortunately in those five other minutes we conceded not one, not two but three goals.


It was shocking defending as much as anything else as debutant Stephen Thompson scored twice. The Scottish international has scored just twice in thirteen games since and has hardly looked the part, but we made it easy for him.


The only other thing of any significance was the yellow card received by Ade just before the half hour. It was a very harsh decision by referee Drysdale but it meant we would be without Ade the week after against Preston and, as it turned out, this proved to be his last game for us.


We played with Gifton and Branchy up front against our local rivals but this was the day we failed to score in a home game for the first time all season, and frankly we never really looked like scoring.
A free kick enabled Preston to score early and they added a second late on from the penalty spot and that left us with just one point from the last five league games. Worse was to follow for the Clarets.


We'd no game the following Saturday, it was FA Cup day, and the team were off to Cyprus for a few days to recharge the batteries. The next game was at Brighton on the Tuesday of the following week, but a lot changed at Burnley before we reached the Withdean Stadium on the last day of January.


Five days after the defeat to Preston we sold Ade to Sheffield United and with us desperately looking to bring in a replacement, believed to be
Sunderland
's Andy Gray, Leicester rocked our boat again by asking for permission to speak to Steve Cotterill regarding the manager's job at the Crisp Bowl.
It was not what we wanted, we didn't know whether we would still have Steve in charge, but we knew we had lost our leading goalscorer. How would we cope without Ade?
Interact with us
Sponsored links