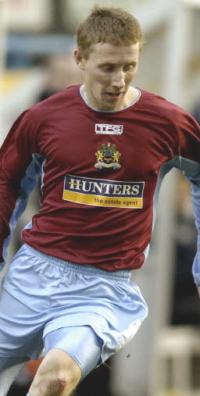 Lee Roche - came in for the suspended Micah Hyde against Crewe

For Hyde though it was time to sit things out as he served a three match ban following that dismissal against Gillingham. Lee Roche came in and played on the right hand side of midfield and the first of those three proved to be our biggest win of the season as Dario G's Crewe went home with a 3-0 defeat from the Turf.



John McGreal scored his first, and to date only, Burnley goal to give us the lead and Robbie Blake and Chappy made it three before we had a special treat. Not only did we introduce a new signing, Frenchman Jean-Louis Valois coming on as a substitute for Roche but we actually used all three substitutes as both Matt O'Neill and Joel Pilkington came on.



Valois, formerly of Luton and Hearts had arrived with a second trialist Amadou Sanokho but we weren't able to include him because of a delay in receiving international clearance from the Italian FA.



That was back to winning ways but for the next few weeks draw seemed to follow draw, in fact seven of the next eight games were drawn starting with our trip to Wigan.



It rained, it always does when we go to the Concrete Jungle and it was happen as well we did turn up otherwise they might as well not have bothered opening up as we played it in front of less than 10,000.



Wigan were unbeaten, were in excellent form, and hadn't failed to score all season. They did that night in what was a superb performance by the Clarets as we earned ourselves a point from a goalless draw. We could have even won it as well but Valois hit a late effort off target.



It was 0-0 again at Leicester and again we thought this was a terrific result, at the time we thought Leicester were actually going to be a decent side and challenging for promotion. It was still another good point though and we were looking like a side almost impossible to score against.



We'd three home games in a week now and we needed to ensure those away draws were good results by getting good results from the two that were in the league. It was Carling Cup time first though on a night that Brian Jensen will remember for some time.



He was given a game with Coyne on the bench and just as it was in the league game we had to come from behind to draw 1-1, this time after extra time. Twice though Wolves should have won it in the second half as we conceded two penalties, one of them for an offence that was outside the box.



In his first game of the season he saved them both and then was at it again in the resultant penalty shoot out. They hit the post with their first and the Beast saved their fourth as we hit the target with all four to go through and a game against Aston Villa.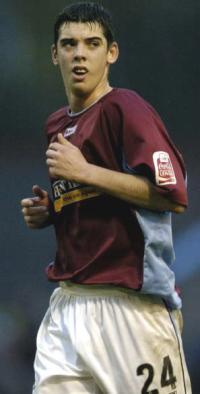 Richard Duffy - came in from Portsmouth and made his debut as a sub against Stoke

Back to the league and it looked as though we were set for a big win against Stoke as we went 2-0 up in under twenty minutes. But Michael Duff was sent off and they came back to draw level with two goals from some striker by the name of Ade Akinbiyi.



Our first goal in that match was one to savour, it came from Ian Moore and it proved to be his last ever league goal at Turf Moor – and Kevin Blackwell has told the Leeds fans he's a fifteen goals a season striker.



Just before that Stoke game Steve Cotterill brought in young Welsh defender Richard Duffy on loan from Portsmouth, he got on for much of the second half and looked good.



He started against Cardiff three days later instead of Duff, and did even better. A last minute goal from Chappy gave us a 1-0 win. The squad was growing and Sanokho got his first chance as a late substitute, he wasn't set to make a big impact though.



It was soon back to draws and it was good to see us upset the locals in the library atmosphere of the Madejski Stadium. There was no sign of Cilla, surprise surprise, as we continued our excellent away form with yet another 0-0 draw but apparently some of their players – especially those with ginger hair who cheat – were not happy at our style of play.



We'd knocked them off the top of the league although they didn't seem that bothered. It was sad though to see Glen Little booed by the Burnley fans as he came on as a substitute. Thankfully he did nothing when I feared he might just come up with the goods and produce a winner.



Long Ball Joe's lot couldn't do any better either and this came so close to being a win after Robbie gave us the lead. We were put under pressure but it took a controversial last minute goal to give Ipswich a point.



Things were going well but a poor week at home followed to spoil it. We twice had to come from behind to get a draw against Peter Reid's Coventry on a night when Reid was warned by the Rock Steady stewards for persistent bad language (Peter Reid swearing, whatever next).



Just three days later the Sky cameras were at the Turf on the Friday night as we entertained Derby. It was a sorry night as we went down to a 2-0 defeat on a pitch that looked more suited to water polo. It would surely not have gone ahead had the cameras not been there.



That left us in fifteenth place in the league, above Preston on goal difference. Wigan led with Reading second whilst Cardiff, Gillingham and Rotherham occupied the relegation places.



We'd got the Carling Cup tie to look forward to against Villa, our first meeting since the mid 1970s – and then we were back on the road to promoted QPR and relegated Leeds, yes we were going back to Elland Road.