Mo Camara - scored his first (and only) Burnley goal against Villa

Villa fans will not consider Turf Moor a lucky ground, although we hadn't played them for over twenty-nine years they were still searching for their second post war win at the Turf in what would be visit number twenty-seven.



Injuries were starting to hit our small squad and Frank Sinclair, Ian Moore and Richard Chaplow were all ruled out but once we'd gone in front within the first ten minutes there was only ever going to be one winner and the 3-1 win was fully deserved.



Robbie Blake was in inspired form despite missing a penalty and he was involved in virtually everything we did. It was a night that saw both Mo Camara and Jean-Louis Valois score their first goals for us.



Steve Cotterill moved to strengthen his injury ravaged squad ahead of the trip to QPR and brought in James O'Connor on loan from West Brom for a month. He started on the bench in what turned out to be something of a disaster at Loftus Road.



It was all over after fifteen minutes and much of it was caused by referee Nigel Miller who in a series of bizarre decisions turned down a clear spot kick at one end, gave one that was ridiculous at the other as well as presenting QPR with a second goal with a shocking free kick decision.



O'Connor was on within no time for an injured Graham Branch and then disaster really struck as Danny Coyne gave away a third goal and in doing so sustained a serious injury that was to keep him out for months.



It certainly wasn't our day, it was the only time we conceded three in a league game all season, and the only positive point was that we didn't concede any more.



On the following Wednesday with the injury situation getting worse we made our first visit to Elland Road in years to take on Leeds United. We couldn't afford another poor start but they don't come worse than the one we got as we went a goal behind after just twelve seconds.



Incredibly we came back to win it 2-1 in what turned out to be one of those special Burnley FC nights. The unlikely pairing of Lee Roche and Richard Duffy (both playing out of position) got the goals but it was a fantastic team performance.



Another home defeat followed as Ipswich won 2-0 at the Turf and we couldn't have any real complaints against one of the better sides in the league, Darren Bent got both goals on a night when Ipswich played well.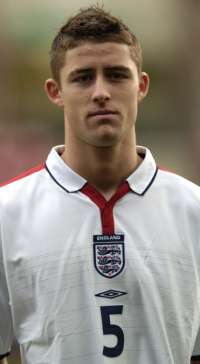 Gary Cahill - arrived on loan from Villa

The worst news for Burnley was Sinclair going off injured in the first few minutes and the news was worse when both he and his central defensive partner John McGreal were ruled out of the Carling Cup tie against Spurs on the following Tuesday. Michael Duff was set to play in the centre but the big question was who would play alongside him.



Things were looking desperate but at the eleventh hour we were able to use the loan market again but the best we were able to do was bring in an untried 18 year old from Aston Villa by the name of Gary Cahill. The youngster had played alongside Richard Chaplow for England Under-20s but was still to be named in a first team squad by David O'Leary.



He did OK although we went out of the cup as Spurs got revenge for two years earlier by beating us 3-0, this time Robbie Keane decided he wasn't going to miss the chances and got a couple.



Back to league action and the Clarets got back to their defensive best with three successive clean sheets, and the youngster Cahill was really beginning to look the part. Those clean sheets brought with them maximum points as we beat Forest 1-0 (Blake), Brighton 1-0 (Blake) and Millwall 1-0 (Blake).



With Robbie in that sort of form, there was always a likelihood that he would find himself a goal at sometime during the 90 minutes. Three winning goals in three successive games was almost Paytonesque stuff from our captain.



We were down one in numbers though, Richard Duffy was recalled by Portsmouth after the Brighton win, which incidentally was a victory at a cost for us the fans. We were basically drenched as it chose to throw it down throughout the game as we took our place on the scaffolding some distance from the pitch.



The winning run came to an end at Plymouth but we nearly got ourselves a point despite. A last minute penalty for handball against Cahill was duly converted although with three Plymouth players in the box there really should have been a re-take.



We'd been battered to be fair but had survived until the Villa youngster finally showed us he was human and made his first real mistake.



It was the local derby against Preston next but it was an unsettled week for the Clarets as Wigan set about trying to unsettle Robbie Blake with some absurd offers. There was speculation that he might go but he was still leading out the Burnley side as Preston arrived at the Turf.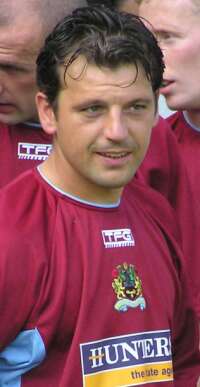 Robbie Blake - scoring goals but unsettled by the very public approaches from Wigan

He did more than lead us out and no one will ever forget the first goal right on half time when he hammered in a free kick from at least 35 yards out. It was an amazing effort and it is a long time since I saw a ground lifted quite like that with one goal.



He got another in the second half and manager Steve Cotterill bravely said his captain would be going nowhere and claimed that he would keep him in his car boot to avoid anything happening to him.



It wasn't working though and a week later as we lost 2-1 at Sunderland you sensed that his Burnley career might be coming to an end. It wasn't a great day for Steve Cotterill either, returning to one of his old clubs he had to sit and watch from the stands with Barry Kilby after receiving a touchline ban.



Robbie gave a goal away, didn't play well and it did prove to be his last game for us. Thankfully Wigan, who had caused all the problems in the first place weren't to get him, despite the offensive Paul Jewell claiming on television that Robbie wanted to join them.



Jewell was set to get his comeuppance when he came up against a member of the national press at Turf Moor but for now, with the season just over half way through, we were in twelfth place.



Interestingly Gillingham, Forest and Rotherham occupied the bottom three places whilst Wigan, Ipswich and Sunderland were claiming the top three places.

Preston were still below us but ready to go on a good run whilst Crewe were above us and Dario G was incredibly talking about the play offs. He really should have known better.