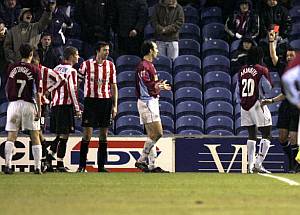 Ade Akinbiyi is sent off on his debut

It started on the Friday night with a televised game against Sunderland, a game that could see the Mackems go top of the league. In truth that was never in much doubt once they had gone a goal up midway through the first half.



Without ever looking spectacular, Mick McCarthy's team rarely gave us an opportunity to get back into it and with just over ten minutes to go Steve Cotterill decided to liven things up with the introduction of new man Ade Akinbiyi.



It was Ade's debut in a Claret & Blue shirt and with the clock ticking down it wasn't going to last long. It turned out to be a lot shorter than any of us could have imagined. In the space of just over two and a half minutes he had a poor header saved, was wrongly pulled up for a foul and was then sent off for three seemingly unprovoked attacks on Sunderland's George McCartney.



We are quick to criticise referees but Berkshire official Iain Williamson had little option, in fact no option, other than to show the red card. The Turf was stunned and the fact that Sunderland got a second despite a blatant foul on Gary Cahill hardly seemed to matter.



He would miss the next three games, including two against former clubs Leicester and Wolves, and it was Leicester next on the following Tuesday where this time we were hoping to get a little bit further than we had done on New Year's Day.



The lack of action left you wishing it had been finished with back in January, being polite you would call it tedious and apart from a John Oster effort that hit the bar a goal was never very likely.



The 0-0 result was never really going to be any different and it left us still without a home goal in the league all year, goals really were proving difficult without Blake and this was the longest goalless run at home I'd ever witnessed.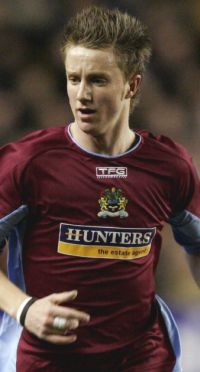 Dean Bowditch - arrived on loan from Ipswich

Steve Cotterill made a move into the transfer market ahead of the game against Rotherham, bringing in Dean Bowditch on loan from Ipswich. He came into the side at the expense of the non-scoring striker Ian Moore who was relegated to the bench.



Surely the run without a goal would come to an end, and it did, but incredibly it was the bottom club who went in front after just four minutes as Phil Gilchrist beat John McGreal in the air to head home past Brian Jensen.



It was all rectified within the next ten minutes though with two goals from the unlikeliest of sources. John Oster set up Tony Grant to equalise and shortly afterwards it was 2-1 as captain Frank Sinclair headed home an Oster corner.



It all fell flat after that and even the referee Paul Robinson gave it up at half time. He was replaced by Neil Yates, now a Clarets Mad message board regular. The only thing I can recall from that second half was Graham Branch coming on with around twenty minutes to go for a dreadful Pete Whittingham and receiving some dreadful abuse from the crowd.



If little happened in that second half then as far as Burnley are concerned you can include the full ninety minutes in our next game at Wolves. This made tedious look good and the only noteworthy thing, apart from the deserved defeat against a poor Wolves side, was the dismissal of McGreal who would now have to miss out at Bramall Lane.



And so on to Sheffield, to Colin's place, and what has become a certain defeat. They had won this fixture in each of the four previous seasons since our promotion but you have to wonder just how on earth they made it five.



We dominated the first half and could, should, but somehow didn't get ourselves in front and needless to say we paid the price when the home side went in front after Jensen fumbled a ball.



A goal down at half time was hard to take but there were positives. We had played as well as we had done in ages and Akinbiyi had not only lasted the full half, he had played well.



The second half was not quite so good and a mistake by Gary Cahill let the Blades in for a second and that was about that – par for the course here. We did pull one back and it was Ade with his first Burnley goal, turning in a cross from Ian Moore. It was our last away goal of the season and turning in a Moore cross was something that Ade wasn't going to do that again.



In the next few days, leading up to the transfer deadline we were amazed to hear that another club in our league wanted to sign Ian Moore. It couldn't be true surely but it turned out that four of them did.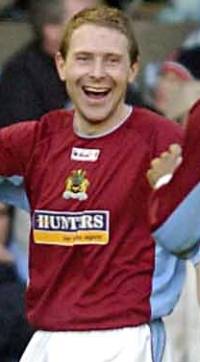 Ian Moore - signed for Leeds

There was his old club Forest, promotion chasing Sunderland, Leeds and not surprisingly Sheffield United when Warnock heard he was a forward. It was between Sunderland and Leeds but the Mackems only offered him a deal until the end of the season and so he went to Elland Road.



He'd scored six goals all season, a third of them against lower league opposition in the cup, and we had managed to get a fee for him as well as getting him off the wage bill for the next few months.



Leeds fans were thrilled to bits but they are still waiting for his first goal and with him unlikely to get a regular start for them next season they could be waiting a while for it too, unless they get a good cup draw.



We were also in the market that week and right on the deadline day we paid West Brom £175,000 to bring James O'Connor back to the club, just over two months after he had returned to the Hawthorns at the end of his loan period.



Watford turned up on the Saturday with their new manager Adrian Boothroyd (not even their own fans had heard of him) looking up alongside his number two, the seventy year old former Spurs boss Keith Burkinshaw.



If Boothroyd was still looking up at half time then he is a long way from reality as we stood head and shoulders better than his Watford side. Dean Bowditch, with what proved to be his only goal for the club, gave us the lead and James O'Connor got his first Burnley goal to make it 2-0 just before the break.



Through a whole load of good luck and a bit of wayward finishing they had kept the score down to that and then did come back at us in the second half. They pulled a goal back after making a triple substitution but it wasn't enough and we added a third in the dying minutes when Ade got through down the right hand side and squared the ball for Jean-Louis Valois to knock into the empty net.



We couldn't repeat the win three days later though against West Ham and it was the visitors who won it 1-0 with a goal that owed everything to a dreadful back pass from John Oster.



It was Gillingham next and that meant a meeting with a familiar figure by the name of Francis Stanley Ternent who was now managing the Kent side, and not without some success as they battled to stay in the league.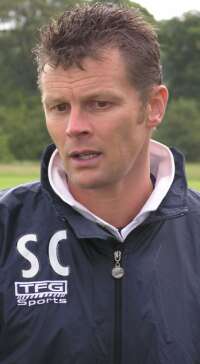 Steve Cotterill - not happy with the performance at Gillingham

He, needlessly to say, received a warm welcome from the Burnley fans at Priestfield and he got one over on us with a 1-0 win that owed much to what had to be our worst performance of the season. We didn't compete, we let a really poor Gillingham side beat us, and it left the Burnley fans very angry at the end.



It wasn't just the fans who were angry, the manager clearly was as well. "I'm not happy with that at all," he fumed. "We didn't play at all and it looks as though we have got our points on the board and that's it."



He demanded that it had to be better the following week and for half a game it was against another struggling side Brighton. Ade Akinbiyi got his first home goal as he headed home after Branchy had won the ball in the air from a cross. But after half time it all went sadly wrong and we had to settle for a point in a 1-1 draw.



We needed a win and got it against QPR on the following Tuesday. It was Akinbiyi again with what was an almost identical goal to the one he'd scored three days earlier. This time there was no come back from the opposition and the points were ours when he got his second of the night in the second half.



Just a few weeks earlier we could have won at Bramall Lane which is a very rare event. Wins at the City Ground, Nottingham are even rarer. This was our best opportunity against a side that were heading out of the league, a very poor side indeed, and one so disciplined that some of their players had been involved in shenanigans in the early hours of the morning after a night out during the week.



It's not often a side creates four clear cut chances in a game, four that can almost be described as sitters. We did, and we missed the lot and you can take your pick which was the worst. There was O'Connor and Akinbiyi in the first half, Roche and Oster after the break.



We lost it 1-0 when Kris Commons scored late in the game for Forest. It was a ridiculous result, we should have won it comfortably.



It left us with two games to go and the last home game was won against Plymouth with two goals in the last three minutes. Valois, on as a sub, stepped up to take and score a penalty and O'Connor added a second right at the end.



There was no relegating Plymouth this time, no animosity between the fans and in fact as the visitors left on their coaches for the return journey to Devon they were applauded by Burnley fans on Harry Potts Way.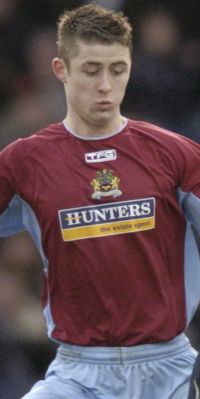 Gary Cahill - said his goodbyes

That was after the players and management team had returned to the Turf Moor pitch to take a final bow – Gary Cahill getting his own extra one as the fans thanked him and wished him well.



Just Millwall then, south London at 1:00 p.m. on a Sunday. It was another game where we were the better side and another we should really have won. We missed the best chance of the game when Micah Hyde had a penalty saved and had to settle for a point in a 0-0 draw, perhaps an appropriate scoreline to end this particular season.



The players were back up the tunnel quickly, well let's face it Muscat was about, and the last memory of the season was Cahill stood on the half way line applauding the fans as his manager stood alongside him.



Two of those who started – Mo Camara and Tony Grant – were released the following day along with Oster, Valois and Roche. Steve Cotterill was down to nine again and ready to add more signings.



It had been an OK sort of season, not very exciting at times and certainly never a season where we threatened the top six. There again we were never in any sort of relegation danger and after the previous season we had to be thankful of that.



I'm sure most of us would have settled last August for a thirteenth place finish, just one place below a top half finish for the first time in three years.



Burnley under new management had been different after six Ternent years. We're all getting used to it now and I'm sure there's another improvement to come in the new season.



See you all at Crewe.