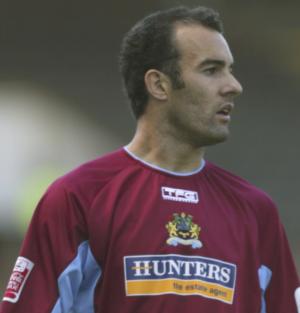 Graham Branch - got the winner against the distasteful Wigan

Heavy snow on Christmas Day that would have delighted Bing Crosby meant there was no chance of our Boxing Day game at Crewe going ahead and so we had to wait another two days for the visit of Wigan.



I think it is fair to say that this one was eagerly awaited, not because the sports shop outfit from the Concrete Jungle were in the top group of clubs, but because of the dreadful way they had acted over the past month in their attempts to wrestle Robbie Blake from us.



One Burnley fan in particular was far from happy with the situation and it was a wonderful sight to see national newspaper editor and television personality Tony Livesey having a word with the Wigan manager Paul Jewell just prior to kick off over his disgraceful behaviour.



It was the start of a bad day for Jewell, we beat Wigan (for the first time since 1983) with a goal from acting captain Graham Branch. Robbie Blake had been selected by manager Steve Cotterill, he spent the entire ninety minutes on the bench as a substitute.



It was good to hear Jewell whinging after the match and even better to hear him concede that there was little chance of him getting Blake. We were unlikely to keep him though, Birmingham were now in the picture and a move there during the January transfer window was looking more than likely.



The Crewe game had been called off early because of the snow but the New Year's Day game on the Turf against Leicester proved to be pure farce. Heavy rain prior to kick off had turned the pitch into something of a lake and with flood warden Andy Hall nowhere to be seen it was clear the game wouldn't start.



Amazingly it did as referee Graham Laws (who was to decide the result of a local derby a few weeks later) allowed it to get underway. He showed no regard for player safety, no regard for those having paid to watch, and even he realised eventually that it couldn't be played and called it off after nineteen minutes.



It was to prove costly for Burnley Football Club, the damage done to the pitch was to force us into some expensive repair work on the pitch on two separate occasions. Not as though Laws give a damn, he was warming up for Deepdale.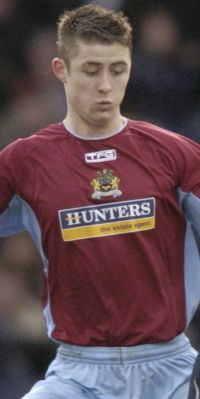 Gary Cahill - got the goal that gave Steve Cotterill the win he wanted at Stoke

Blake this time wasn't even in the squad but was at Turf Moor, it was revealed after the farce that a deal had been agreed with Birmingham and he would move after the New Year holiday period.



There was just one more game before then, our visit to Stoke and that very special welcome they had promised Steve Cotterill. The Stoke fans feel hard done to, they haven't moved on from it, but then again neither have Burnley fans moved on from John Bond and that's twenty years on.



Steve got a hostile reception and it looked as though he'd got himself a bodyguard down on the touchline until we all realised it was our new Youth Development Manager Big Vince.



Stoke were in a consistent run of not scoring any goals and they obliged again which meant Gary Cahill's first Burnley goal, a scrambled effort after a corner dropped loose, was enough to win it for us. I do think Steve Cotterill enjoyed that one as much as any win all season.



The following Friday proved to be an amazing day as we all became weather experts. We were due to play Liverpool in the FA Cup but it was doubtful as the groundstaff worked round the clock to try and repair the damage from the Leicester game.



"It's on," we were told by the club but in the end referee Mark Clattenburg was left with no choice but to call it off with most of the fans already at the ground. It was put back ten days and was played between two league games that are best forgotten.



It is difficult to find much to say about them other than we picked up a point from a goalless draw against Reading and a week later were beaten 2-0 at Cardiff. We never looked like scoring a goal in either game.



On the Tuesday between those two games Liverpool were in town again and having gone through the same doubts, this time it was given the go ahead by Clattenburg and we were set to play the team that four months later would be crowned European Champions.



Over 19,000 of us were inside Turf Moor as we beat, and deservedly beat, Rafa Benitez' outfit. The only goal of the game was pure farce and one of the best own goals scored on the Turf in a long time – well done Djimi Traore.



We'd been drawn against Steve Cotterill's former club Bournemouth in the next round and, as he always did, Ian Moore came up with the goods against a lower division team. He got both in a 2-0 win but it was hardly an emphatic victory and the manager himself admitted afterwards that the better side had lost.



Mo Camara was given the run around by Bournemouth's Wade Elliott, he looked a good player, but they played well as a team and we were fortunate to go through in the end.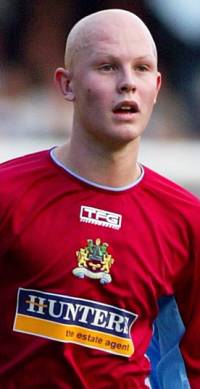 Richard Chaplow - signed for West Brom

With Robbie Blake now a forgotten name almost in Burnley the latest transfer news had centred on Richard Chaplow with West Brom supposedly more than keen to sign him. Chappy had said that he wanted to continue playing for Burnley but talks were now being held although time was running out as we got close to the end of January.



That last day in January proved to be a big news day at Turf Moor. Chappy did make the move to the Hawthorns late in the day but it was almost overshadowed by the cup draw as Mark Lawrenson and Peter Reid paired us with Blackburn Rovers for what would be our first cup meeting in forty-five years.



Steve Cotterill asked if it was like a Burnley v Preston derby. He was soon to find out that it was nothing like it at all.



Leeds came to the Turf and beat us 1-0 although we should have got something from the game. Ian Moore took over penalty taking duties from Robbie Blake and this was his first chance to take one. It was a poor effort that was easily saved by Neil Sullivan.



The next four league games were on the road, with the cup tie in between them. And our cup build up was good as we collected four points out of six. We got back to winning ways at Coventry where John Oster got his only Burnley goal and Ian Moore scored his first league goal since September to give us a 2-0 win.



Three days later at Crewe we got our Boxing Day game finally played and to be honest I don't know how we didn't win this one comfortably. It was incredible that we had to come from behind in a game we dominated for long spells but were thankful to Tony Grant for one of his rare goals.



The whole thing came to an abrupt halt when the lights went out but Dario G quickly put some pound coins in the meter and we were able to get going again. The game also saw us introduce our fourth loan signing of the season, Aston Villa's Pete Whittingham and he played well.



It was a good week but now it was time for the cup tie – really nothing else seemed to matter as our rivals from down the M65 came into town, the team branded the thugs of the Premiership were on their way.