Jean-Louis Valois - scored from a free kick at Derby

It had been moved to a Sunday lunchtime but that hardly mattered as Turf Moor filled in readiness for a tie that had for some been eagerly anticipated and for others something to dread.



The BBC were there with their patronising thoughts (cue Lineker and Hansen) but Peter Schmeichel seemed set to enjoy it. As it turned out it was anything but a classic on a poor Turf Moor surface and it all ended without a goal and that meant a replay nine days later at Ewood Park (pronounced Perk).



There's a difference between Premiership clubs and Football League clubs and so whilst they wandered off to Dubai for a nice break, we were also back on the road but for two tough away games against two sides that were destined to meet in the end of season play offs.



Just three days later, and having learned that a replay win would give us another home tie against Leicester, we were off to Pride Park to take on Derby. They'd beaten us earlier in the season on a waterlogged Turf but they were not the best home side in the league.



For a good hour or so we played well although we did have some early good fortune when a Derby goal was ruled out for offside. From that moment on though we were the better side and it came as no surprise when we went in front.



It came courtesy of a Jean-Louis Valois free kick on the right hand side and just over twenty yards out. He curled it round the wall and into the top corner giving Lee Camp no chance in goal. Had we found a new free kick specialist – alas no, we were not to see anything like that again from the Frenchman.



It all seemed to change when George Burley decided to make a change and he brought on striker Mr Karren Brady. Suddenly we were on the defensive and in the end we had to settle for a draw after the aforementioned substitute slotted in an equaliser after Brian Jensen had parried a shot into his path.



Still that was three away games unbeaten in succession on the road and one more to come before the replay and that was our shortest league journey of the season to Deepdale and Preston North End.



Before we got anywhere near Preston though Steve Cotterill moved into the transfer market and spent £600,000 to sign Stoke striker Ade Akinbiyi. He was still recovering from injury though and would not play at Preston.



It's been a highly charged atmosphere in recent seasons but perhaps with thoughts on Ewood it all fell a bit flat. If anyone ever thought that Preston was as big a derby as Blackburn then the next few days certainly disproved any such theory.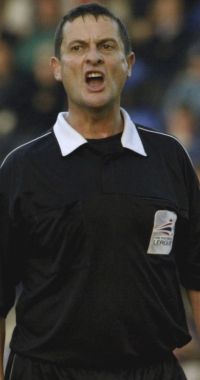 Graham Laws - his decision decided the result

We didn't play well at Deepdale, but we defended well and we never looked as though we would concede a goal once Richard Cresswell had ordered and early taxi.



It had 0-0 written all over it, that was until referee Graham Laws produced one of the most ridiculous decisions of the season and awarded Preston a last minute penalty. The incident, and we can only refer to it as an incident because it certainly was not a foul, never even reached the penalty box. It started outside and then went off the pitch.



Poor Lee Roche looked staggered, Steve Cotterill was fuming and Eddie Lewis had conned another penalty. It was probably the worst decision I saw all season (that's Burnley of course, I did see Tottenham's goal at Old Trafford that was deemed not to have crossed the line) and it cost us the game.



Amazingly Laws went and did the same thing again a week later giving Wigan and equally ridiculous penalty that enabled them to beat Ipswich 1-0. Just imagine had he not got that one wrong and it had ended in a draw, Ipswich would have gone up behind Sunderland in second place and the Concrete Jungle would have been hosting a play off.



We couldn't dwell on it for too long as three days later we made that short journey down the M65 for our FA Cup replay on what was to be an emotional night of highs and lows for us as we all stood (yes stood) in the Darwen (pronounced Derrwin) End at Ewood.



There were memories of our last visit still ringing in my ears, but this time we were not to be humiliated again. It followed a similar pattern in the fact that we fell a goal down from a wickedly deflected shot that was going straight to Jensen. It hit Micah Hyde but there was nothing he could do about it.



They were fortunate to be in front and we fought to get back into the game. Half time was approaching and then we had one of those wonderful moments we'll never forget. We won a throw in on the right hand side that was taken by Michael Duff. He and Hyde worked a routine that saw the ball played to Micah just outside the box on the right hand corner. He turned as he allowed the ball to go across him and volleyed into the top corner.



The Darwen End erupted, our first goal against them in 22 years and we were right back in this tie. Now could we go on and beat them in the second half?



We played well in that second half too and although we didn't particularly look as though we might go and snatch it, a couple of early saves apart, we didn't really look as though we might concede.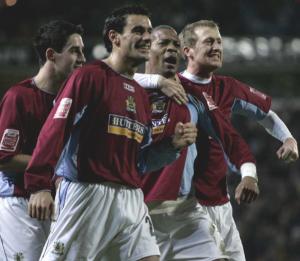 Micah gets some help celebrating his goal

Then with just over four minutes remaining disaster struck. It came out of the blue, it was fortunate and he would never get a goal from that situation again if he tried another hundred times.



I knew we were beaten, I felt numb and just slumped to my seat. This was without doubt the lowest moment of the entire season for me, we didn't deserve it but we were about to go out of the cup in this hell hole.



I cannot quite honestly remember anything that happened in the last few minutes, I just couldn't take it in as I stood in a stunned and silent Darwen End. The final whistle sounded and our cup run was over.



Burnley fans just looked at each other, every face had its own story – it was cruel. The same looks were etched on the faces of the players and Steve Cotterill saw it. He went out and got his players into a huddle and told them to lift their heads, they had done Burnley Football Club proud.



The heads lifted, and as they broke the players came over to the fans and lifted the entire Burnley support. We were so proud of our players who had worn the Claret & Blue shirt and given us everything.



Steve Cotterill spoke afterwards of his disappointment at not being able to give the fans the win they had craved. We are still waiting, we are closer and our time will come, make no mistake about that.



Our pride was restored after 2001 and Steve lifted the heads of every Burnley fan who was in the ground with that huddle at the end.



We'd still a lot to look forward to, including Ade Akinbiyi's Burnley debut, that comes in the last part of our review of last season.