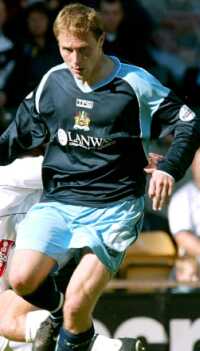 Ian Moore - had a good spell including the winner at Leicester
Played four, lost four is never the best way to start a season but that's exactly what had happened. We needed to get some points on the board and quickly. Only one goal had been scored, by Lee Briscoe, whilst we had conceded ten.
Palace came to the Turf and for the fourth time in the first five matches we failed to score but finally we kept a clean sheet and picked up our first point of the season. It wasn't the best of matches and we were perhaps fortunate to pick up a point but who cared we were finally off the mark.
A week later saw a return to the scene of a superb triumph of three seasons earlier, Pride Park Derby and recollections of that great cup win when we were two divisions below them. Stan had heralded the return to form of Nik Michopoulos after the Palace game but that didn't stop him leaving him out after Marlon Beresford suddenly turned up again having left York. He was signed initially for a month and went straight into the side.
Glen was dropped and Gareth Taylor was away on international duty and having threatened to throw the kids in during the bad start it was good to see Matt O'Neill on the bench. Things were no better; we went a goal behind and were somewhat fortunate not to be further behind at half time.
We came out for the second half, Glen Little was brought on, and we simply tore Derby to shreds. So we won it with an own goal and a penalty but this was far and away the best we had played all season and the three points were fully deserved. It even took us off the bottom, two points clear of Grimsby.
A 3-0 midweek win against Blackpool was followed by another league win and again we came from behind, beating Stoke on the Turf 2-1. Out of the bottom three now and with three wins in a week things were starting to look a lot better.
Two draws followed and both with a 2-2 scoreline. The first at home to Millwall in a match disgracefully played with no away supporters, was perhaps fortunate with Ian Moore scoring a late equaliser.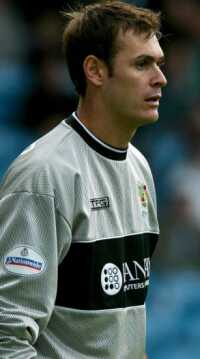 Marlon Beresford - insiprational performance in the cup at Huddersfield
The second though at Bradford was nothing short of embarrassing. This time it was the Clarets in front and against nine men with Bradford having had two players sent off. At 2-1 rather than finish the game off we decided to go show boating.
It was Steve Davis who made the mistake that eventually cost us but that was irrelevant, it came deep into stoppage time but the Burnley fans had been booing their side for some time before that. There was no defence for it, the attitude was appalling.
The next five games thought brought five wins, four in the league and another in the Worthington Cup that saw us progress further in the competition than we had for twenty years.
That win came at Huddersfield and came courtesy of an extra time goal from Dimitri Papadopoulos. But the hero of the hour was Marlon Beresford who turned in a masterful performance. It won us a money-spinning tie against Spurs on the Turf.
Before that cup win we had beaten Franchise at home in a game that attracted less visiting fans than had attended the previous match when they were banned. On the Saturday after we were back in Yorkshire and beat Sheffield Wednesday with some ease. In fact but for a late rally by the Owls the win would have been more comprehensive.
A home win against Walsall came next and then a big week with two of the toughest away games imaginable at Leicester and Ipswich, two clubs just down from the Premiership.
Leicester came first at their new Walkers Stadium and they had already made a good start there. Played six, won six was the record with fourteen goals scored and only two conceded. This was going to be the toughest game of the season so far.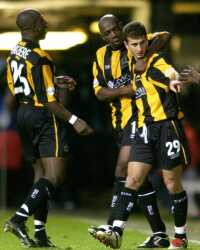 Dimitri Papadopoulos celebrates his equaliser at Ipswich
We didn't dominate the game and at times were put under a lot of pressure by the home side but we turned in a fantastic performance particularly defensively and a goal ten minutes into the second half was good enough to win it for us.
"You are the best team in this division," one Leicester fan said to me as I left the stadium. Whether we were or not we had just about recovered from that awful start and were now only two points away from the play offs. We had virtually caught up.
Things hadn't gone as well as planned for Ipswich and manager George Burley had been sacked but it was still going to be a difficult game for us. And so it proved but this was just about the best game I saw all season.
We were behind before we had got settled in our seats but level almost immediately with a goal from King Arthur. Darren Ambrose scored a superb second for Ipswich and the game was still only sixteen minutes old.
Lesser sides would have folded but not Burnley and we took the game to Ipswich. With Stan sat at home with mouth ulcers it was left to Sam Ellis to rally the troops but they just kept going at Ipswich.
Just as it looked as though it would be an undeserved defeat substitute Dimitri Papadopoulos headed in from close range to earn a point. If all football was as good as this then the grounds would be full every week, well maybe not at Ipswich prices. Even at £23 though this was a superb performance from the Clarets.
Played four without a point we had now gone ten league games without defeat and won a couple of cup games for good measure. Eighth place with 22 points was looking much better. We were behind Coventry on goal difference and just two points behind Watford who were holding the last play off position.
League leaders Portsmouth were due at the Turf on the Saturday and on this form they were going to find us very difficult to beat.