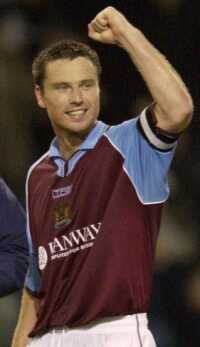 Steve Davis celebrates the win over Spurs
Perhaps it was no surprise that we conceded goals to Portsmouth. They arrived in Burnley in late October top of the league and with only one league defeat all season, a 1-0 reverse at Norwich. They turned in what The Spiv said was their best performance of the season and beat us 3-0 but the scoreline flattered them in the end.
We were one down at half time and deserved to be but came out in the second half and took the game to Pompey. An equaliser looked on the cards but then Marlon let in a soft one, he was due one after recent heroics, and all looked lost at 2-0.
But we fought back and with a quarter of an hour to go should have pulled a goal back when we won a penalty. Had Robbie Blake taken it we probably would have but Fred West stepped forwarded and blasted the ball into the Portsmouth fans at the Cricket Field End via the top of the bar.
That was it and a third goal added insult to injury. We needed to fight back and three days later we were off to Grimsby, not the best of grounds for the Clarets.
There we witnessed the most incredible match any of us have ever seen, it was almost impossible to take in. Both Gareth Taylor and Robbie Blake scored two goals and Ian Moore also found his name on the scoresheet. Five goals away from home and we still didn't win a solitary point as Grimsby scored six times. Eleven goals in one game took some believing, a once in a lifetime experience surely, and at no stage were the Clarets ever in front.
It really did take some believing and apparently it is known as 'Throwing one in'. We supposedly bounce back from them but that is not always the case.
We didn't look as though we were bouncing back when Preston outplayed us for the first half at Deepdale on the Saturday evening in front of the Sky cameras. We were only a goal down though at the interval and soon got level in the second half through Taylor. But as well as we played in that second half it was Preston who scored the goals and went on to win it 3-1.
Twelve goals in a week and it was Spurs at the Turf next in the Worthington Cup. That started no better and we were soon a goal behind but then Stan made one of his early substitutions, bringing on Glen Little for Mark McGregor, and everything changed.
We took over the game for the rest of the first half and then ripped Spurs to shreds in the first 20 minutes of the second half. Robbie Blake equalised and skipper Steve Davis headed the winner.
So Robbie Keane missed a couple of chances and then hit the bar in stoppage time from distance. But we were worthy winners and there was no bleating from Glenn Hoddle who agreed and congratulated us.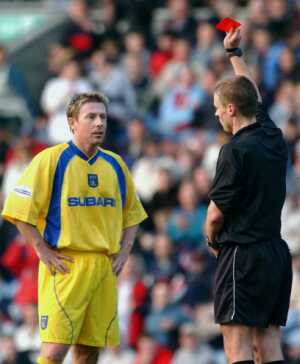 It's a hell of a long walk now Hignett
The following Saturday we were paired with Manchester United in the next round at home and again, as for the Spurs game, it was selected for live coverage on Sky.
If last season's funniest moment was the clash between Bertie Bee and the streaker then this season's had to be the 38th minute of our next home game against Coventry when referee Michael Jones waved his red card at Coventry's loan player Craig Hignett.
It happened not far from the penalty box at the Jimmy Mac End and Hignett had to take a long walk back to cries of "You'll always be a bastard" as the home fans taunted him. His offence was making a gesture at the assistant referee and the decision looked harsh. But the Burnley fans, already celebrating a 2-0 lead including a goal from Tony Grant, were well aware of which club he was on loan from and gave him a torrid time as he made his way to the tunnel.
We won that 3-1 and played well but the following week saw one of those games that are so bad they are difficult to describe. Gareth Taylor was booked and carried off concussed within six seconds of kick off and that is all anyone will remember of the dreadful 0-0 draw at Rotherham.
Conditions were not the best, it had rained so much during the morning that Burnley fans were asked to wade through water over a foot deep to get to the turnstiles and needless to say the pitch was not at its best. In fact just down the road the game between Sheffield United and Reading was called off.
But there was hardly anything of note in the entire 90 minutes and I'm convinced that had it still been going it would still be 0-0.
A week later though what was arguably our best performance of the season against Norwich on the Turf. It had to be a top performance too as Norwich played just as well as you would expect a team in 3rd place in the league to play.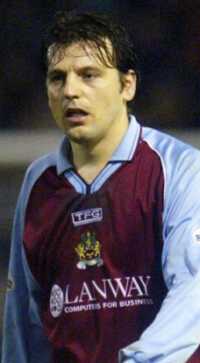 Robbie Blake was in insiprational form against Norwich
Without Gareth Taylor following the injury sustained at Rotherham we played with Ian Moore and Robbie Blake up front and they turned on the style. Robbie Blake was in inspirational form and this was his best Burnley performance to date. We won it 2-0 and both goals came from Blake. The first was Mark McGregor's first league goal for the Clarets and Glen got the second.
A week is a long time in football and after scoring his first league goal he collected his first Burnley red card at Watford in the next match. We lost this game 2-1 but it is difficult to know how against a poor Watford side (we will hear that again before the end of the season). Gareth Taylor came back via the bench to score our goal but it is a game we really should have won.
We bowed out of the Worthington Cup in midweek as Manchester United played a stronger side than expected. In front of a packed Turf Moor Alex Ferguson's side beat the Clarets 2-0 with goals from Diego Forlan and Ole Gunnar Solskaer.
There is no doubt that we played well and besides Solskaer the visitors found it necessary to introduce both Paul Scholes and Ryan Giggs as substitutes to ensure victory.
Back into league action on the Saturday and people inside the ground watching the game were not aware of an incident in the town centre a couple of hours before kick off.
We all watched the Clarets turn in another good home performance, almost a good as that against Norwich, and again we had to be at our best to beat a very good Forest side. It came with a winner from Lee Briscoe in what proved to be his last goal for the club.
It was another superb win but it hardly seemed to matter when we all became aware that a Forest supporter Nathan Shaw had been seriously hurt on St. James Street in Burnley. Nathan sadly died the day after from head injuries.
A minute's silence was impeccably observed a week later as we took on Rotherham. A couple of years ago two goals each for Alan Lee and John Mullin would have been celebrated in this fixture.
The two former Burnley players though both found our net twice and we found ourselves 4-0 down at home. It looked as though we were throwing one in again.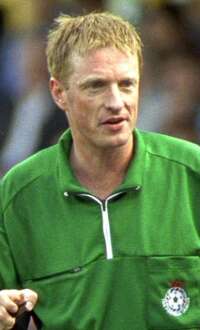 Grant Hegley - outrageous decision to send off Fred West at Gillingham
We did pull it back to 4-2 with two goals from Steve Davis who then limped off with an injury that would keep him out for some time. Rotherham keeper Pollitt made a brilliant save at 4-2 and who knows what would have happened if that had gone in.
Worse was to come though. Rotherham introduced substitute Darren Byfield and he became the fourth player to score two goals in the game and for the second time this season we had conceded six goals.
"We seem to throw one in for no logical reason," said Stan after the game. "We always bounce back though."
We hadn't bounced back after conceding six at Grimsby and we didn't this time either. In fact we took another pasting, this time at Gillingham. Yes referee Grant Hegley sent off two Burnley players, Dean West and Gareth Taylor. And yes West's was just ridiculous as he was sent off for preventing a goal scoring opportunity when a ball struck his arm in the other half of the field.
Don't let those decisions detract from what was another dreadful performance in the Medway mist. Stan turned his attention on the referee at the end but should have certainly been more concerned with the performance.
Before throwing these two in we had been in 9th place but were now 15th. It was Christmas and it was a lot different than a year ago when we enjoyed our plum duff from a position at the top of the league.
A decent run after Christmas and we could push back towards the play offs but this time we really do need to bounce back.