Arthur has to go against Brighton
But things were already looking somewhat worse than a year earlier with Stan having been unable to strengthen his squad – in fact it had been weakened with some departures most notably Kevin Ball and Mitchell Thomas.
We did though have a number of players training with us including Paul Dalglish and a couple of Marlons – Beresford and Broomes. Dalglish was soon on his way to Blackpool but Beresford and Broomes continued, went to the Isle of Man and featured in the friendlies.
They both appeared on the team photograph and despite the lack of money (this review is not going to mention the television deal collapse that cost us so dearly) it looked as though both were set to sign.
But suddenly we were Marlonless as Broomes joined Preston and Beresford signed for a month with York with rumours that we couldn't afford him. This all came on top of the sensational news that all players were on the list as we clearly were looking to sell to bring some money in.
None did leave though – presumably we had no offers – and with no new signings it was the now reduced squad who Stan turned to on the opening day of the season against newly promoted Brighton.
Our south coast visitors were so ill equipped for life in the First Division that they collected only four points from their first fourteen games with one win and one draw. The win came on the Turf on the opening day.
We were beaten 3-1 and our goal was nothing but a late consolation from Lee Briscoe and we were to put it bluntly soundly beaten with matters made worse when Arthur Gnohere was sent off after a touchline clash.
Nobody had expected it to be so bad and it was certainly the first time there had been such glum faces at the Turf so early in the season as the fans made their way home. At least they found out that Stan thought exactly the same about it and was in no mood to defend his players.
He said we deserved to be beaten after putting in a lethargic performance and described Robbie Blake's performance as rubbish. "He looked like he had divers boots on," said Stan as he looked back at what he described as a bad day at the office.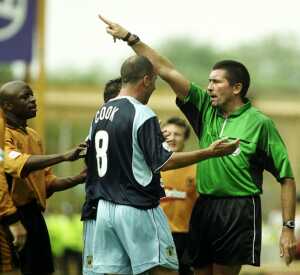 and so does Cooky at Wolves
It was off to Molineux next and after a home defeat it is not one of the places a Burnley side would choose to go. Once again we came back with nothing other than a 3-0 defeat with the names of Jeff Winter and Nik Michopoulos on everyone's lips.
It was to become a season of goalkeeping stories and Nik had a nightmare here giving a goal away in the first minute with a goal that was trademark Michopoulos. He was unable to hold a nothing of a shot and just parried it back forward to give Wolves the simplest of chances.
Seven minute later and Winter sent off Paul Cook for a late challenge but surely it should have only been yellow. That was just about it and goals in the first and last minute of the second half completed the scoring.
The natives were getting restless and we needed a result – that chance came when Neil Warnock brought his Sheffield United side to the Turf. They had already played three game and like the Clarets were without a win.

We even added to the squad before the game by bringing back Lenny Johnrose who had been one of the players released at the end of the previous season. He took his place on the bench wearing the number 25 shirt previously considered unlucky by Stan.
An Onuora goal was enough to give them that first win though although to be fair this was somewhat unfair on the Clarets who deserved something from it.
A defeat against Warnock is a bitter pill for Stan to swallow but he was happier with the performance saying, "Things will be fine and all we need is a little break."
Would that break come at Reading on the Tuesday evening? Faced with a second of the three promoted clubs the supporters were confident on the way down. Reading had lost three out of four and were facing a difficult season.
But they must have thought their Christmases had all come at once as the Clarets, playing in a most obscene looking amber and black kit, surrendered without a fight. Any sign of a change of luck there had been against the Blades had disappeared and this was far, far worse than even the Brighton game.
As the final whistle blew to signal a second 3-0 defeat on the road you could have heard a pin drop in the section of the stadium reserved for away fans. Everyone was simply too stunned to take it in. I think we all knew that if something wasn't done, and done soon, we would be facing relegation. This performance, if you can even call it a performance, was so bad it was almost impossible to take in.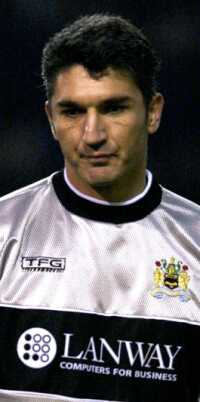 Nik Michopoulos - poor start to the season
"Stan's on his way, he's resigning," were the words heard on the supporters' coach not long after it had left the Madejski Stadium. The Burnley boss had quite clearly told reporters that he was considering his future.
This is what Stan had to say after the game, it does not make pretty reading but there was just no way he could have offered any defence.
"I am going to have to have a chat with the chairman and see where we go from here. Tonight I was embarrassed to be their gaffer because that performance is a reflection on me.
"What I have said in the dressing room will remain in the dressing room but that performance was from about five years ago. When we lost against Fulham I said that was not my team but this one is so I will have to look at things very closely. The players are just not putting out what they are capable of doing for whatever reason. Maybe it is because they have heard the same voice for too long.
"I have never walked away from anything in my life but I need to sleep on it and have a good chat with the chairman. Everyone knows the players are not performing, a blind man on a galloping horse can see that.
"All I know is that I am responsible for the football club. I am the custodian of the club for a period of time like people before me and like people will be in the future. I have got to have a hard look between my ears because the most important thing is Burnley Football Club, not Stan Ternent.
"A lot of people have spent a lot of money to come down here and watch that and I am embarrassed."
On returning home I was faced with writing the most difficult report that I have ever written. I couldn't defend what I had seen, I had to offer a warning to anyone who thought a magic wand could put it right. I wrote Madejski disaster –where next for sorry Clarets?
We'd had players playing in diving boots and performances so bad that a blind man on a galloping horse could see that they weren't performing. It has later come to light that the players were in some discussions with the club over bonus payments but surely that should never affect their professionalism on the pitch.
It was early season, there were still 42 games to play but we were bottom of the league for the first time since we had won promotion. It was worrying but could we put it right?