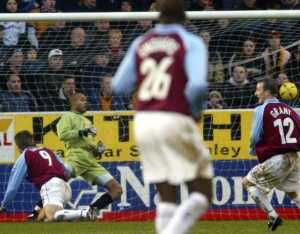 Gareth Taylor - excellent goal against Wolves
There are a number of games every season we just know we are going to lose and Wolves on the Turf is one of them. With it scheduled for Boxing Day this was going to mean a lousy Christmas for Clarets.
But nobody told the players about the rules for this game and the Clarets broke them by not only turning in an excellent performance but actually taking the points. Now I for one can recall the previous home league win against Wolves, it was in 1963, but for many this was a new and without doubt enjoyable experience.
It was made all that much better that we won against the odds as Ince and Rae managed to take over the refereeing of the game. Gareth Taylor scored a classic, Fred West added a deflected second and with half an hour gone we sat two up.
A late goal from Paul Butler, who around that time came very close to becoming a Claret, made us sweat for a few minutes but the win was more than deserved and gave us all a good Christmas.
It was always difficult to know just who the real Burnley were during the season and the events at the end of 2002 and the beginning of 2003 sort of summed it all up.
We were coasting at Brighton in the last match of the year. 2-0 up and so much on top it was just about all over as the fourth official stepped up with his board to display the extra minutes. But that was nothing to the 2002/03 Vintage Clarets and we contrived to give two goals away at the death and throw away two points.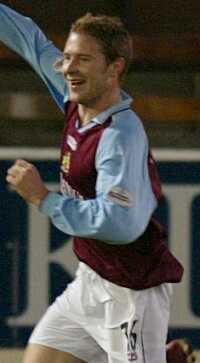 Ian Moore - celebrates two goals in the cup replay against Grimsby
What a way to end the year but Stan didn't seem too concerned and having stared out the Burnley fans in a threatening looking way as he made his way to the dressing rooms at the end he then said that we should just grin and bear it. He also said that not many sides would go down there and win, in the end they suffered a total of ten home defeats in the league.
There were no Clarets' fans at the appalling Withdean Stadium that afternoon who were ready to agree with Stan. There was anger at the way we threw it away and also some abuse hurled at Glen Little as he left the field at the end laughing and joking.
Into 2003 and it was the FA Cup and a trip to Grimsby. Despite our league form at Blundell Park it is a ground where we had won our last FA Cup tie in 1974 and we looked all set for a repetition as we stormed into an early 2-0 lead with first goals of the season from Paul Weller and Alan Moore.
But what we can do once we can do twice. Grimsby pulled one back after half time with a dodgy looking penalty but deep into stoppage time we allowed our opponents to snatch a 2-2 draw.
A week later saw Ipswich visit the Turf, they were one of the form teams in the division with an unbeaten run of six league games. They went in front as we fell asleep at a corner but we equalised with a penalty in the second half.

This match saw the introduction of a new signing, Guinea international central defender Driss Diallo who had played a trial match in the reserves. He had been snapped up short term by Stan after his Belgian club KV Mechelen had to quote the gaffer 'Gone Skint'. He impressed and the crowd took to him.
It was a cracking game, we played well against an Ipswich side who also played well and the view was that we were right back on track. Four days later and we won the cup replay against Grimsby 4-0 but this Grimsby side was probably, no certainly, the worst team to visit the Turf since we won promotion. The were, to put it bluntly, dreadful.
Probably the most incredible thing of all was the fact that we had to score late goals to confirm our dominance. With just over ten minutes to go we led only by a single goal from Ian Moore but late, late goals from Glen Little, Robbie Blake and Moore again completed the scoring. Less than five and a half thousand turned up with many refusing to pay the high prices, the FA Cup really has changed. But with the prize monies available it dominated Stan's thoughts at the end of the game and after saying the scoreline reflected the performance he added, "Money's tight and the cup is an all pay circumstance."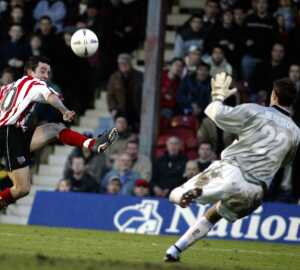 Marlon Beresford - inspired performance in the cup win at Brentford
Four days later and we were back on the road to arguably the worst ground in English football to get to by road – Selhurst Park. Probably of most significance was our introduction to Cooperman the overweight referee from Walsall. We had been warned about him and he didn't let us down.
One up he got a decision horribly wrong in awarding Palace a penalty for what he considered a foul by Marlon Beresford. It was enough to give Palace a point in a 1-1 draw. It was an awful performance by the referee in charge of his first ever Burnley game. Worse was to come later in the season.
We were back in London a week later for our FA Cup tie at Brentford and recent history suggested there would be nothing for us. Quite simply the Clarets had not progressed beyond the 4th round for 20 years. We'd had a 20 year best in the League Cup though so there was some confidence amongst the fans as they had a pre-match pint at one of the several pubs around Griffin Park.
We were the better side in the first half but it was hardly inspiring stuff, the highlight coming in the stands as Rocky turned on a fellow Claret who had complained about the constant noise from the well known fan.
It all changed in the second 45 minutes though after Robbie Blake had given us the lead. Brentford piled on the pressure and we came through it without conceding with some excellent defending, some luck and an inspired performance by Marlon Beresford.
Late goals from Glen Little and Paul Cook gave us a flattering 3-0 scoreline and third away draw, this time against Premiership side Fulham. As at Huddersfield in the Worthington Cup Marlon had produced a performance that won us a big tie.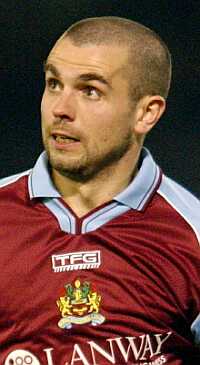 Mark McGregor - off early as we throw one in against Readin
Lifted by the progress in the cup we started the following month with a home game against Reading. Questions were asked with our line up when we tried to take on their five midfield with three players and many were saying even before kick off that we would need to make an early substitution.
We did, Glen for Mark McGregor, but it made no difference – it was throw one in time again. By the time Ian Moore scored our first goal we were already three behind and facing another hammering.
But at 3-1 Dimitri Papadopoulos missed a penalty that could have brought us right back into the game. By the time we added a second through Dean West it was all over and Reading had bagged five.
All that remained was the embarrassment of the Reading fans taking the micky as the clown on the PA played 'Tom Hark' with the Clarets 5-2 down. I'm not sure who or what should go first, Tom Hark or the PA man. Maybe he could take the music with him on his way out.
At least it was only five this time after having conceded six twice earlier in the season. Surely the big defeats were now behind us.
We needed to get back on track though, we were still in the cup and although we were languishing in 16th place in the league Stan was still talking about the play offs. We could only wait and see.