Nik Michopoulos was in goal with Marlon all set to become a father and Ian Cox was back in the centre of defence at the expense of Arthur who had returned to Paris with his head up his backside.
Coxy was to prove the match winner, heading the only goal of the game in an excellent performance and it was only in the latter stages that NTG was really called into action. When he was though he made two superb saves and ensured that the points were ours.
Eight days later and we were off to the home of 2nd Division Queens Park Rangers to take on the Premiership club with no ground Fulham in the FA Cup. The town was buzzing but for many fans this was the first time they had seen us get this far in the FA Cup.
It was going to be tough but the fans were up for it even when Stan sprung a surprise by leaving out Robbie Blake, despite recent good form, and opted for a 4-1-4-1 formation with the Moores on either side of the midfield four leaving Gareth Taylor up front on his own.
The Burnley fans had masks at the ready should we score to have a laugh at Fulham's Sava who puts on a mask to celebrate all his goals. There were suggestions that we were tempting fate and it would backfire but we'd hardly got going when Alan Moore gave us the lead.
On came the masks and from that moment on it was a party atmosphere in the away end. Fulham equalised right on half time and at times in the second half we were under pressure. But the fans kept up the support, Coxy and Driss turned in wonder shows at the back and we secured ourselves a replay.
Disappointingly the draw gave us our fourth successive away tie (should we win the Fulham replay) although it could have been a lot more difficult than a trip to Watford. Before we could think about that though we had to play Derby in the league.
The last time we had played at the Turf (against Reading) Stan commented that the fans were leaving early and he wished he could have joined them. This time it was Derby and they turned in a first half performance on a par with Grimsby's efforts in the FA Cup and we were well worth our 2-0 half time lead with goals from Ian Moore and Gareth Taylor.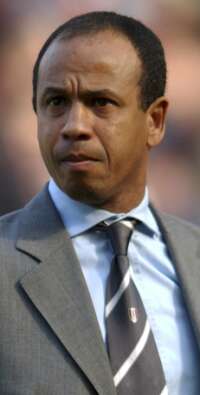 Tigana - pathetic
In true Burnley tradition though we allowed Derby back into the game in the second half but fortunately they weren't able to pull a goal back that might have given us a difficult end to the game. A 2-0 win it was and on to Fulham and another game in front of the Sky cameras.
What can you say? We didn't just beat Mohammed Al Fayed's Harrods XI we destroyed them. Gareth Taylor gave us the lead just before the half hour with a header and shortly afterwards Ian Moore made it two as he chipped Mr. Aloof Maik Taylor in the Fulham goal.
Sometimes a 2-0 lead can be dangerous but not against this Fulham outfit. They weren't up for a fight and looked a beaten side. Even so the first period of the second half was going to be vital and so it proved.
Just seven minutes in and Fulham had been reduced to ten men before seeing the Clarets wrap it all up with a third. Sean Davis made the walk after an attempt at amputating Tony Grant's leg. Referee Dowd had little option and got it right.
That was after four minutes of the second half and three minutes later Fulham hardly bothered to mark Driss at a corner and he headed in superbly for his first Burnley goal.
It was all over, this lot were never coming back, we had not just beaten but outplayed a Premiership outfit.
Their manager Jean Tigana had labelled us a long ball side after the draw but this sour faced Frenchman made a complete pillock of himself after the replay. He accused us of using rough house tactics, of trying to break Louis Saha (whatever that means) and dared to suggest the Davis card was unfair.
He complained about having to play two days after a league game, conveniently forgetting that his club did not have to play the league game but chose to for the television money.
To be honest it was pathetic. Tigana was a great player but I lost all respect for him after this, he has gone from Fulham now and his departure will be no loss to the English game. I thought Wenger and Houllier could whinge until I came across this particular Frenchman.
Stan's response to Tigana – "I like to think that I am more professional than that."
Burnley went cup crazy and the club, seemingly unaware of the potential demand, didn't bother with any restrictions for the cup tickets. They went on sale on the Friday and long before we kicked off at Stoke on the Saturday all 4,000 plus had been sold.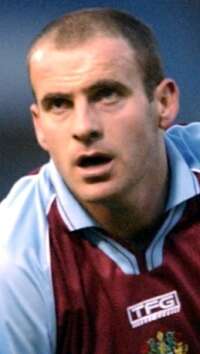 Fred West scored the goal of the season at Stoke in a poor game
Stoke away was the most miserable of games played in poor conditions with the wind. I don't know who designed the Britannia Stadium but this mess of a new ground is not suited to the playing of football on anything but a still day. Its crazy design has just about ensured swirling winds.
A Dean West stunner broke the deadlock, this goal went on to win virtually all of the Goal of the Season awards. There was nothing pretty, no superb build up. In fact it was a poor head out by Stoke that Fred picked up and hit back from distance like a rocket that gave the Stoke keeper no chance at all.
Andy Cooke came on to an excellent reception from the Burnley fans but his only contribution was to head over when he should really have found the target.
One more game to go before the cup tie, a midweek match at Millwall with the Burnley fans allowed in after a change of heart by the Metropolitan Police. It really did make Burnley's decision to ban Millwall fans from Turf Moor even more shameful.
Watford boss Ray Lewington rested his key players in their midweek game but Stan opted for the same line up as had played every game since the draw with Fulham and this meant bench seats for both Robbie Blake and Glen Little.
This game reunited us with Cooperman and if his decision to award Crystal Palace a penalty against us was bad he was ready, willing and able to turn this game into something of a farce.
Millwall dominated proceedings in the second forty-five minutes but Cooperman made life difficult for the Clarets with a series of bizarre decisions. I've head of one way traffic but this fat apology for a referee just stood and pointed one way.
Worse still was that every time anything happened he would wave his yellow card at a Burnley player and there were six in all during the second half. He carded two Burnley players during a bizarre incident after he had penalised Marlon for holding the ball too long and his booking of Taylor was just incredible as he was hit on the back from a Millwall free kick.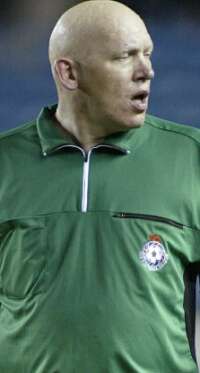 Cooperman - incompetent
At least he didn't bring about a goal with his decisions but Millwall did equalise with just six minutes left. Had we held on for the win we would have climbed into seventh place in the league just one place behind the play offs.
We were still in with a shout but it would take some good form in the rest of the season. We also had the cup to look forward to on the following Sunday.
The BBC were showing Burnley live on television for the first time since they showed some of an FA Cup tie at Liverpool in 1963 and the whole match live for the first time since the 1962 FA Cup Final. In fact it was the first time a Burnley match was to be shown live on national terrestrial television since that final 41 years ago.
The town was buzzing, a win would take us to the semi-finals for the first time in 29 years. Watford were not a team in particularly good form but the Clarets were. We had been beaten at the Yellow Brick Vicarage Road earlier in the season but the scoreline was hardly just.
We were a better side than Watford, would be well prepared by Stan and Sam, and despite the nerves we were all confident.
See you at Watford on Sunday.