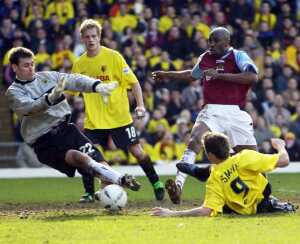 The moment the season ended
But for that late goal at Millwall we would have been in seventh place in the league and now we were on our way to Watford chasing a semi-final place in the FA Cup. We were in the middle of a run of five away games and there was no doubt that this week would be vital with two important league games to follow at Sheffield United and Walsall.
There was a nervous tension around Vicarage Road although an air of some confidence from the Burnley fans and although away again in the cup we had drawn the easiest possible tie.
Burnley fans turned up in their numbers but unfortunately the players didn't. It would be wrong to heap praise on Watford because to be quite honest they were crap on the day, for some strange reason though we didn't take the game to them.
It was, to put it bluntly, dreadful and when a Steve Davis was unable to keep track of Tommy Smith from a corner we were a goal down and out of it. We'd gone out without a fight, gone out without ever appearing to try and win it, gone out without really turning up.
Two ex-Clarets told me they had been glued to their television sets at home but switched off long before end. It has been voted in some quarters as the worst match shown on television live all season.
We really did have to bounce back but six days later the season was over as two more away defeats followed as we started throwing them in again. Having played with the same eleven for a number of games it was all change at Bramall Lane where to be fair the 4-2 scoreline flattered us. A last minute goal made the result look far more respectable than it was. The only funny thing all night was seeing the Sheffield United fans looking as ridiculous as ours do dancing to Tom Hark.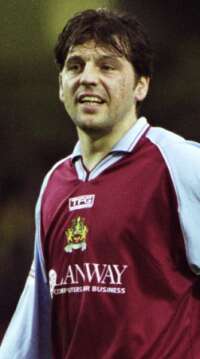 Robbie Blake scored from the spot to bring us back into the game at Walsall
Stan was far from happy with the performance. "We went from sixes and sevens to sevens and eights, anyone watching a performance like that would think we were a relegation side," said our angry gaffer but he did have a promise for the beleaguered Burnley fans. "I can assure you that we will perform a lot better for the rest of the season."
It didn't take long for him to eat his words because just three days later we took another hammering, this time at Walsall. The 3-2 scoreline doesn't suggest it but again it was late goals that made it look flattering, we were three down with a quarter of an hour to go and it could have been much worse.
This ended a week of awful performances and again Stan was left to have a go at the players after they had broken his promise to the fans. "We got what we deserved today," said Stan, "And that was nothing. The performances in the last week have been totally unacceptable and the players are all aware of how I feel about it, they are having a laugh."
The players may well have been having a laugh but the fans certainly weren't although after yet another defeat at home to Leicester on the Tuesday night there was a chuckle when we heard Stan say we could still make the play offs if we won all remaining ten games.
To be fair we had played better against Leicester and deserved better than the 2-1 defeat. It was the start of five consecutive home games where at least we thought we could climb the table with some decent results. The next three were against Grimsby, Bradford and Watford and we were expected to pick up nine points. We actually collected one, that coming against Grimsby as the nightmare continued.
After the 1-1 draw with Grimsby Stan admitted the play offs were a tall order but still thought we were capable of picking up the remaining 27 points on offer. Supporters had a different view and were now fearing a relegation battle even though there were already 49 points in the bag.
Bradford were next and they seldom lose at the Turf and they were never going to lose this one. They were head and shoulders better than us and won the game 2-0. Even Stan admitted now that it was finally all over and claimed that the players had done extremely well over the season.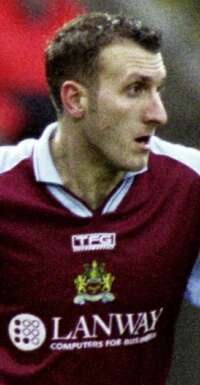 Glen was off to Reading
The next few days though were to turn the club upside down, decisions were made that will cost the club dearly. A week later and we suffered just about the biggest embarrassment ever.
Thursday morning was quiet and nobody was expected there to be any transfer activity at Turf Moor on transfer deadline day. There was simply no point in bringing anyone in now, the season was over.
Suddenly we were rocked with the stunning news that Glen Little had been loaned out to fellow First Division club Reading. More so Gareth Taylor almost went in a similar deal to Crystal Palace on the same day as we looked to cut costs.
With supporters reeling at the news the last thing they wanted was to be kicked where it hurts by the club but that is precisely what happened as the club announced its 2003/04 season ticket details the following day.
The cheapest seats up by double inflation, the cheapest match day seats up another £1 all tied in with misleading information on kids tickets and the balance of free matches in the various stands. We had been subjected to Watson spin again. Stan was away in Portugal but was known to be fuming about the decisions and though putting the season ticket information out a day after Glen left was just not on.
Thankfully there was no game that weekend with club officials hoping that things would have calmed down by the time we played Watford a week later. Maybe they would have done but we witnessed the most appalling of displays.
The players were all talking about revenge in the build up to the game. That was crazy for a start, we had blown it big style when it mattered and this was nowhere near as important a game.
I shudder to think what would have happened had we not been seeking revenge though. The squad was depleted because of an injury crisis that was to remain for the rest of the season. Even Stan later hinted, but quickly claimed it to be a joke, that perhaps some of them were ready for their holidays.
Those of us at Grimsby earlier in the season all knew that we had witnessed a once in a lifetime event, eleven goals in one game. We did not expect to see it again in the same season. Grimsby was almost laughable, this one was not.
Gareth Taylor - hat trick but we went down 7-4 as we sought revenge against Watford
We were a goal down on 13 minutes but level two minutes later. Another minute gone and we were behind again. Incredibly with just 29 minutes on the clock the score read Burnley 1 Watford 4.
Some fans were chanting for Glen Little but many others had just had enough and were streaming off. The game got sillier though and we got back to 3-4 before Watford added a fifth but Gareth Taylor completed a hat-trick right on half time and it was Burnley 4 Watford 5 as they went in for the break.
Steve Davis had scored our other goal but had been woeful in every other respect but so had every other player on the field with the exception of Gareth Taylor. Even so he had been badly at fault with two of Watford's goals as the players he was marking scored with ease from corners.
Watford only scored another two in the second half but we couldn't add any and lost it 7-4 and this was only the second time in our history we had conceded seven at home in a league game. The previous occasion was in 1888 when we had to play our centre-forward in goal against Blackburn because the goalkeeper had decided to emigrate to Australia.
Stan suggested after the game that neither Bin Laden nor Saddam Hussein would fancy his job and it did seem as though he had an impossible task now in motivating a squad that were no longer interested.
The only bright news was that a youngster was finally given a chance when Mark McGregor was replaced by Matthew/Matty/Matt (his mum prefers Matt) O'Neill.
Marlon had become the target for the boo boy and lost his place for the next game against Preston with suggestions that it could be the end of his Burnley career. Nik Michopoulos was back in goal but would he take his chance over the next few games?
He started well enough by keeping a clean sheet against Preston, a game we won with goals from Dimitri Papadopoulos and Robbie Blake.
But it was not so good at Norwich in the next game when he gave away the crucial second goal in a 2-0 defeat. Not only did O'Neill get another run as a late substitute but 18 year-old Richard Chaplow played almost half a game.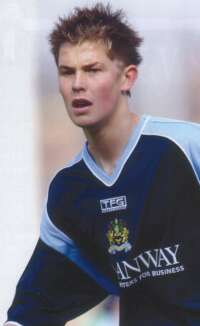 Richard Chaplow - good debut at Norwich
He did well, showed little nerve, and that is more than can be said for his dad who had a nervous time sat watching him from the away end.
Another away defeat followed as Portsmouth clinched promotion but we did all that could be asked of us and fought every inch of the way. It was a game we never looked like winning but with any luck at all we could have come home with a point. Again Nik was somewhat dodgy on the Portsmouth goal although there was no sign of Marlon on the bench.
Gillingham went down 2-0 on the Turf and to be honest they looked less inclined to compete than we had been doing. It really was an easy win and could and should have been by more than two goals.
But that was it as far as points were concerned as we lost the three remaining games. The first at Forest looked set to end 0-0 but again Nik threw away any hopes of staying by giving both goals away but this was not to be his worst moment.
Have you ever played in a match when the goalkeeper hasn't turned up and someone else has had to go in goal, even such that two have to share goalkeeping duties although neither of them are up to it? That's exactly how it looked when we took on Sheffield Wednesday in our last home game of the season.
Both teams switched keeper during a farcical first half and Wednesday's original keeper Kevin Pressman is the only one who comes out of the game without criticism.
Michopoulos gave Sheffield Wednesday the lead in the 3rd minute by joining the rest of the fans in the Jimmy Mac Stand by watching a Paul McLaren shot go in. He wasn't to get any better.
By the time he went down injured and got himself stretchered Sheffield Wednesday had already brought on their sub keeper and we were already 3-0 down but if you thought it was going to be any better with Marlon coming on you were going to be sadly mistaken.
We'd pulled it back to 3-1 at half time but Marlon was not going to be outdone as we threw one in again giving away two goals with dreadful mistakes. Not as though it was confined to our keepers though and after a series of blunders Chris Stringer (now in goal for Wednesday) finally gifted us a goal.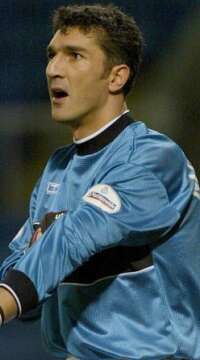 Nik Michopoulos stretchered off for a less than glorious exit from Turf Moor in his last game for the club
Having gone 118 years without conceding seven at home in a league game we broke all records by doing it twice in three weeks and Wednesday run out 7-2 winners. Their fans laughed at us, mocked us and downright took the p out of us as we played Tom Hark.
That was it as far as Clarets Mad were concerned but apparently we lost another game to a franchise the week after.
Stan has spent all season claiming we were playing catch up because of the bad start but Sam ended it by saying it had been a good season apart from the last third.
Judge for yourself whether it has been a good season or not but we have finished 16th and in the last half of the season (not a third Sam) have hit nothing better than relegation form with a point a game.
Apparently some were shocked that Stan let thirteen players go, I was relieved. Of the experienced players to go can anyone honestly say they would have been happy if either of the two keepers or the likes of Briscoe or Davis had been offered new deals?
Most will also say it was time for Cooky to go and Coxy has probably missed out because he has suffered too much with injuries.
It had to be done because we were going nowhere with some of these players, some of them not good enough and others way past their best.
The season is over and the work starts now in building a new squad – it really was needed.