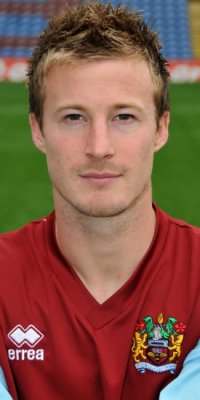 Wade Elliott - came up with the goods at Wembley
It was a season of 61 games, over 5500 minutes, endless streams of goals and action and it left Burnley fans looking at the fixtures in June; not to see when they come up against rivals Preston & Blackpool, but to see instead when they would come up against the likes of Manchester united, Chelsea, and of course...local rivals...Blackburn Rovers.
We had finally made it! May 25
th
2009 will forever be etched in Burnley fans' minds alike, as will wing ace Wade Elliott, for it was him who came up with the goods; a goal worthy of winning the playoffs.
I've normally found summers during close season to drag and go really slow, but it almost feels as though I've gone to bed on the night of the Playoff victory and awoken on the morning of the first Premier League game...Burnley's first EVER Premier League game.
I was one of 2900 Burnley fans to travel down the M6 to Stoke-On-Trent for the game, rather privileged knowing I was one of limited numbers who would be watching Clarets history be made.
I entered the ground around an hour before the game, leaving time to soak in the atmosphere of being a Premier League fan. It was my first trip to the Britannia, so as usual I was excited at visiting a new venue, yet rather humbled that it was for a Premier League fixture, not a Carling or FA Cup tie when I visited Stamford Bridge, White Hart Lane or the Emirates like last season.
It felt so weird, seeing the Barclays logo splashed on kits etc with Burnley's badge with it; even weirder witnessing the half circle filled with a Barclays Premier League logo.
The away section of the south stand was filling rapidly, as was the entire ground in time. Burnley fans in full voice; the usual chants of no nay never and we are the Longside Burnley; matched with chants of Burnley are back Burnley are back.
Nerves building up, the atmosphere electric, I knew we were in for a hard season. Possibly one so difficult we would be relegated, as have many teams that have been promoted from the Championship in the past.
As the teams came out, memories of the teams coming out at Wembley rushed through my mind once more. I was choked in pride then, yet I was even more choked in pride and support for my team as ever before. I knew this was real...WE ARE PREMIER LEAGUE.
We unfortunately lose the game at the Britannia 2-0; with long range missile thrower Rory Delap playing a massive part in this. It was one thing to watch him on television with his stunning throw in ability, but I was in disbelief in the away stand. How could a person throw it with such effect as he does? Nevertheless, he will once more, in my opinion, play an integral part in Stoke City's bid to stay up.
And so we were in the relegation zone for the first weekend of the season, though we had Everton below us thanks to a surprising 6-1 thumping by the hands of Arsenal.
And so back off to Fortress Turf Moor I went. Yet another season working on the turnstiles. But I was so excited about the experience of the Premier League. No longer do we have to rely on cup runs like last season to fuel our addiction of beating the best...we can do it week in week out now. And add to that the local battles against fierce rivals Blackburn; we are in for one hell of a season to remember. Burnley went 33 years without regular top flight football. I myself went my entire life of nearly 20 years in the very same boat.
Turf Moor rapidly filled up on Wednesday night. The new PA system up and ready, the big screen relocated to the corner of Jimmy Mac and James Hargreaves...only a few changes to name there, but big differences.
I was stood between Bob Lord & Jimmy Mac stands; along with the likes of the medics, stadium announcer etc, when all of a sudden an explosion could be heard on all 4 sides of the stadium, louder than I've ever heard. I couldn't believe it. Did I dare to believe it? Did Burnley dare to dream?
The announcer in shock and loss of breath as he announced it...Robbie Blake had smashed a goal in. Turf Moor was exploding in ecstasy. Burnley 1, Manchester United 0. And I don't think Sky and the BBC could quite believe it either. But if you are going to kick your Premier League season off for your club, why not do it in style, and that's exactly what our very own Bad Beat Bob did; unleashing a thunderous 10 yard volley in to the net after Patrice Evra and Martin Paterson tussled in the air for the ball.
In the lead up to the match, I would have been happy with a point given what defensive difficulties they had, accompanied by the loss of Ronaldo & Tevez. I knew whatever team they would put out it would be a challenge. However, I knew Burnley could do it. We've pushed teams further than ever before. We just have to look back at the Spurs game to show what we are capable of.
The atmosphere on Wednesday night was unbelievable. Electric, deafening at times, it really is no wonder why teams hate coming here. Fellow Burnley fans weren't only the 12
th
man on Wednesday, they were the 13
th
and 14
th
too.
We have a win and a defeat in the Premier League so far, but the show isn't over yet. Only 36 games to go! The victory against Manchester United has seen Burnley beat the top 4 sides of the Premier league in the space of 5 years, among many other scalps. An amazing statistic, when you look that virtually all of that time bar the past few weeks has indeed been in the Football League.
We continue our home campaign this Sunday against David Moyes' Everton side; fresh off the back of a 6-1 defeat in the Premier League and a comfortable 4-0 victory in the Europa League. I'm not quite sure what to make of them in the build up to the game, but nonetheless, I am confident we will put them to the sword.
It is one thing to dream, but another thing to do all you can to make dreams become a reality. Wade Elliott dared to dream...Burnley F.C dared to dream....Burnley fans dared to dream, and all got their rewards. Premier League fixture 3 kicks off soon. Let's show the world of Football what we're made of. C'MON U CLARETS!