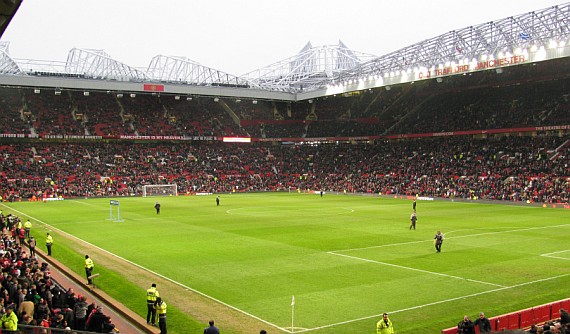 Old Trafford - venue of Burnley's first game under Brian Laws
However, only a matter of weeks ago, this "God" like figure at the club opted to negotiate with rivals Bolton Wanderers; who had sacked manager Gary Megson. Since this little act of deceit and devil like trickery, Owen Coyle's stature in the eyes of the Burnley fans has dropped; so much so he is now referred to as a "Judas".
The era of Coyle had ended on January 8
th
2010, when he signed a deal with rivals Bolton Wanderers, taking the assistant manager, first team coach, goalkeeping coach, hell probably even the kit man as well (well we do like to joke about that bit) along with him to the Reebok stadium.
I don't quite know what to make of Coyle's move to the Reebok. The way I look at it is, he isn't a supporter of Burnley Football Club, nor does he have any links to us prior to his job with us. We are just "another job" in his eyes. Bolton however, is a club that he played for; and enjoyed some great times of his career with. They are a club close to his heart, and one he obviously wanted to manage. Understandable as to why Coyle wanted to hear their offer out I guess.
It took 5 days of sleepless nights and soul searching for Chairman Barry Kilby to come up with the goods, but we turned towards ex player Brian Laws to take over the Claret and Blue reigns of Burnley. Brian had stated he has now returned "home", to where he belongs.
He may not have been every fans first choice, but nor was Coyle when we assigned him as manager of the team and look what happened. Burnley fans however, have always had one thing to turn to when all hell breaks loose and we fall apart...an exceptionally good Chairman.
The board of directors and Chairman Barry Kilby do have a very difficult task in running Burnley's finances; especially when we were in the lower divisions. For this, they have my utmost respect, appreciation and admiration as a fan of this club. We know that; whilst Kilby remains chairman and we have our board in charge, this club will be in safe hands.
Last weekend we made the relatively short trip to Greater Manchester, to come up against the reds of the city; a UNITED team.
But what Fergie didn't realise was, that no man; no matter how big or small; would ever leave our club so tarnished and hurt and willing to just lie down and take punishment. We would stand up and fight this war. We played some sleek stylish football at times, and could quite easily have gone a couple goals to the good...something what comes as a rarity at Old Trafford.
The managers came out along with the teams at Old Trafford; 3000 Burnley fans sending shockwaves of "Brian Laws' Claret n Blue army" throughout the stadium. We weren't going to give this game easy without a fight. WE were our own United that day. A united band of Brothers.
We walked away from Old Trafford at full time with a 3-0 defeat. But it's not often you can say that, also with Fergie being somewhat relieved they won by that score line. Sheer Burnley resilience and pure football showed the Premier League that we got knocked down, but we got up again and they're never going to keep us down.
The Fa cup remains in Burnley's plans at the moment, and a trip to where our Playoff dream began is on the cards now... The Madjeski Stadium.
But it will be the game on the 26
th
Jan that will be on every Burnley fan's mind though. We will be heading down the same path as Owen. We are making the rather short trip to Bolton, packed with thousands of Burnley fans in readiness for what can be anticipated as a fierce encounter.
Some call him a Judas, some call him a traitor, and some call him a money grabber. The one thing that I know for certain however, is that come kick off on the night in question, I will remember and appreciate what he has done for our club in such a short space of time.
Times move on, people move on, clubs move on. We need to take it on the chin and prove to Coyle what a big mistake it was leaving for Bolton.
Whether our club remains in the top flight at the end of the season remains to be seen. But what I do know is that we have a manager who WANTS to be at our club...someone who has claret in his blood. The good times are returning to Turf Moor!!! Let's get behind the lads as always and show the world of football where we deserve to be! A new era dawns. Together, we are Burnley. Come on you Clarets.