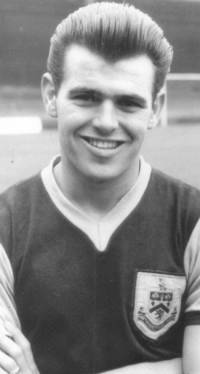 John Connelly
As a young teenager I went to the matches with my grandfather and we always stood behind the goals at the Bee Hole end. I remember being told by him that "Blagburn" (as he always pronounced it) were our greatest rivals. However, I had never seen them before as they hadn't been in the same division as us for ten years. We lost 0-1 but I don't recall it being a disaster as we were just fascinated to see football under lights and wondered how the players would manage to see the high ball in the air against the bright background!
At that time I was a pupil at St. Mary's College in Blackburn where the Burnley boys were a strong proportion of the yearly intake. We had special buses to take us there each day. Our Claret supporting numbers were swelled by lads from Padiham, Nelson, Colne, Rawtenstall, Haslingden, Accrington and the Ribble Valley. The football rivalry was important but not in any way nasty. This era of the late 1950's to early 1960's was one when both clubs had fine teams in the top tier.
For Rovers there were Bryan Douglas, Ronnie Clayton the England captain, Peter Dobing, Roy Vernon, Ally MacLeod and Derek Dougan. For the Clarets we had players of the calibre of Jimmy McIlroy, Ray Pointer, John Connelly, Jimmy Adamson, John Angus and Adam Blacklaw.
We spent hours in our free periods in the sixth form picking a Burnley/Blackburn XI from the two teams which would conquer the world on behalf of East Lancashire. (We also chose a Burnley/Spurs international GB XI too). Games afternoons in the sixth form were coached by Mick McGrath, Blackburn's wing half and often became Rovers' supporters versus Clarets' supporters matches. It was all friendly rivalry with none of the bitterness and even hatred of later years.
The biggest derby of that era was the 1959 6
th
round FA cup tie between the two clubs. At Burnley we were 3-0 up with fifteen minutes to go when the referee gave a dubious penalty against Alex Elder. At 0-0 or 1-0 it probably wouldn't have been given, as the ball struck his arm after a shot from close range deflected off his boot and in no way could it have been deemed deliberate. They scored again within minutes and then McGrath, our coach, equalised very late on. We had outplayed and "murdered" them in the second half but they had secured a replay that they would inevitably win. It was the following Wednesday afternoon and the Headmaster, Father Graystone, who was a great football fan, announced in morning assembly that school would close for the afternoon so that we could all go to the game. Of course we didn't have enough money with us to get on the match so we hung around outside and saw glimpses of the game from a hilly viewpoint between the stands. The result was 0-2 after extra time and Rovers went on to reach the final. We, however, became champions that season and we magnanimously hoped that Rovers would make it an East Lancs double. However, Derek Dougan blew the team spirit away on the morning of the cup final by asking for a transfer and they lost tamely 0-3 to Wolves.
After Dougan's departure Rovers were never quite the same force in the ensuing few years. In 1960-61, as champions, we had bigger European matches to think about but we visited Ewood and won 4-1 but drew 1-1 at home. By 1961-62 Rovers were definitely in decline while we had a fabulous year playing the best football probably ever seen at the Turf and away too. However, Rovers managed to beat us twice and were the only team to do the double over us that season. By 1966 when Rovers were relegated I had moved away to university in London and saw only a handful of matches each season thereafter. After a brief sojourn in Preston I settled in East Anglia so I missed the era of football hooliganism as work and a family took priority.
The bitter rivalry developed between the clubs which I found difficult to come to terms with. The fortunes of the clubs fluctuated but those golden years of 1959-63 when we were both among the top teams in the country will be remembered fondly, I am sure, by all who saw them. We saw great football from both teams, with British international stars who represented our teams and towns with pride, often for their whole careers. We appreciated them all and today many of my generation realise that the game doesn't have to be about bitter rivalry, often stoked by the media, but can be enjoyed for its own sake. Best wishes to both teams this week - may we see a game to be proud of and not a battle that makes the headlines for all the wrong reasons.