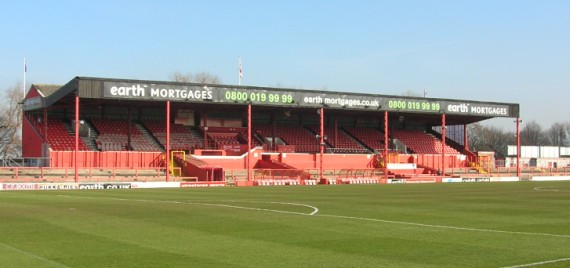 Belle View - Doncaster's old ground
If you remember, we were then down in the old Third Division and wonder of wonders after several years of general unhappiness we had a team that was winning a few games, was on a decent unbeaten run, and I seem to remember that John Jackson (the chairman) had a wife who bought a new dress, coat or hat, every time we won.
Time might have made that story somewhat apocryphal but for some reason it lurks in the back of my head. The club was on the road to recovery from the sad final years of Bob Lord's chairmanship when he could not see that the ship was sinking and that his time was up. The club was destitute, close to bankruptcy, cheques bounced as high as the ceiling, the safe was empty and one wonders exactly what Bob Lord saw through his ageing, misty eyes as he looked out from his seat in his stand across to the deserted terraces of the old Longside, with gates dwindling by the game.
The glory days of Hamburg and Reims were long gone. They were sad days for both him, suffering poor health by now, and supporters, but he clung on to his position as defiant and bullish as ever. Then too ill to attend a board meeting (he had not long to live), John Jackson took over the chair and overlooked a season of triumph.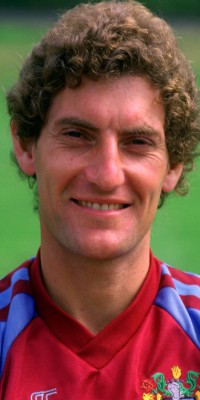 Martin Dobson - moved to a sweeper role
After a dodgy start, Dobson moved to a sweeper role, Trevor Steven blossomed, the team began to win and the coffers were filling. The club was well and truly solvent again by the end of that season. If only someone had possessed a crystal ball and warned them of what was to come.
We were eighth when we went to Belle Vue (for that was what it was then called) and we had 35 points. The start to the season had been abysmal. Little were we to know that by the end of the season we would have 80 points and be champions.
It was a 1 -0 win over there that night and the goal was scored by Andy Wharton. I remember it well. It was freezing cold. The away end where we stood was uncovered and the ladies toilet was a red bucket in the corner of a brick hut with an earth floor. It was, by the way, spotlessly clean Mrs T said and she bade me stick my head round the door to take a peek at it. I'm glad she did, it is now one of my most treasured football memories - along with a Brian Pilkington autograph, and one of those condoms the club gave away this season with a picture of Adam Blacklaw on the packet.
I no longer collect autographs. The scrawling of the modern footballer is just an insult (they think it's a joke I'm told) to the supporters who pay their appalling wages. It's like the scribble that tots do in a school nursery when you put a pencil in their hand for the first time. Football condoms are far more interesting. Such a good chat-up line as well:
"Darling just look at this condom, it's got a picture of Adam Blacklaw on the front." Of course the magic will dissipate just a little when the reply comes: "Adam? Adam who?" But then you could then tell her all about the 59/60 team - slowly building up to a grand climax.
Seems to me that in the coming 50
th
anniversary of the '59/60 Championship win, the club could do a full set of all eleven players and make a mint; in fact they could even be mint flavoured.
Anyway the 1 - 0 win at Doncaster on that shivering February might in 1982 was another step on the way to the 4 - 1 win at Southend that sealed the title.
It was a quaint, old ground, built on the ash carted from the huge surrounding coalfields, and one of the wooden stands jacked up and wheeled down the road from where it once stood at Bennetthorpe where they had played earlier.
Doncaster Rovers have no claim to fame at all. Perhaps the nearest is that the great Peter Doherty was player manager there for a while and steered them to a promotion. And comedian Charlie Williams was once a formidable centre-half for them. He is, was, famous for being not just one of the first black footballers (one of his jokes was always that there were so many coal mines round Doncaster that everybody was black so no one noticed him), but one of the first black comedians.
Who will forget him on Granada's The Comedians or Golden Shot? His catchphrase was 'me owld flower' and regarding his time as a footballer he always said, "I was never a fancy player, but I could always stop them buggers that were." He was a first team regular from 1955 to 1959 and one wonders how he might have fared against our own Jimmy Mac, if ever they had met. In 2004 he was voted Doncaster Rovers all time cult hero in a BBC poll.
Alick Jeffrey is the one other notable name and his is a tragic story. But for breaking his leg in an Under 23 international game he would have been signed by Manchester United. He was said to have everything, power, ability, skill, could shoot with either foot, head a ball magnificently and when passing the ball could land a pass on a sixpence, an English Pele.
Matt Busby said that had he signed him, it is unlikely Bobby Charlton would have got into his first team. Jeffrey was another of those original boy wonders. He would have signed for Man U as a youth but Peter Doherty got there first. Busby was not best pleased and told Jeffrey he would return for him. His broken leg as good as finished any chance of a seriously glamorous career (he was out of football for some years) although he returned to Doncaster in 1961 and played another 191 games scoring 95 goals. He was only 17 when he broke his leg and had already been playing for two years in Doncaster's first team and at U23 level.
Meanwhile I'm perusing the old programme from that night in '82 when we went over to Doncaster. Billy Bremner was their manager and they were seventh from bottom. Terry Cooper was a player and on the team sheet that night in a programme that cost just 30p.
I think this December's visit to Doncaster will only be my third to this place. The first was only because it was a way to get to the A1 way back in the mid 60s when I went from Todmorden to Norfolk on the back of a pal's lambretta. My backside is still sore today. The second was the '82 visit. I can be forgiven for knowing very little about the place other than its proximity to the A1, it goes back to Roman times; that it is the home of the St Leger, and once teemed with coalmines. It was once a thriving railway centre and the railway works built both the Flying Scotsman and Mallard (you have to be a steam train buff to appreciate those). And if you are into history, then Conisborough Castle, Cusworth Hall and Brodsworth Hall are 'must see' places.
1982: Do you remember Diana, she was married to Charles then, and gave birth to son William; the Greenham Common demonstrations, the IRA bombing of Horse Guards Parade, the collapse of Freddie Laker's airline, the Falklands War and the sinking of the Belgrano, riots in Poland and Lech Walesa, the first 20p coins, Channel Four, the go-ahead for satellite television, and the death of Soviet leader Brezhnev.
Italy won the World Cup, Aston Villa won the European Cup, Tottenham won the FA Cup and Liverpool won Division One. Jimmy Connors won Wimbledon, Larry Holmes was heavyweight boxing champion, and Graham Gooch took a 'rebel' cricket team to South Africa. At Doncaster, Touching Wood won the St Leger.
On TV we watched Dallas, Dukes of Hazzard, Fantasy Island, The Love Boat, Dynasty, Magnum, Hill Street Blues, Knight Rider, The Fall Guy and for the last time we watched Tiswas and the Incredible Hulk.
Top films were ET, Tootsie, An Officer and a Gentleman, Star Trek 2, Rocky 3, Blade Runner and Poltergeist. Ghandi won Best Picture at the Academy Awards.
We listened to Human League, Bucks Fizz, Shakin' Stevens, Tight Fit, Madness, Adam Ant, Kraftwerk, Dexy's Midnight Runners, Culture Club, The Jam, Toto, Hall and Oates, Olivia Newton-John, Earth Wind and Fire, Paul McCartney, Orchestral Manoeuvres in the Dark, and even Chas and Dave. And, do you remember Renee and Renato?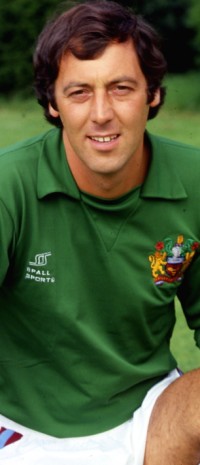 Alan Stevenson - in goal at Doncaster in 1982
On that Tuesday night in February 1982 I was 38 years old and a Deputy Headmaster, we'd just bought a dozen hens to roam round the garden and lay eggs for us (such a celebration when the first one appeared), and we won 1 - 0. Stevenson, Laws, Holt, Overson, Scott, Dobson, Taylor, Hamilton, Cassidy, Young; and Andy Wharton was the scorer.
I'd like to say we drove home on a high but in fact driving there and back reduced us all quivering wrecks. I won't bore you with the reasons why the headmaster of the school where I worked drove us there. But here are my diary notes for that night.
"God what a cold place it was. We stood at the open end with the Burnley mob. I can't remember standing in a colder place. Anyway Burnley won 1 - 0, 16 games without defeat, 5th win in a row. It made up for the cold and the driving of the lunatic headmaster. He doesn't drive he just puts his foot down and aims at the space in front, be it through red lights, straight across roundabouts, up the ends of big lorries, two inches behind little minis, weaving in and out, braking, revving, and for his final piece de resistance, roaring away with the back door open when he dropped us back at home. I've seen adverts for cars that can do 0 to 60 on 9 seconds. I never thought we'd do Leeds - Doncaster in 9 seconds. We emerged from the car park after the game, having played dodgems with everybody else at 9.25, and were back home at 10.00. We had motorists flashing us, honking horns at us, and other drivers shielding their eyes from his glaring headlights. "I'm not driving too fast for you am I?" he kept asking as we cowered in our seats thinking never again.
It's over twenty years since I last saw him and he'll be in his eighties now, and one hopes no longer driving. It will be with a deal of nostalgia then that we head for Doncaster on Sunday the 28
th
. It's a new ground of course - The Keepmoat Stadium and when Doncaster came to Turf Moor they played us off the park and we were lucky to take a point.
Between '82 and 2008 Doncaster have been right down to the bottom and out of the League, five years ago they were in the Conference, and now all the way back up again. They and us have much in common, small towns, money too tight to mention, hard times and now striving for even better things.
I am sure as we drive there I shall think of that old headmaster - and say a prayer of thanks that it's me that's driving this time. And I shall wonder too, if the old red bucket is in the Doncaster trophy cabinet.