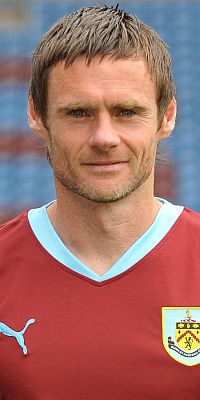 Let Grezza lead by example
What is it you ask?
It is the pressure our wee club is now under to recapture that coveted Premier league place that certain supporters think should be our God given right. It is the calling of our manager's head, which to be fair started the day he was appointed. It's the wondering where all the money has gone from our nine months in the land of milk and honey.
I'm writing this after the draw against Doncaster Rovers at home, just as it was two seasons ago. And like most fans I was upset that we hadn't won, that we hadn't destroyed little Donny even with the mighty David Healy, slayer of English football, in their team. But as upsetting as the result was, I found myself not wanting to rant and rave at them, not wanting to feed the backroom team to a pig farm, no, all I want is the old Burnley back.
Lets look at the games so far. We attack quite freely at times, but also defend far too deeply. We can terrorise the best of defences but also play with our backs to the wall. We get ahead in games, especially away, then raise the white flag in fear, fear of actually having to defend this lead, thus meaning we attack the team and go for more, but alas we sit back and try desperately holding on to what we have, praying for the final whistle when there are still 20 minutes left.
When I say I want the Old Burnley back I mean I want them playing with that flair and passion they did two seasons ago. As a friend of mine put it last night, that never say die attitude. We have a bigger squad now, but not that togetherness. We have easily more quality in all departments but lack that leadership we had before.
They need to recapture that band of brothers attitude. And that is where the gaffer comes in. The spirit we showed against Preston and Aston Villa, this is what we need every week. I don't care that we might lose, look at the stupid games Coyle lost, including against Donny. All I want to see are my lads giving everything for the cause, bursting every blood vessel to get to every ball, every player supporting his colleague as if it was his own brother.
Once they get that back, then the fans respond. They see these men giving everything for their home town team then they will respond in kind.
So my message to Brian is simple. Get that dressing room unified. Get those lads believing in themselves again. It's not just a team it's a unit. A tight knit unit of friends, ready to give their all for the team. Let Grezza and Carlisle lead by example, let them, whether they are playing or not, get the motivation and fire running through the veins. And, last but not least, lets start turning this place back into a fortress, a fortress where we beat Man United and Spurs. Start turning away leads into three points.
They can do it, I know they can. With a tough winter ahead, its down to the bodies in that dressing room to believe in themselves and start playing as I know they can. Like they are now but with a killer punch.
And to the fans, as ridiculous as it sounds keep the faith. Stick with them. At the end of the day we are Burnley FC, a championship team that barged our way to the top table last year. Don't dwell on what was or what could be, its what will be that matters. We don't need money, all the riches that this game has to offer. Hell we didn't need it two seasons ago. They just need believe and confidence. We have a talented bunch of players here, and Burnley has a team to be proud of.
It's hard sometimes to believe that, even I struggle sometimes. But I am determined to try. Determined to Keep faith. Is it too early to say Merry Christmas.