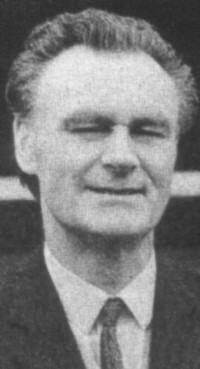 For sixty years ago, a fiercely-focused, shrewd, innovative and principled Burnley team boss, with a management style not dissimilar to that of the current incumbent, Sean Dyche, also developed a blueprint for football success with one of the lowest divisional transfer budgets and average gates.
Alan Brown's Burnley side would eventually snatch England's then premier league title, the Football League Championship, from better-resourced rivals, such as Spurs, although it was Brown's successor, the irrepressibly enthusiastic Harry Potts, who presided over the team's crowning glory in May 1960, having had the good sense to capitalise upon Brown's sound foundations.
Dyche's remarkable success at Turf Moor was also achieved with more modest resources than most of his divisional rivals – a smaller first team squad, a comparatively smaller transfer budget and wage bill and a lower average gate.
What Brown lacked in cash reserves, he more than compensated for with eagle-eyed scouting, top-notch coaching, state-of-the-art training drills, including 'shadow football', and leading edge tactics, obtaining the best intelligence available from near and far.
Moreover Brown led from the front in actually helping build Burnley's showpiece training ground at Gawthorpe with its revolutionary all-weather surface, where the team's sophisticated methods could be practiced whatever the conditions. Under Brown's management, Burnley became a thoroughly modern milltown side, capable of defeating vaunted opponents at home and abroad by playing fluent and fluid continental-styled football from back to front, unconfined by the reactionary English 2-3-5 system of play.
Under Dyche's management, Burnley became one of the fittest sides in the Championship, defending robustly and relentlessly from the front, continuously hurrying and harrying opposing defenders and midfielders in advanced positions, squeezing them for space, denying them potentially dangerous acceleration room, and forcing countless distributional errors, while pushing forward swiftly once in possession, frequently switching the point of attack, in probing forensically for defensive vulnerabilities.
In Dyche's sides, both attack and defence are collective responsibilities with wide midfielders tracking back to assist the full backs in holding up and dispossessing the opposing flanking players on the ball, and the central midfielders and the striking pair helping ensure that their centre backs are not isolated and forced into last ditch tackles in or just outside their own box.
Befitting Dyche's Watford legacy, Graham Taylor's pressing style of play is discernible in his current tactics. Perhaps more significantly, Dyche's coaching team raised the level of so many players' performance in terms of their movement, technique and vision. As was said of Sir Alf Ramsey's Ipswich First Division-winning side of 1961-62, what were once ordinary players became extraordinary ones under his management. The same could have been said of Mr Brown's boys, too.
Although Brown was renowned as a tough disciplinarian, insistent, as Sean Dyche is, that his players maintain a smart public appearance and respectful, courteous standards of conduct, he was also understanding and warmly supportive when they experienced personal or family difficulties, a quality that Dyche appears to share.
Brown never resorted to bawling at his players when the going became tough. As Lawrie McMenemy recalled from his days as a coach, under Brown, at Sheffield Wednesday, his boss could be deft in his motivational techniques.
There was one occasion during the mid-sixties when a vibrant, visiting Chelsea side, then managed by Tommy Docherty, had torn the Owls apart during a traumatic first half. McMenemy said that Brown was coolness personified during the interval as he gently encouraged his players to offer their ideas as to how they might wrest control from their gifted opponents, knowing full well that he would only disempower them further by tearing strips off them. As some of the current Burnley players have readily testified, Dyche belies his somewhat gruff demeanour in adopting a similar approach.
As suggested by Lawrie McMenemy, Brown was never so intoxicated with his own importance or authority that he failed to listen to his players' ideas and suggestions. In his time in charge at Burnley he paid close attention to his players' views, notably those expressed by his senior players, Jimmy McIlroy and Jimmy Adamson, who helped devise and rehearse a succession of novel dead-ball 'scams', including the staging of mock arguments designed to distract the opposition at corners or free-kicks.
These ruses were so successful that they were still being employed by Jimmy Adamson's 'Team of the Seventies' twenty years later. Sean Dyche's statements suggests that he is an equally inclusive manager, recognising that wisdom does not reside solely in the manager, and that successful teams usually comprise more than one leader, with a multiplicity of leaders representing a strength rather than a weakness, an opportunity rather than any threat.
While Harry Potts was enjoying the fruits of Brown's efforts, his predecessor was immersed in a radical transformation of a failing Sunderland side, ripped apart by unauthorised 'under-the-counter' payments.
Once Sunderland finally emerged from the doldrums in the early sixties, Brian Clough became one of Brown's stellar signings. Although free-scoring 'Cloughie' succumbed tragically to a career-ending injury at Roker Park in late 1962, he proceeded to model himself upon his demanding, uncompromising but kindly Sunderland boss as he made his first tentative steps into football management at Hartlepool.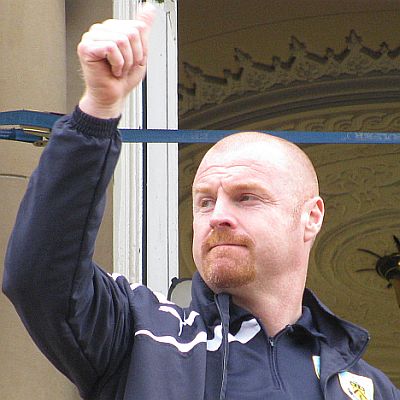 In fact, Clough was so much in awe of Alan Brown that he treated him like royalty whenever he visited Clough at the City Ground, Nottingham, during Forest's glory years of the late seventies and early eighties. In introducing himself at Turf Moor in 2012, Sean Dyche acknowledged Clough's influence and example in developing his own management style. In so doing, it seems as if the wheel that Alan Brown had kicked into motion, at Burnley, during the mid-fifties had completed a full revolution, helped by what had transpired in those intervening years at Sunderland and Nottingham.
Not that Sean Dyche subscribes to any sort of 'personality cult'. Indeed, as he seems keen to emphasise, he regards his team's recent triumph as a collective achievement, in which the joint determination, dedication and skill of the Burnley players, support and coaching staff were harnessed to optimal effect. Nevertheless, there is little doubt that the management team, which Sean Dyche fronts, has provided a key lead, in setting the necessary standards, establishing the requisite frameworks, supplying the crucial tactical acumen and instilling the essential drive and discipline, all of which have been at the heart of his club's shared success.
Sean Dyche and Alan Brown have another feature in common, too. Both were combative, no-nonsense, promotion-winning centre backs. And while Alan Brown led his second tier Burnley side to an FA Cup final defeat by Charlton at Wembley in 1947, half a century later, Sean Dyche led his third tier Chesterfield team to an equally gallant FA Cup semi-final defeat against Middlesbrough.
The teams that Dyche and Brown have managed at Burnley have good reason to name themselves as the 'History Boys' given the enormity of their achievements with such slender resources, a timely reminder, perhaps, that success is not yet entirely governed by money. A gigantic amen to that.